Honeywell is another well-known company that offers a wide range of home safes and secure boxes.
Honeywell International Inc. is an American conglomerate company. Apart from security safes, they produce various other consumer products, engineering services and even aerospace systems. Moreover, it is listed in Fortune 100, which puts it among the largest public and privately held companies in USA. Almost 60 000 people are employed by Honeywell in US alone.
The safes line is manufactured by LH Licensed Products, who own an exclusive licensee to produce Honeywell Safes.
.
Many of their models have fireproof + waterproof features.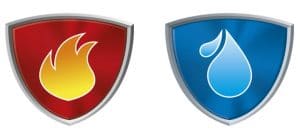 You can pick a model that will meet practically any secure storage requirement. If you need a reliable solution that will protect your valuables from house fires and floods they offer a couple really good UL Class 350 1 Hour Rated models and up to 24 hours water resistance.
Honeywell Safes are also available with a 7 Years Limited and Lifetime After-Fire Replacement Warranty.