How to Choose a Fireproof Safe For Your Cash Storage
Nowadays people mostly use credit/debit cards or phones to pay in a store, at a gas station etc. But cash is still widely used. In some cases, it is actually more convenient to pay with paper money. Thus, many of us have some cash hidden somewhere in a house. And as with everything valuable we want to keep our hard-earned money safe from thieves, fire and water. That's when you need a safe.
But not just any safe. You need a reliable fireproof safe that is specifically designed for storing cash. A safe that can protect your bills not only from theft attempts but also keep your money from burning or getting damaged.
But how to choose a proper safe? In this article we show exactly what to look for when choosing a fireproof safe for your cash.
When choosing a fireproof safe for storing cash you need to consider these factors:
Fire rating
Type of safe
Size
Type of locking mechanism
Price
By going through each of these factors and choosing the best option you will end up with the best variant of fireproof safe for cash which is going to be tailored for your specific needs. While some of these factors depend on your preferences and you can be flexible with them, others are pretty much obligatory to follow. Let us explain them in detail.
1. Fire rating
The first and most important thing you need to consider when choosing a fireproof safe for your cash is the fire rating.
The fire rating indicates how long the safe can withstand a fire before its contents is damaged. For cash, you must look for a safe with a proper fire rating and duration of at least 1 hour.
What exactly are the necessary fire ratings?
Look for UL (Underwriters Laboratories) or ETL (Intertek) rating in the safe specifications. If it is a UL certified safe you will need a 1-hour UL Class 350 rating.
1 hour Class 350 is one of the most common ratings and it means that safe can keep the internal temperature below 350°F (~ 177°C) for 1 hour, while the outside fire temperature reaches up to 1700°F (~ 927°C).
Or you might see a 1-hour Class 125 rating. It-means that the safe can keep the internal temperature below 125°F (~ 52°C) under the same fire conditions. Thus, it provides even better protection against fire. These are used when you want to keep not only cash but also digital media like hard drives or CDs in your safe.
But UL Class 350 is enough, because cash, which is mostly made of paper will not burn at 350°F (~ 175°C) temperature anyway.
Here is a table that shows the comparison of different UL fire ratings: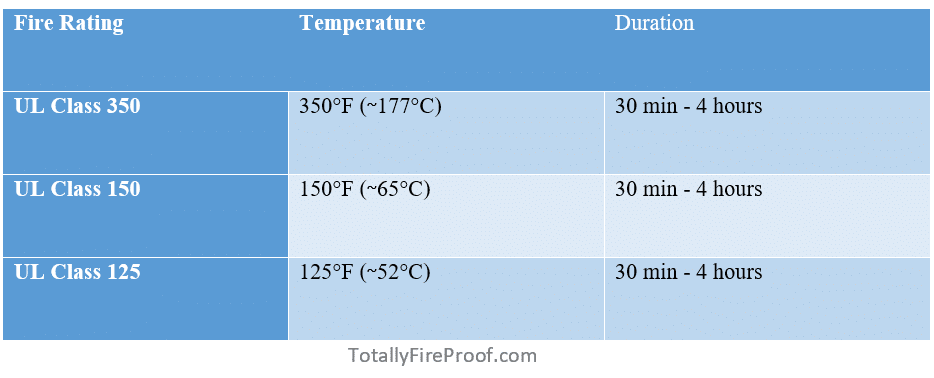 The better the fire rating, the longer the safe can withstand a fire. Nowadays, you can find safes that have 2 or even 3 hours fire rating in their certification. 4-hour safes are hard to find.
We do not recommend 30-minutes duration as fire emergencies are often noticed with a delay, which adds to the time the safe has been exposed to fire. Additionally, a firefighter team can take longer to arrive at the location which also extends time of your cash being subjected to fire. In all these cases 1-hour certified safe will provide a better protection.
2. Size
The next factor you need to consider when choosing a fireproof safe for your cash is the size. Depending on how much cash you want to store you will need a smaller or a larger safe.
It would be a good idea to measure your cash and compare it with the internal dimensions of the safes you are considering. If you are planning to add additional money for storage in the future, take this into account and pick a bigger one.
Also, consider what denominations of the cash you are going to store. Large bills take more space and having a wider interior will be more convenient.
Use this table to see how much space cash of different amounts and denomination will occupy: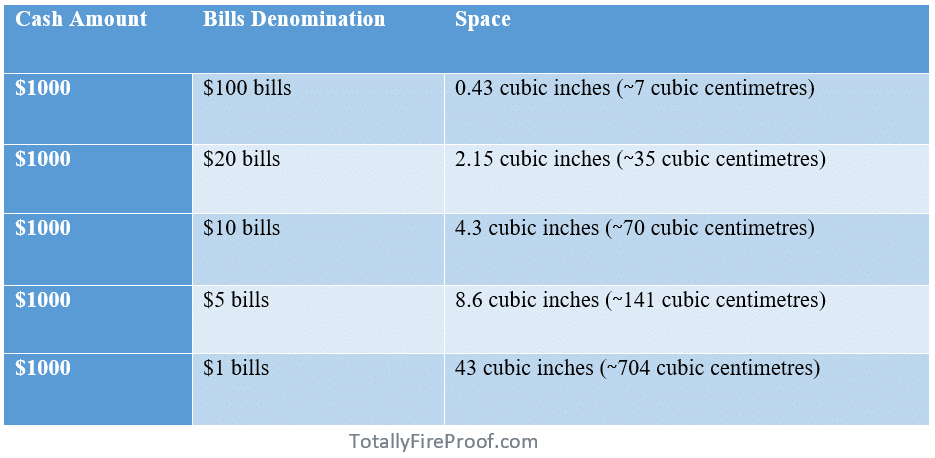 Fireproof safes come in different sizes and shapes. It can be a small fireproof box or a large cabinet. The exact dimensions of a specific model are always available in the safe description. So, it would be wise to plan beforehand – where exactly you want to put your safe and if you have enough free space in that part of your home or office.
3. Safe Type
The third thing you need to consider when choosing a fireproof safe for your cash is the type of safe. The two most common types of fireproof safes are: wall-mounted safes and freestanding safes.
Wall-mounted safes are installed into a wall. And as you might have seen in the movies, they are indeed often put behind a painting or a mirror, which makes them more discreet. They are more secure, and are harder to access and remove.
However, wall-mounted require a separate installation, as you need to cut the wall and securing the safe with bolts. This makes the more expensive.
Freestanding safes simply stand on the floor or a shelf in a desired location. There's no need for complicated installation, because you can put them down and leave them be. However freestanding safes can be also anchored them with bolts or cables. This makes them overall cheaper compared to wall mounted counterparts.
But what they win in price they might lack in security. Being less discreet they can be more easily located, accessed or even removed.
Here is a table that shows how freestanding and wall mounted safes compare:

4. Locking mechanism
The fourth thing you need to consider when choosing a fireproof safe for your cash is the locking mechanism. The locking mechanism is the centerpiece of the safe's security. It prevents unauthorized access to your safe and its contents.
The most common types of locking mechanisms for fireproof safes are:
Key lock: A key lock requires a physical key to open the safe. It is simple and reliable. Just be sure not to loose it.
Combination lock: A combination lock requires a numerical code to open the safe. Such locks are relatively convenient to use and customizable. Be sure use a code that is not easy to guess.
Electronic lock: An electronic lock requires a digital code or a bio-metric scan to open the safe. While this a more modern and versatile type of lock, it is prone to hacking or malfunctioning.
Dual lock: A dual lock requires two different types of locks to open the safe. This type provides great security however it can be more difficult to use.
When choosing the locking mechanism of your fireproof safe we also recommend including these into consideration:
The frequency of access
The number of users
The level of protection
Use this table to see how different types of locking mechanisms compare: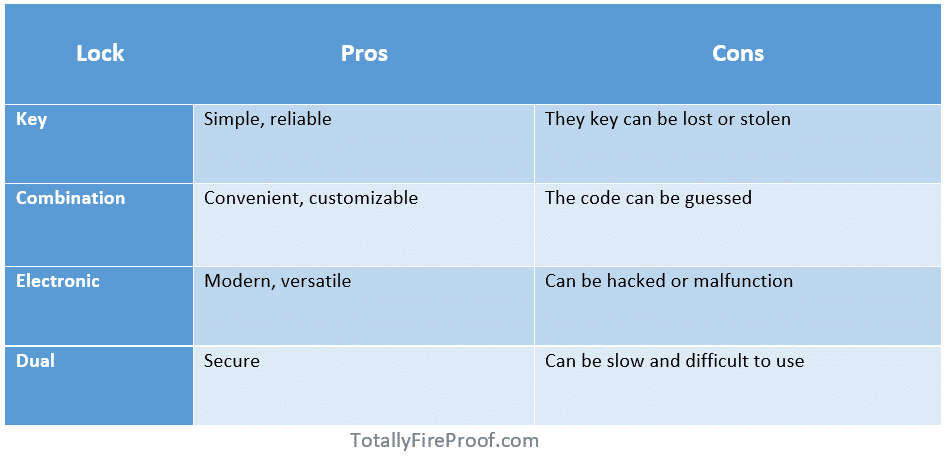 5. Price
The last but not least factor you need to consider when choosing a fireproof safe for your cash is the price. The price of your fireproof safe depends on all the factors we described above (the fire rating, size, safe type, locking mechanism) and manufacturing Brand.
Brands use different materials and designs, have different manufacturing processes and thus can offer unique features only accessible through them.
Fireproof safes prices can vary greatly. You can find a small few hundred dollars safe. Or it can be a spacious high security level several thousand dollars model. Choose a fireproof safe that fits your budget and meets your needs.
Useful tips to save money when choosing a fireproof safe for cash storage:
Choose a smaller safe if you don't need a lot of inner-space.
Look for discounts or deals.
Choose a freestanding or a key lock safe if you are not that worried about security or discretion.
Choose a reputable brand that offers quality and warranty.
One of the fireproof safes brands that we recommend is Hollon. It is a well-known manufacturer of fireproof safes in United States that offers a wide range of products for different needs and budgets. Their safes are tested and certified by UL and ETL, and they come with a great warranty against fire damage.
Some of the best Hollon fireproof safes for cash are:
If you chose one of HOLLON safes and you wish to get the max value and excellent service for your money (like FREE US Shipping, Price match, White Glove or Inside Delivery & more ), be sure to acquire it through their US authorized dealer in – Armadillo Safe and Vault.
Feel free to use the 5% Coupon if you want to get this discount. Simply enter "TOTALLYFIREPROOF" when making your order.
Conclusion
Choosing a fireproof safe for your cash doesn't have to be a time consuming or difficult task. By following the tips and guidelines we provided, you can easily find the best fireproof safe.
As always – keep yourself safe and your belongings fireproof! 🔥