Top 5 Affordable Fireproof Safes For Jewelry
Choosing the best fireproof safe for storing jewelry in 2023.
Because jewelry carries such a significant value both sentimentally and monetarily, it is important to keep it safe. And it can be quite challenging nowadays. Jewelry is often a target for thieves, and it can also be ruined in a fire.
A fireproof safe is the most practical and effective way to protect your most valuable items including jewelry from such threats. Safes provide great defense from fire and they stop anyone except you from gaining access to your possessions. This guide that will help you choose the best fireproof safe for storing jewelry.
We have carefully selected the top 5 fireproof safes on the market, that can secure your items and will not cost you a fortune. Whether you are looking for a small jewelry safe for home or a large safe for jewellery shop, an affordable jewelry safe box or a luxury safe that looks like furniture – we have the best models in our list.
Criteria for Selection
When selecting these safes, we analysed multiple factors. We compared hundreds of models and took into account all of their essential characteristics:
Fire resistance ratings. A safe's protection from fire directly depends on its rating. We disregarded safes that have insufficient rating.
Security features. We studied locking mechanisms, reinforced hinges and additional anti-theft measures.
Durability. We also checked construction material choices.
Sizes. A safe for jewelry should not be too small, but it also doesn't have to be extra-large.
Price ranges. We compared safes with the most features to how reasonably priced they are.
Real reviews. We checked reviews by people who actually used these safes.
Based on all this information we selected safes that combine the most features with the least number of downsides.
And of course, we considered how these factors are applied to jewelry in particular. Because jewelry has its own requirements when it comes to fire protection and anti-theft measures.
With this comprehensive guide, you can be confident that your jewelry is protected from fire and theft by the best fireproof safe.
Top Jewelry Fireproof Safes at 5 Price Categories
We divided this list of the best safes by the price range. Starting from the most affordable fireproof safes and going up to more advanced models. Depending on your needs and preferences you can easily pick a top fireproof jewelry safe that fits you budget. Here are the price brackets:
Under $500
Under $1000
Under $1500
Under $2000
Around $2500
Best Fireproof Safe for Jewelry: Under $500
Even though this is the starter category for safes, there are very good models, which can already provide fire protection and safeguard your valuables from theft attempts. Storing your jewelry in such a safe will be unquestionably more secure than keeping it unprotected.
The model we recommend is made by HOLLON Safe company and proved to be one of the more popular ones.
Hollon HS-360E 2-Hour Home Safe  –  $447.00
Main Stats: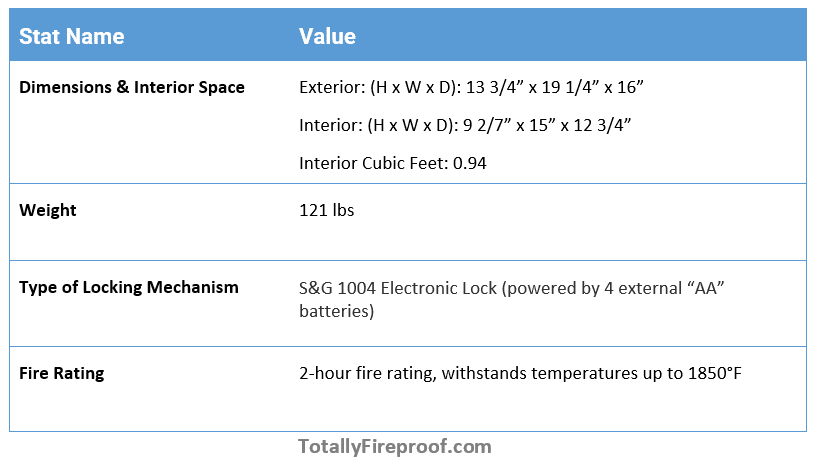 Pros and Cons of Hollon HS-360E 2 Hour Fireproof Home Safe: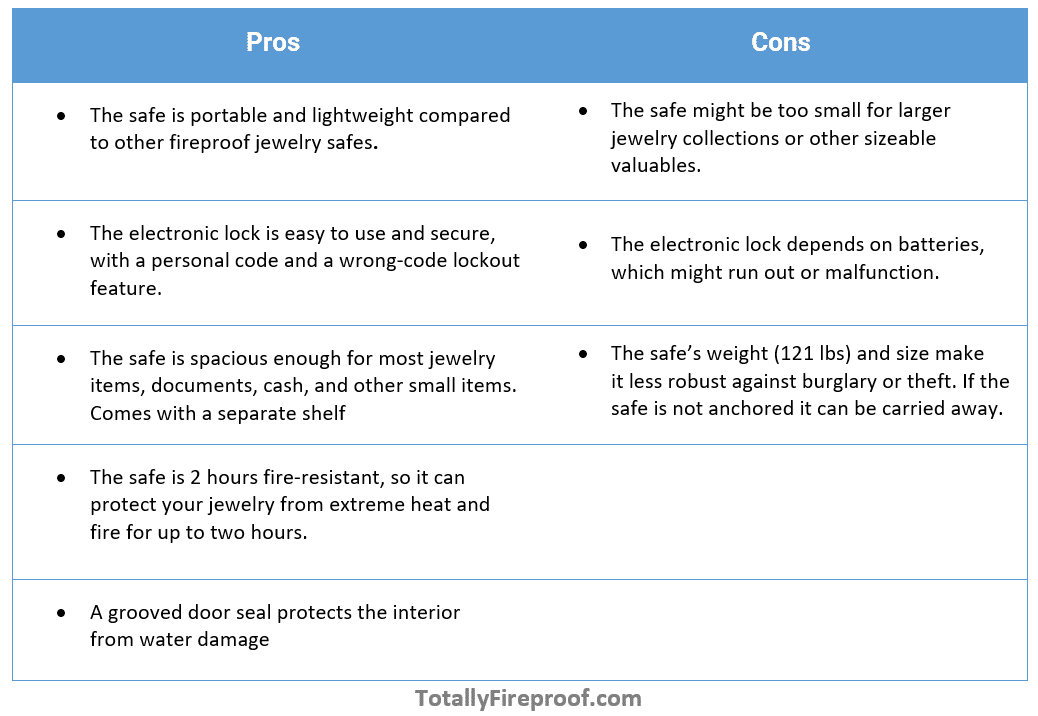 Reasons to Buy:
Hollon HS-360E is really affordable compared to other fireproof safes, with a price of $447.00. This makes it one of the best small home jewelry safes on the market.
It is durable and made of high-quality materials, with a seamless body and door construction and active locking bolts.
It is anti-burglary and has features such as a drill-resistant hard plate, a spring-loaded re-locker, and a bolt-down hole.
It is made by Hollon, a reputable brand which is a leading manufacturer of safes in US.
It has a 2 hours of fire resistance, keeping the temperature inside the safe below 350°F, which is enough to keep precious metal jewelry safe from fire damage.
Reasons to Re-consider:
Interior space of 0.94 cubic feet might be less suitable for storing large or pieces of jewelry.
Electronic lock may be less reliable in case of battery failure.
Compared to bigger and more advanced models, it is not as secure against professional thieves, who might be able to carry it away or break into it with specialized tools.
A great alternative would be another model by the same brand. Hollon HS-500 2 Hour Fireproof Home Safe has similar characteristics. The only difference lies in its form. It is narrower, but has a bigger height. Its price is also sometimes lower, you can check it here:
Best Fireproof Safe for Jewelry: Under $1000
This is a price bump for sure, but it also offers safes that have better anti-burglary capabilities as well as providing above the market fire-proof ratings. We have analysed existing propositions and can confidently recommend a safe made by US company HOLLON.
HOLLON HS-750E 2-Hour Home & Office Safe  –  $999.00
Main Stats: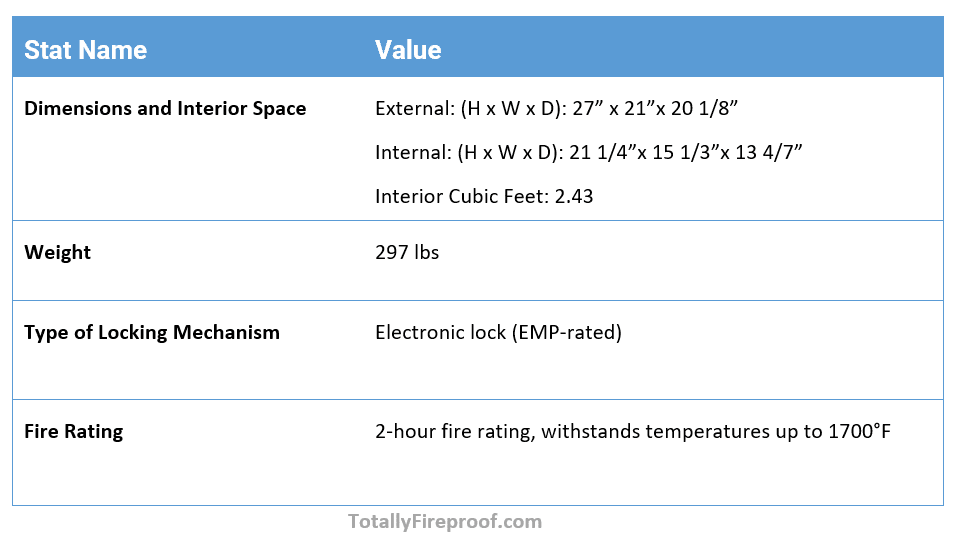 Pros and Cons of HS-750E 2-Hour Home & Office Safe: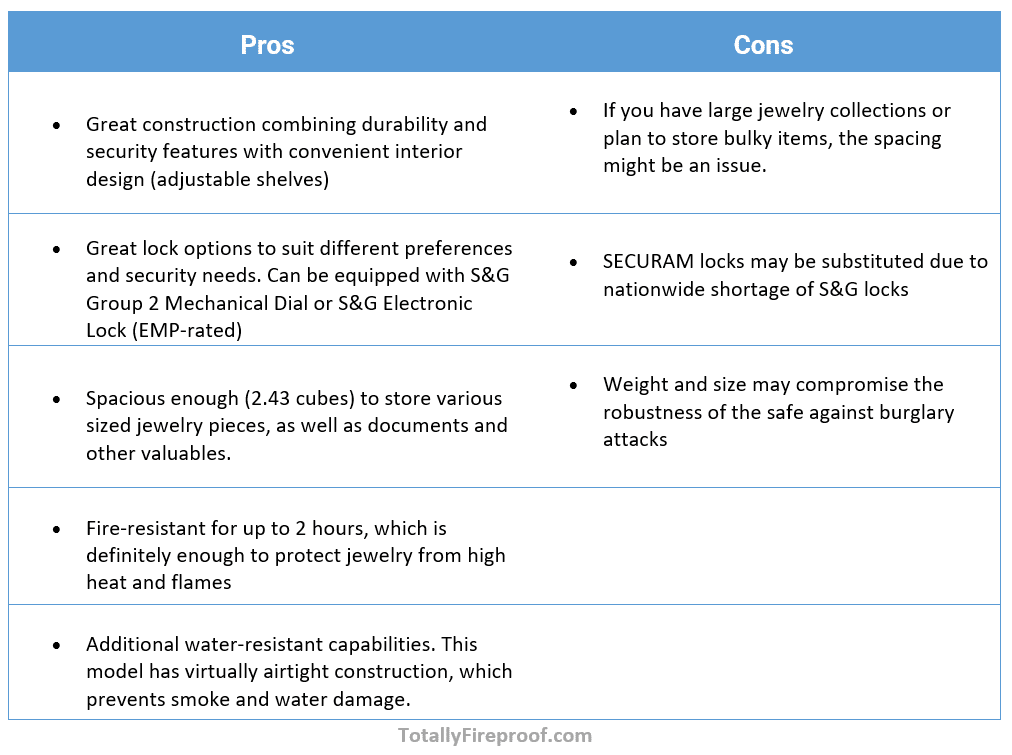 Reasons to Buy:
Hollon HS-750E offers a high level of fire protection for jewelry, important documents, paper money and other valuables. 2 hours fireproof rating with the inner chamber staying below 350°F is an excellent feature.
It comes with a choice of either a mechanical dial or an electronic lock, both made by S&G, a reputable and reliable brand in the industry. The electronic lock is also EMP-rated, meaning it can withstand an electromagnetic pulse attack that would disable other electronic devices.
It has a secondary locking system, also known as a re-locker, that activates in case of a burglary attempt, adding an extra layer of security to the safe.
It comes with a very reasonable price for its quality and features, compared to other safes in the market that offer less fire protection and durability for the same money.
Reasons to Re-consider:
This model might not be large enough to accommodate large jewelry collections or bulky items. Measure your items beforehand and compare with the safe's dimensions.
There is a possibility that the locks may be substituted due to a nationwide shortage of S&G locks.
It is not the most resistant to burglary attacks, there are heavier safes that are also sturdier. A lighter safe can be moved by force or carried away.
Best Fireproof Safe for Jewelry: Under $1500
So, what is the best jewelry safe under $1500 that combines both excellent anti-theft defences mechanisms and fire-resistance? In this price category there are many solid models that can satisfy event sophisticated needs.
Brands like HOLLON, American Security, Gardall and others manufacture a wide range of reliable models that can be used both as safes for jewellery shop and as office/home jewelry safes.
After having compared various safes by the trustworthy brands we suggest you to check this one.
American Security CSC1913 2 Hour Fire/Burglary Safe  –  $1,417.50
Main Stats: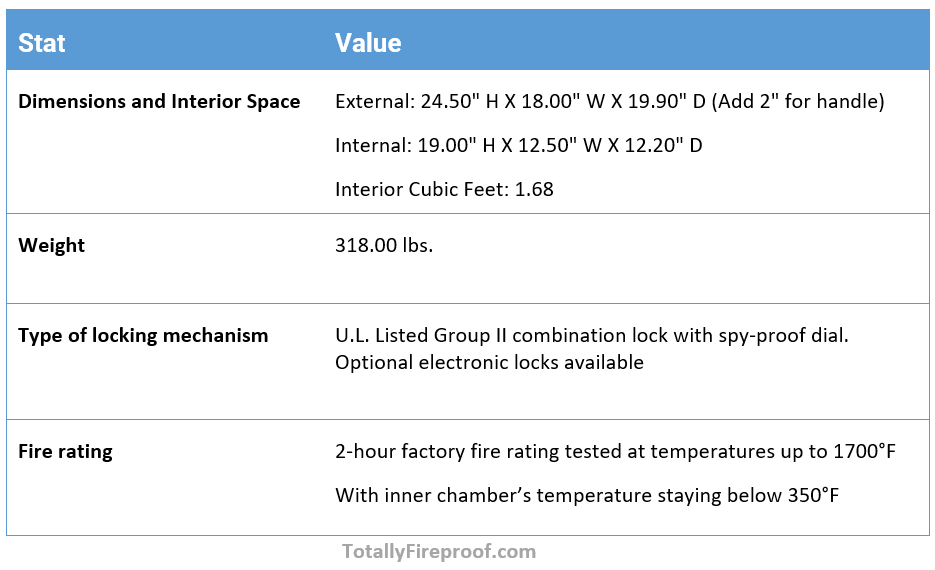 Pros and Cons of American Security CSC1913 2 Hour Fire/Burglary Safe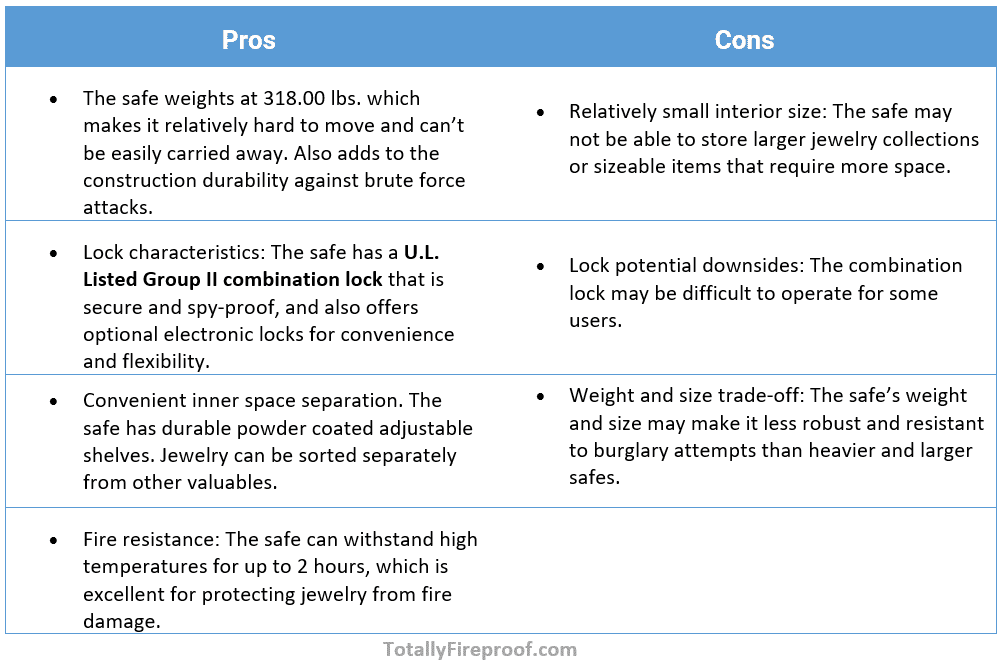 Reasons to Buy:
American Security CSC1913 2 Hour Fire/Burglary Safe is a high-quality product from a reputable brand that has been in the industry for over 75 years.
2-hour fire rating (external temperature up to 1700°F) with heat expandable door seal to guard contents against severe fires.
It offers a fine balance between security and convenience, with a choice of locking mechanisms and a defense barrier of steel plates and fire-resistant materials.
This model has a reasonable price. Especially taking into account its features and specifications, compared to other products of the same price range.
It has a well-thought design with a three-point handle that adds to its aesthetic appeal. Also boasting a fire and burglary resistant composite material, rubber feet
Reasons to Re-consider:
It may not be ideal for your storage needs, if you have a large collection of jewelry. Or if you are planning to keep other valuables that require more space in it.
Depending on your preferences the locking mechanism might not fit your needs.
Best Fireproof Safe for Jewelry: Under $2000
What is the best jewelry safe under $2000? For that price point we consider only models that provide both advanced anti-theft defence measures and reliable fire-resistance rating. Fortunately, there are many impressive models. Though this also makes it harder to make a choice, if someone is less knowledgeable in the safe market.
Having gone through dozens of different safes we suggest you to check this one.
HOLLON 685C-JD Fire and Burglary Jewelry Safe  –  $1,849.00
Main Stats: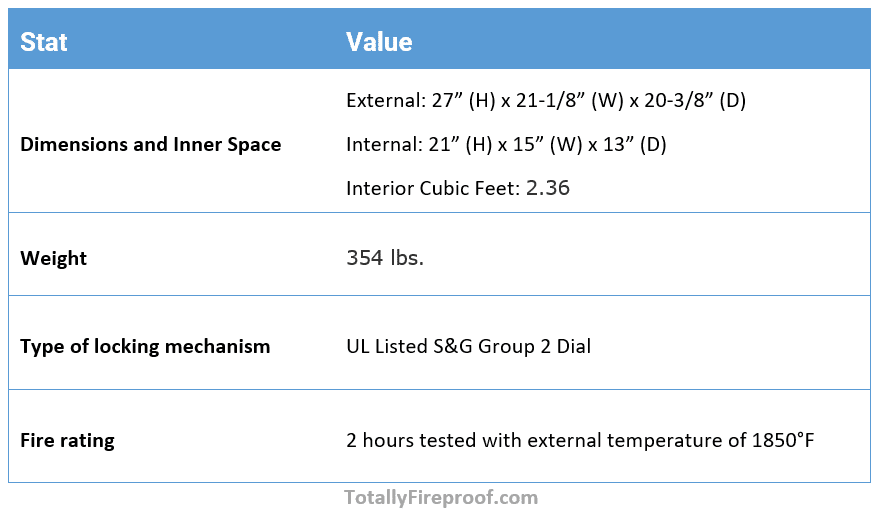 Pros and Cons of Hollon 685C-JD Fire and Burglary Jewelry Safe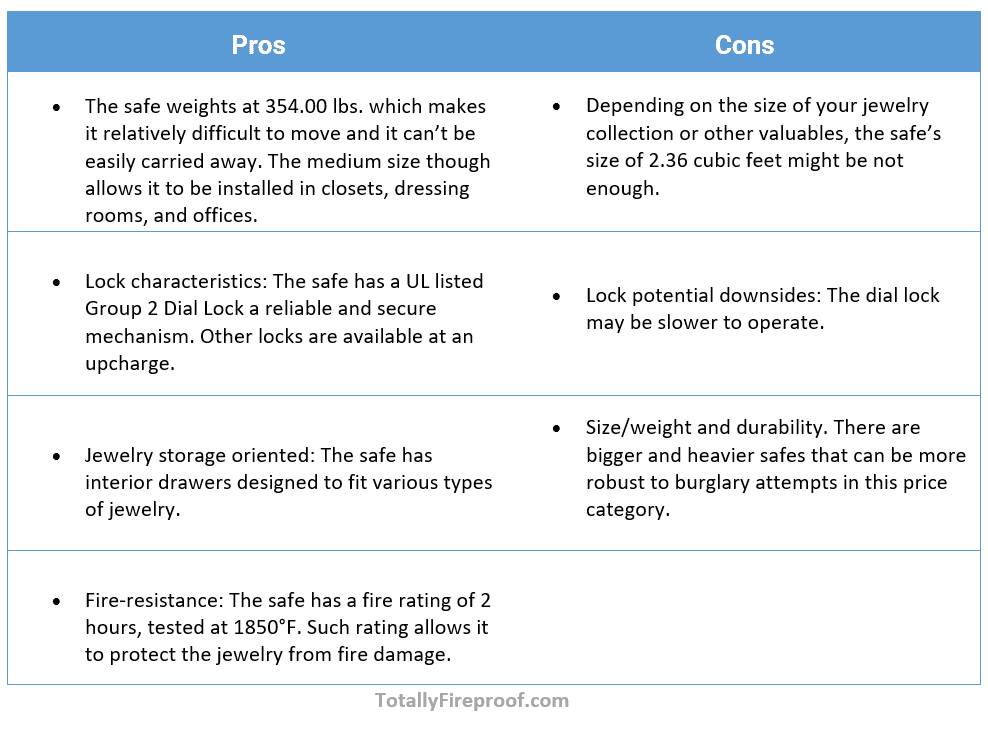 Reasons to Buy:
Hollon 685C-JD is a high-quality safe made by a well-known brand HOLLON, and has been a choice for many who want to use it for jewelry storage specifically.
It is affordable compared to other similar products on the market with matching features.
Your precious items will be protected from fire by a fire rating of 2 hours at 1850°F (with inner chamber temp below 350°F). While UL listed Group 2 Dial Lock is a great defence vs burglary threat.
This safe comes with stylish and elegant interior jewelry drawers, which are high gloss black and lined with black velvet. These excellent for sorting and storing of your jewelry pieces.
It has a decent amount of inner space, with 2.36 cubic feet jewelry drawers that can help you organize he spacing more effectively.
Reasons to Re-consider:
You might need a bigger safe if you have more jewelry to store, than the 2.36 cubic feet allows to.
Assembly Required, be sure to clarify with the retailer the details.
It comes with a Group 2 Dial Lock which might be less convenient for some users. Other types of locks are available but will need an up-charge.
Best Fireproof Safe for Jewelry: Around $2500
What is the best jewelry safe you can get for around $2500? At that price we considered not only models that provide advanced anti-theft defence with great fire-resistance rating. But safes that are also more spacious. We suggest this very impressive safe made by HOLLON.
Hollon FB-1054C Fire and Burglary Safe  –  $2,574.00
Main Stats: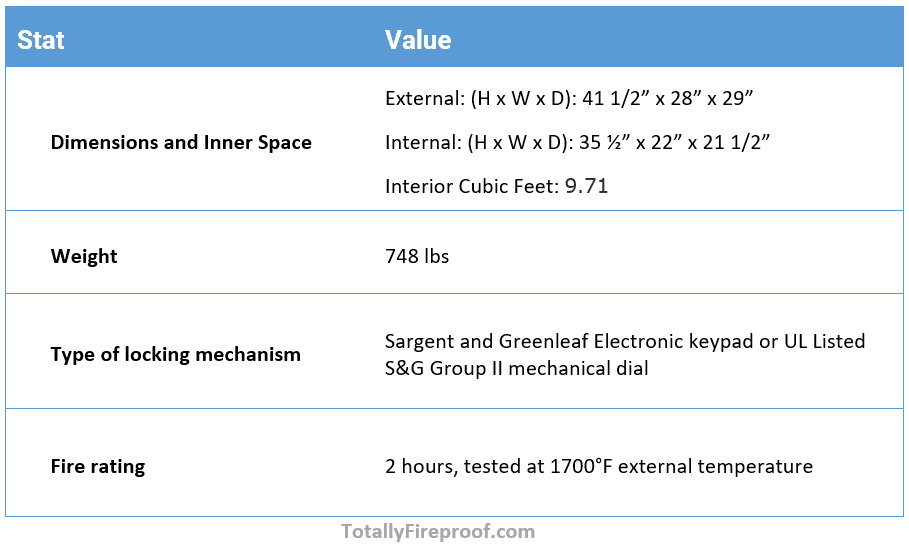 Pros and Cons of Hollon FB-1054C Fire & Burglary Oyster Series Safe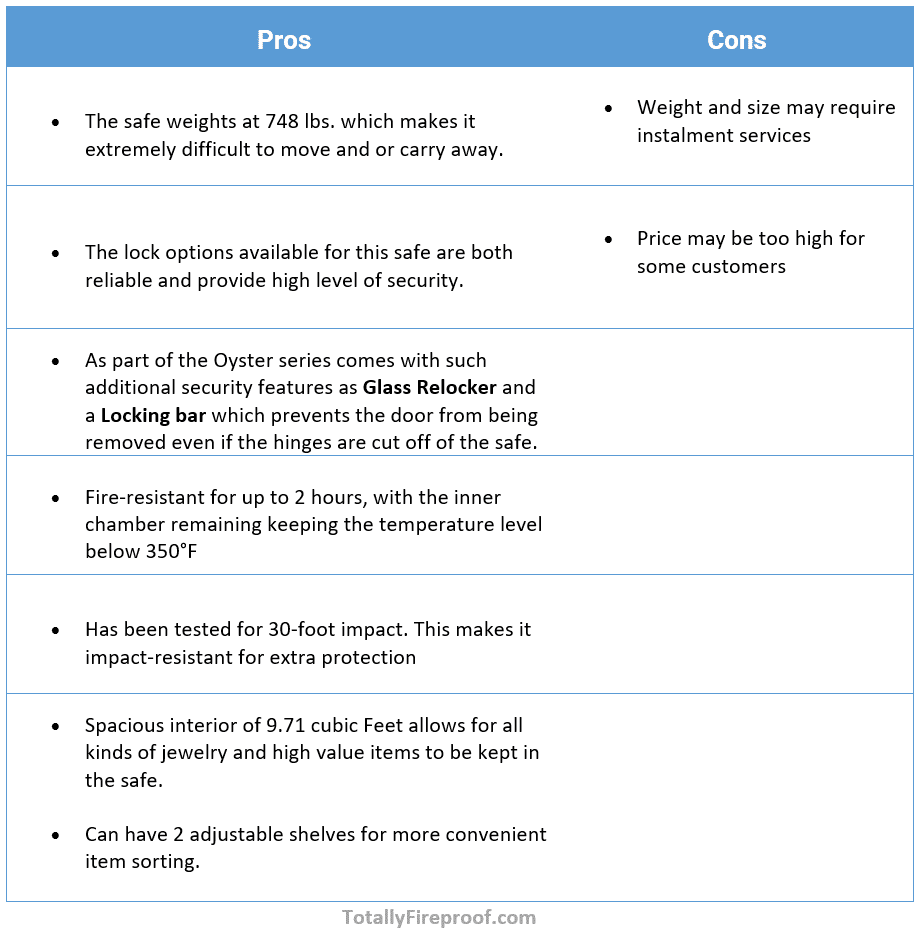 Reasons to Buy
It is designed to resist both burglary attacks and fires, which makes it a reliable and secure storage for your jewelry and other precious items.
It has heavy duty vault style hinges and a full-length locking bar, which prevents the door from being removed even after cutting the hinges off.
It has a glass re-locker and a detence for automatic re-locking, which provide additional security during drilling attacks.
It comes from a reputable brand, HOLLON Safe company, which has been earned a great reputation in the US safes industry. The company also offers expert customer service and warranty.
Reasons to Re-consider:
There is a possibility of getting a SCURAM lock instead of a S&G lock due to the shortage. Needs to be clarified with the retailer.
While being quite sturdy, there are still other safes, which might provide more rigid anti-burglary defence, though at a slightly increased price.
It may be too expensive for some customers.
Conclusion
With the increasing rates of house fires and wildfires, as well as higher rates of burglaries and thefts, it has become important to invest in a high-quality jewelry safe. For your home or office usage. Any safe is better than nothing, honestly. Starting from the most simple jewelry safe boxes, and ending up with sophisticated home jewelry safes that look like furniture and are built like a small bank vault.
Protecting your valuable possessions has never been more relevant. We have reviewed and identified the best affordable options for storing jewelry available in 2023. We compared security features, storage capacity, fire ratings, sizes, built quality, Brands' reliability and selected top fireproof jewelry safes for different budgets. We hope you can use this guide to secure your most precious assets.
Stay safe! 🔥