The Best Fireproof and Waterproof Boxes: Top 3 Picks
If you are looking for an affordable way to protect your valued possessions like ID cards, medical and financial documents, USB flash drives and others, you may want to get a good reliable fire and waterproof box. They cost way less than full sized safes and don't take much space. But they can still provide necessary protection from fire and water damage.
Why You May Need a Fire & Waterproof Box
The Danger of Fire and Water
It's crucial to never underestimate the potential havoc that fire and water can wreak on your treasured possessions. Fires can consume everything in their path, leaving behind nothing but ashes. Unless you take precautions and place your possessions in protected areas, containers or keep out of the harm way altogether.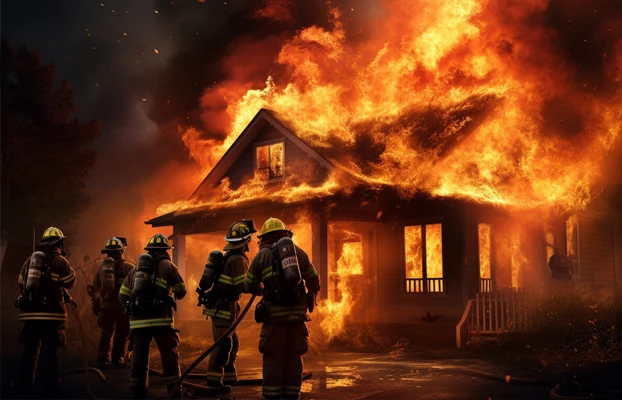 Water, while often perceived as less threatening, can be equally destructive. Even a minor flood or leak can turn your important documents into mush and tarnish your electronic devices. Some areas are prone to extreme floods and hurricanes. But it's often an unexpected pipe burst that destroys the unprotected valuables.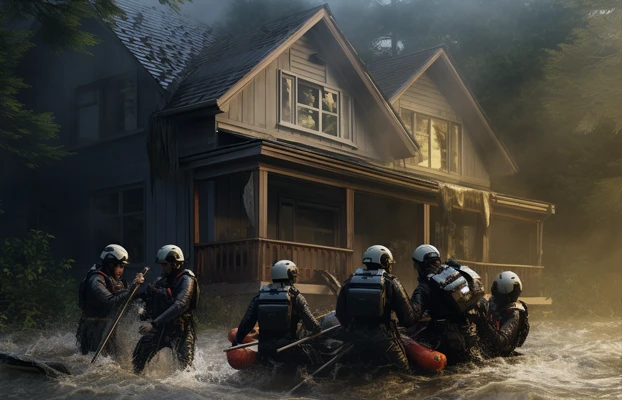 Simple and Effective way to Reduce the Risks
A fireproof and waterproof box can be that decisive factor that determines what you end up with after a devastating fire, or a sudden office flood. A factor that determines if you still have your most important documents with you, if your financial, military or identification records are intact. Or if your electronic devices are not destroyed and you still have all your back up data.
Top Picks for Fireproof and Waterproof Boxes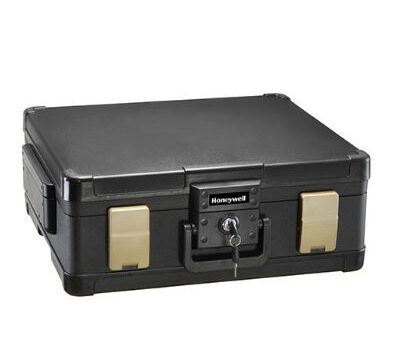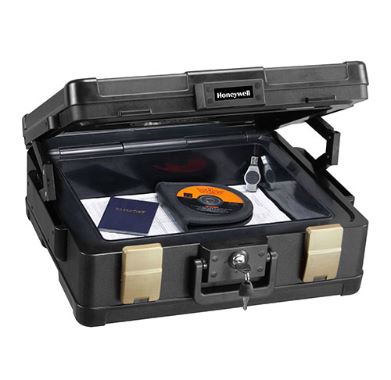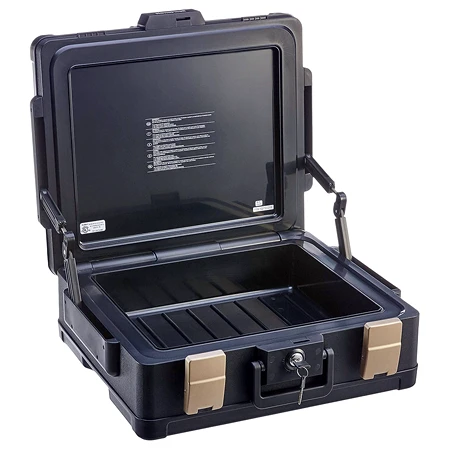 Our top-rated pick for the best fireproof and waterproof box is the Honeywell 1104. This reliable box provides excellent protection against fire and water, it is constructed to ensure your valuables remain unharmed even under very stressful elemental conditions. Here are the details:
Size: The Honeywell 1104 has enough space to store a range of items, from important documents to electronic devices.
Dimensions: Outer 7.3 H x 20.0 W x 17.2 D in. Interior Dimensions: 3.8 H x 14.8 W x 12 D in.
Special Features: This durable fireproof box comes with a key locking mechanism and a carry handle for portability.
Pros: Very good fire and water resistance. 1 hour fire rating and 24-hour water resistance, which is higher than average on the market. It also has a spacious interior, and top-notch construction.
Cons: Slightly higher price point.
Where to Buy: You can purchase the Honeywell 1104 here: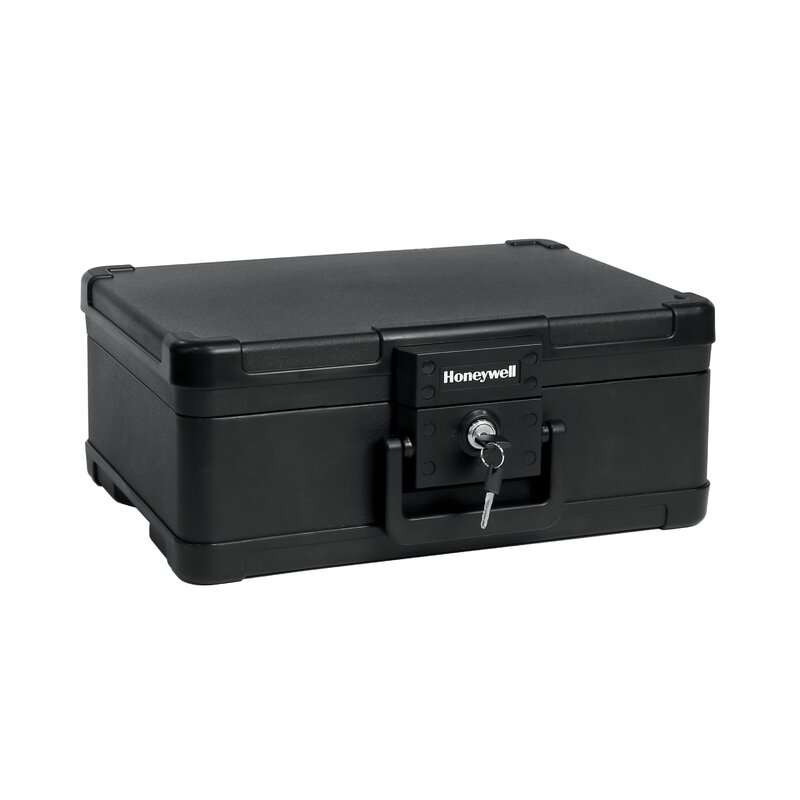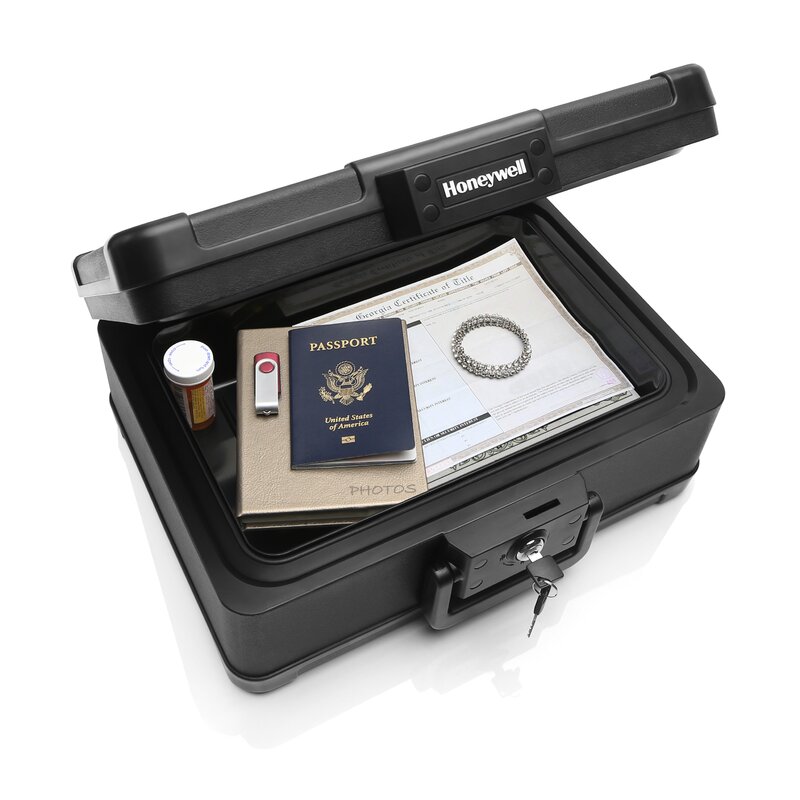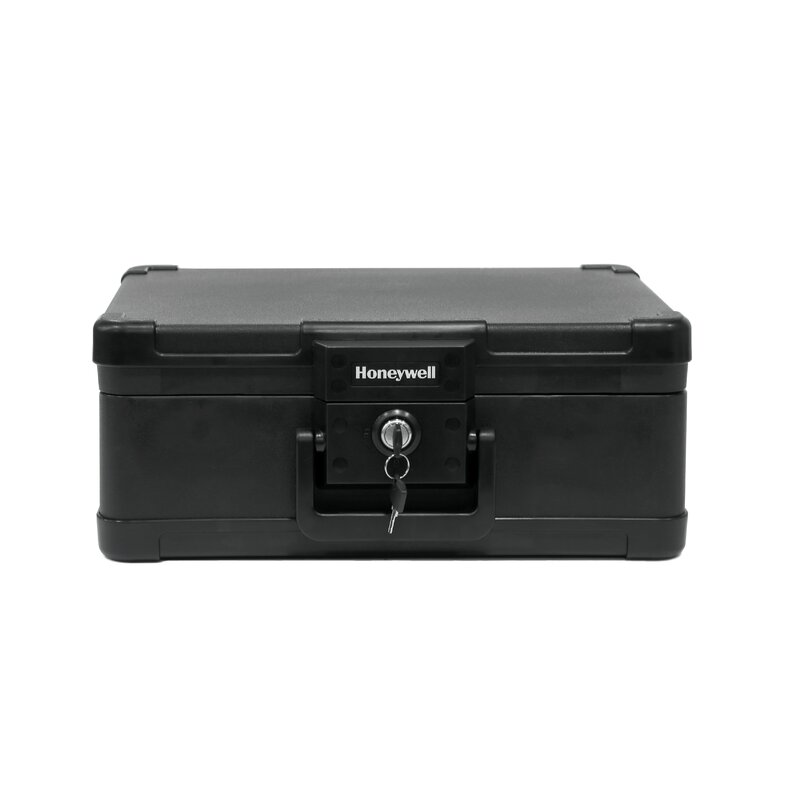 For those seeking a secure storage option for smaller valuables, the Honeywell 1503 lock Box is an excellent choice. Here's what you need to know:
Size: Despite its compact size, it can easily store A4 sized documents or media devices.
Dimensions: Outer 6.6" H x 16.0" W x 12.6" D in. Interior Dimensions: 3.7" H x 13.1" W x 8.5" D in.
Security Features: Comes with 30 minutes fire resistance and up to 72 hours of water resistance! Has a lock key and a convenient carrying handle. features to protect your small valuables.
Pros: Very affordable, compact, and easy to use. Impressive water-resistance.
Cons: Limited storage capacity for larger items.
Where to Buy: You get the best deal for the Honeywell 1503 Safe Box here: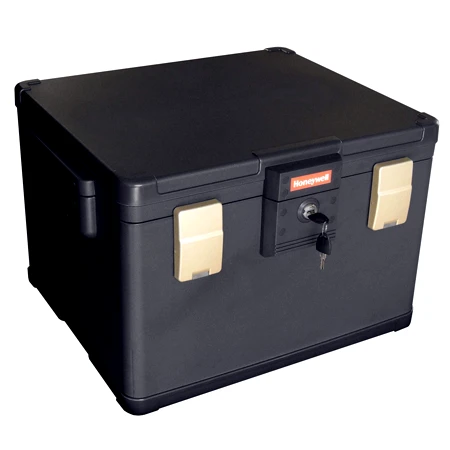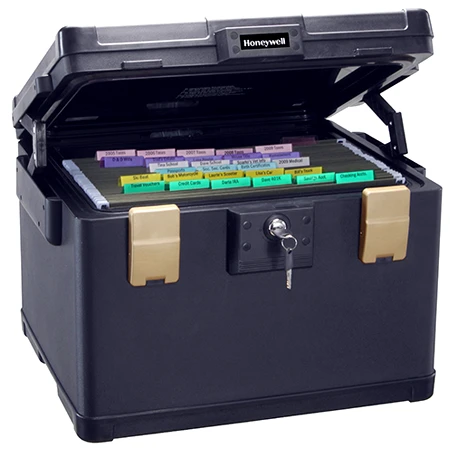 When it comes to extreme heat and water-resistance, the Honeywell 1108 reclaims the spotlight. Here's why:
Size: This fireproof box is excellent for storing larger amount of documents.
Dimensions: Outer Dimensions: 11.87″W x 17.22″D x 13.06″H in. Interior Dimensions: 11.87″W x 15.15″D x 10.15″H in.
Capabilities: This box is designed for the harshest conditions and is ideal for safeguarding critical documents. Has been certified by UL or 1 Hour UL Fire Protection (up to 1700° F / 927° C) and 48 Hours waterproof rating while being submerged at 39 in. / 1 m depth.
Pros: Exceptional fire and water protection. Has a very spacious interior, and durable construction.
Cons: Premium pricing for the extra protection and capacity.
Where to Buy: You can purchase the Honeywell 1108 here:

How to Choose the Right Water and Fire Resistant Box
When selecting the perfect fireproof and waterproof box, consider the following key factors:
Fire Protection Rating: Look for boxes with high fire resistance ratings, usually expressed in hours. The longer the rating, the better the protection.
Water Protection Rating: See if the model you are interested in has a certified water resistance rating.
Construction Quality: Examine the materials used in the box's construction. Opt for sturdy, durable materials that can withstand extreme conditions.
Size: Determine the size you need based on what you plan to store. Ensure the box can accommodate your documents, valuables, and electronic devices.
Weight Capacity: Check the weight capacity of the box. Make sure it can support the items you intend to store without compromising its integrity.
Warranty: Review the warranty offered by the manufacturer. A longer warranty period indicates the manufacturer's confidence in the box's durability. And you get an additional safety net in case anything goes wrong.
Why You Can Trust Our Recommendations
We want you to feel confident in relying on our expertise when choosing a fireproof and waterproof box. Here's why you can trust us:
1. Thorough Selection Process: Our recommendations are the result of a meticulous selection process. We've conducted extensive research, scrutinizing numerous options to bring you the best choices.
2. Stringent Criteria: We apply strict criteria when evaluating storage boxes. These criteria encompass factors like fire and water resistance, construction quality, real customers' feedback, and brand reputation.
3. Commitment to Quality: We prioritize quality and factual-based information. Our goal is to provide you with options that are proven by real-world data.
Conclusion
By choosing the right fireproof and waterproof box, you're safeguarding your most cherished possessions. We've presented you with top picks, and hopefully gave you answers to all related questions. Now you can make an informed decision and choose the right model for your needs.
As you can see these models are relatively cheap but they are very capable in safeguarding your property. It's always better to be prepared for possible emergencies, especially when it doesn't cost a fortune.
Frequently Asked Questions about Fire & Waterproof boxes
What should I put in a fireproof and waterproof box? These protective boxes are ideal for storing a range of items, including vital documents, family photos and valuables, some electronic devices, and identifications. We have this full list of What to Put in a Fireproof Box for a quick read.
What is the maximum temperature that a fireproof and waterproof safe can withstand? The temperature resistance of these safes varies based on different models. Some high-end models can endure temperatures exceeding 1700°F (927°C), ensuring the contents remain unscathed even in the most extreme fires. Always check the specifications of the particular model you're interested in for precise temperature ratings.
Are all fireproof boxes also waterproof? Not necessarily. Whether a fireproof box is also water resistant depends on the specific model. Some fireproof boxes offer dual protection, safeguarding your items from both fire and water damage, while others may prioritize one type of protection over the other. Always review the product details to ensure you're getting the level of protection you need.
How much should I budget for a quality fireproof and waterproof box? The price range for these safes can vary widely. Entry-level models may start at around $80, while more advanced options with extensive fire and water resistance can range from $200 to $300 or more.
Do fireproof and waterproof safes come with warranties? Yes, many manufacturers offer warranties with their fireproof and waterproof safes. These warranties typically cover repair and maintenance, providing added peace of mind.