American Security CSC3018 2-Hour Fireproof Safe Review
The American Security CSC3018 2-Hour Fireproof Safe is a reliable defense against both fire and burglary, tailored for the selective home owners seeking to protect their valuables. American Security, the manufacturer, has earned its reputation over decades, becoming one of the leaders in the security industry.
Let's take a closer look at this particular model. In this review we give our judgement on its fireproof rating, security features, lock mechanism, and other features to help you decide if this is the right safe for you.
Safe Ratings:
Pros
2-hour Fire Rating (tested at 1700°F)
UL listed for burglary protection
Multiple lock options, including electronic and mechanical
Attractive design with a charcoal gray finish and full-width fascia panel
Good build quality and reasonable price
Cons
Weighs 497 lbs, may require professional installation
Limited color options (Charcoal Gray only)

Key Specifications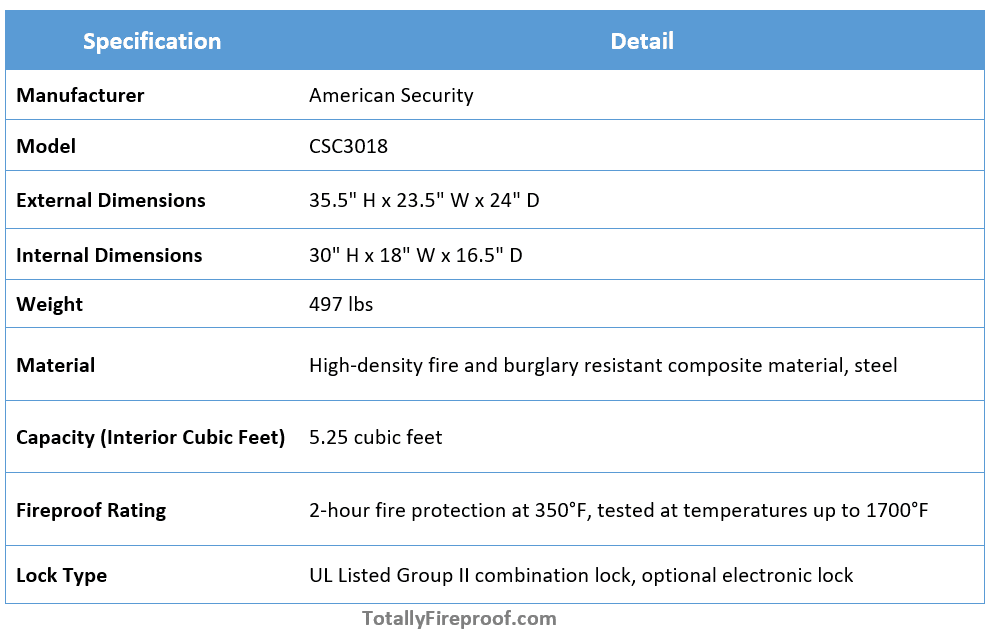 Fireproof Features
The American Security CSC3018 Safe is engineered to offer exceptional fire protection, safeguarding your valuables with a 2-hour fire resistance at 350°F. This level of defense has been tested in conditions reaching up to 1700°F, which speaks to its ability to withstand severe heat. The safe's door is notably robust, featuring a composite construction with a thickness of 4-5/8 inches, composed of outer and inner steel plates that house a fire-resistant material.
While the safe's burglary protection is UL listed, it's important to note that the fireproof rating, although impressive, does not specifically mention UL certification for fire resistance. Nonetheless, the safe's construction is designed to provide substantial protection against fire, as evidenced by the testing it has undergone.
Security Features
The American Security CSC3018 is not only fire-resistant but also a formidable opponent against unauthorized access, thanks to its comprehensive security features. Here's a closer look at what makes this safe a secure choice:
Table Highlighting Security Features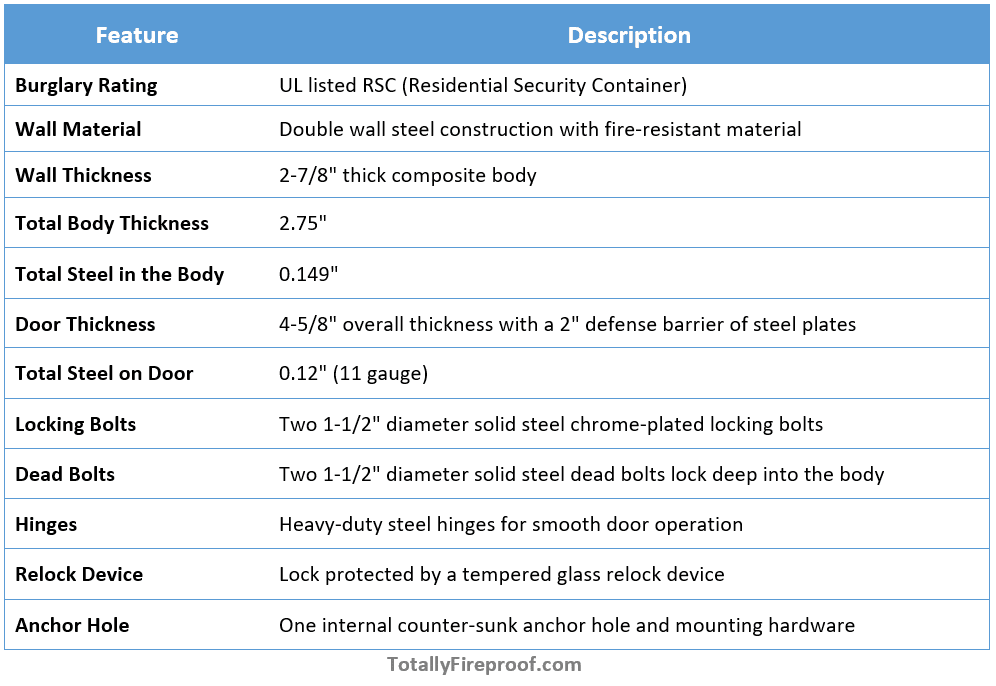 The UL RSC rating indicates that the safe has been tested for its resistance to burglary attacks and has met the stringent criteria set by Underwriters Laboratories. This rating, along with the safe's robust construction and locking mechanisms, makes the CSC3018 an excellent choice for those seeking to protect their valuables from theft.
The safe's substantial body and door thickness, combined with the solid steel locking bolts and deadbolts, provide a high level of security. The inclusion of a tempered glass relock device adds an additional layer of protection
Locking Mechanism
The AMSEC CSC3018 is equipped with a high-security U.L. Listed Group II combination lock, ensuring a reliable and secure locking system. This lock is a testament to the safe's robust security measures, designed to provide peace of mind for the owner. Here are the key features of this combination lock: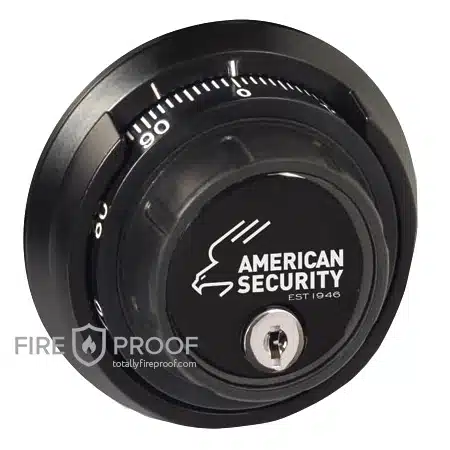 Key Characteristics of ESL5 Locking Mechanism
| Feature | Description |
| --- | --- |
| Lock Type | U.L. Listed Group II combination lock |
| Combination Options | Three-wheel with 1,000,000 possible combinations |
| Spy-Proof Feature | Key-locking spy-proof dial |
Locking Mechanism of American Security CSC3018 Safe
The U.L. Listed Group II designation signifies that the lock meets the high standards set by Underwriters Laboratories for combination locks, ensuring a high level of security against manipulation and forced entry. The lock's three-wheel design allows for one million possible combinations, making it virtually impossible to guess the correct sequence.
Additionally, the spy-proof dial is a critical security feature. It is designed to prevent onlookers from viewing the combination as it is entered, adding an extra layer of security. This feature is particularly useful in settings where the safe may be accessed in the presence of others, ensuring that the combination remains confidential.
The combination lock's robust design and security features make it an excellent default locking mechanism for the CSC3018, providing reliable protection for valuables stored within the safe. Optional electronic locks are available for those who prefer a digital solution, offering versatility to meet the user's specific security preferences.
Build Quality and Additional Features
The American Security CSC3018 Safe is constructed with a focus on durability and functionality. The build quality is evident in its double-wall steel construction, which encases a unique proprietary fire-resistant material, contributing to its substantial weight of 497 lbs. This robust build ensures that the safe remains intact and secure under duress, whether it's from fire or attempted burglary.
Additional Features:
Adjustable Shelves: The interior includes durable powder-coated adjustable shelves, allowing for customizable storage solutions to accommodate various item sizes.
Paint Finish: The safe is finished with a charcoal gray textured paint, providing not only a sleek and professional appearance but also additional durability against wear and tear.
Anchor Hole: An internal counter-sunk anchor hole, along with the provided mounting hardware, allows for secure anchoring of the safe to prevent removal or theft of the entire unit.
Door Seal: A heat-expandable intumescent door seal is designed to protect the contents against severe fires by expanding to seal the door edges, preventing heat and smoke from entering.
Hinges: Heavy-duty steel hinges facilitate easy and smooth door operation, ensuring longevity and reliability.
Design Accents: The safe is attractively accented with a full-width fascia panel and a matching three-point handle, which adds to its aesthetic appeal without compromising functionality.
Warranty
The safe comes with a Limited Lifetime Warranty, offering long-term assurance to buyers. It typically covers defects in materials and workmanship, ensuring that if any issues arise under normal use conditions, the customer has a form of recourse.
The inclusion of a Limited Lifetime Warranty with the CSC3018 adds significant value to the purchase, providing an extra layer of protection for the investment. It reflects American Security's commitment to customer satisfaction and trust in their safe's performance over time.
Price
The American Security CSC3018 Safe is priced at just around $2.000. This price point reflects the safe's high-quality construction, advanced security features, and robust fire protection capabilities. While this is definitely not a cheap tag, the features offered make it very justifiable. When evaluating the cost, we considered the following key elements:
Quality: The safe's double-wall steel construction and proprietary fire-resistant material offer a level of durability that is designed to last.
Security: With UL listed burglary protection and a sophisticated electronic lock system, the investment in security is evident.
Fire Protection: The 2-hour fire resistance at temperatures up to 1700°F provides substantial protection for valuables in extreme conditions.
Final Verdict
Is American Security CSC3018 2-hour Fireproof Safe any good?
Yes, AMSEC CSC3018 is a good choice and offers great value. Its combination of fire resistance, security features, and quality construction make it an excellent choice for anyone in the market for a reliable safe. The price, while on the higher end, is justified by the safe's specifications and the protection it offers.
The following points summarize the essence of this safe:
Robust Fire Protection: With a 2-hour fire resistance rating at temperatures up to 1700°F, the CSC3018 is well-equipped to protect valuables in the event of a fire.
Solid Security Features: The safe's UL listed burglary rating, combined with its substantial steel construction and locking mechanisms, offer a high level of deterrence against theft and unauthorized access.
Quality Construction: The double-wall steel build and additional features like adjustable shelves and a heat-expandable door seal contribute to both the safe's functionality and its durability.
Manufacturer's Reputation: American Security is known for its reliability and has a longstanding reputation in the security industry, which is reflected in the CSC3018's design and features.
Warranty: The inclusion of a Limited Lifetime Warranty provides buyers with confidence in their investment, knowing that their purchase is protected for years to come.
Price: The price is aligned with its quality and features, making it a reasonable investment for those seeking to secure their valuables against both fire and theft.
Overall Score: 8.5/10