Hollon HDS-750E Fireproof Data Safe Review
If you need a secure safe with the best Fireproof capabilities then Hollon HDS-750E Fireproof Data Safe can be a perfect choice. It is designed to keep your valuable items such as data storage devices, media, electronics, documents, and jewelry from fire damage.
There's plenty of good fire resistant safes on the market. But there's only a few Data safes that can keep the inner temperature below 125°F when in a fire. This is the top protection from heat you can get. Made by Hollon, a company with a solid reputation for crafting safes that excel in both security and durability, this is model definitely worth checking.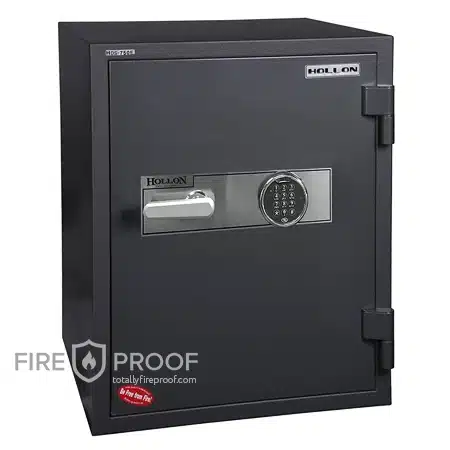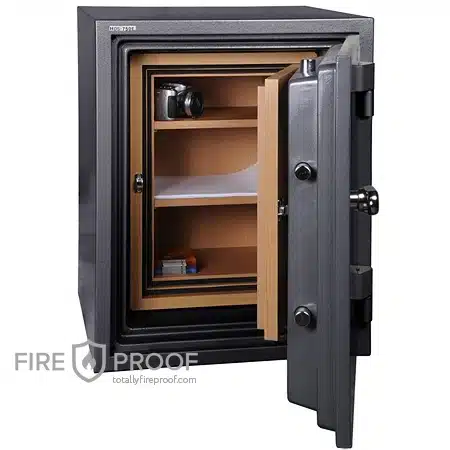 Safe Ratings:
Pros
Excellent fireproof rating (1 Hour of 125°F at 1850°F)
Solid security features
Reliable brand
Great build quality
Good value for the price
Cons
Weight may be an issue for some
Limited default lock options

Key Specifications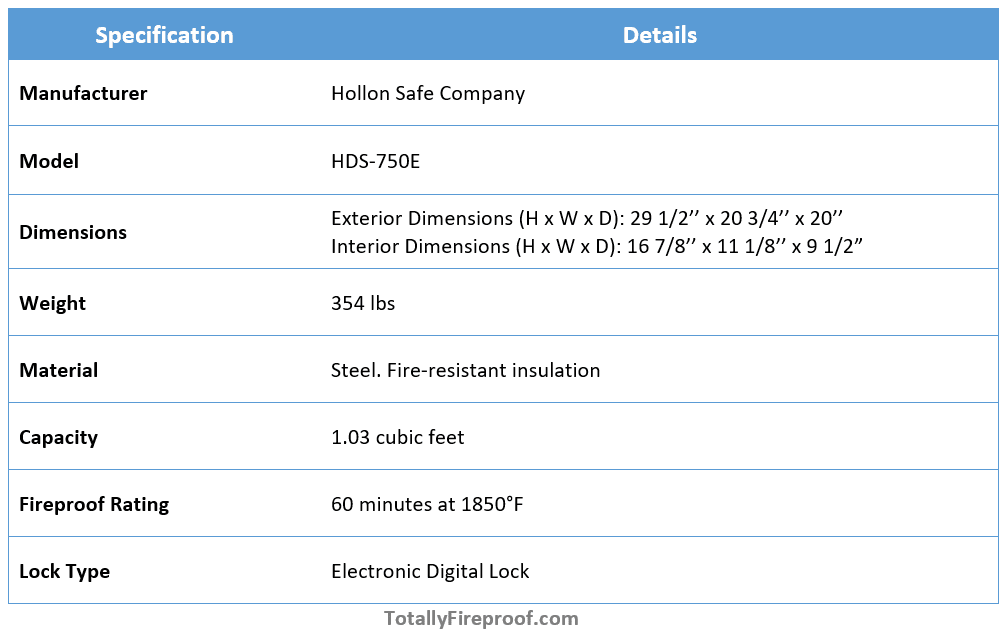 Fireproof Features
The standout feature of the Hollon HDS-750E Data Safe is its impressive fireproof rating. It is a KSG certified to maintain an internal temperature of 125°F for a full hour at 1850 degrees fire. The safe is designed protect even the most vulnerable items like CDs, DVDs, USB sticks, memory cards, hard drives. That's why it's called a Data safe.
Even more so the model is 30-foot-impact rated. This means it can survive a two-story fall, should a structure collapse in a fire. Not many safes can provide this exceptional level of heat and impact resistance.
Security Features
When it comes to security, the Hollon HDS-750E also gets the job done. It offers a range of features designed to deter unauthorized access, making it a decent choice for those who prioritize security alongside fire protection.
The safe comes equipped with multiple layers of security, including a heavy-duty steel door and walls, high-security electronic keypad and durable built design against brute attacks. These features not only make it difficult for intruders to gain access but also give it an edge over many competitors in the market.
Additional Security Features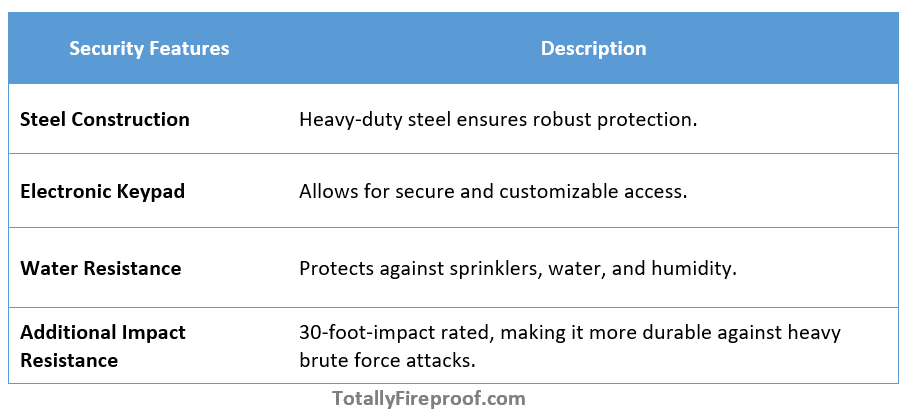 Locking Mechanism
The Hollon HDS-750E comes with an S&G electronic keypad that allows for personalized codes, offering a high level of customization for individual users.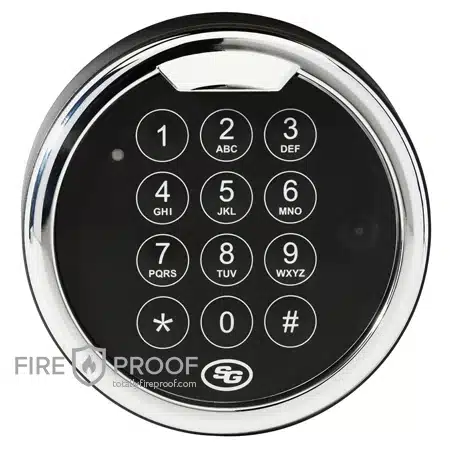 Characteristics of S&G Type 1 Electronic Lock
The S&G Type 1 Electronic Lock offers a user-friendly interface along with a high level of security. It allows for personalized codes, ensuring that only authorized individuals can access the safe. The lock is also designed to resist tampering, making it a robust choice for securing valuable items.
Build Quality and Additional Features
When it comes to build quality, the Hollon HDS-750E Data Safe has a robust design and uses high quality materials. It is made from heavy-duty steel, reinforced with fire-resistant insulation. This combination not only provides excellent fire protection but also adds an extra layer of security against break-ins. The safe comes with a sleek black finish, making it aesthetically pleasing while maintaining its functional attributes.
Storage Capacity and Organization
With a storage capacity of 1.03 cubic feet, the safe offers enough space for your Data and Media devices. It also features 2 adjustable shelves, allowing for better organization and efficient use of space.
Warranty
When investing in a safe, the warranty is often a deciding factor, offering peace of mind for your purchase. The Hollon HDS-750E Data Safe comes with a one-year limited warranty, covering defects in materials and workmanship. While the warranty period may not be as extensive, it does provide a level of assurance that you're investing in a quality product.
Price
The Hollon HDS-750E Data Safe falls within the mid-range price category, with prices varying between $1200 to $1400 depending on the retailer. Given its Top fireproof and solid security features, the price point can be considered reasonable.
Final Verdict
Is Hollon HDS-750E Fireproof Data Safe any good?
Yes, Hollon HDS-750E is a great product that offers a highest level fire protection. Its robust build quality, efficient security features, and reliable warranty make it a worthwhile investment for anyone serious about safeguarding their valuables.
Overall Score: 8.75/10