Browning 1878 Series-13 Fireproof Safe Review
The Browning 1878 Series-13 is a fireproof safe designed to offer robust protection for firearms and other valuables. This review provides an objective analysis of its features, including the fireproof rating, security aspects, lock mechanism, and overall value. The goal is to offer a comprehensive overview that will help potential buyers in making an informed decision about this particular product.
Browning, a brand with a rich history dating back to 1878, is known for its commitment to quality and innovation in the security industry. So how does this safe live up to the manufacturer's history?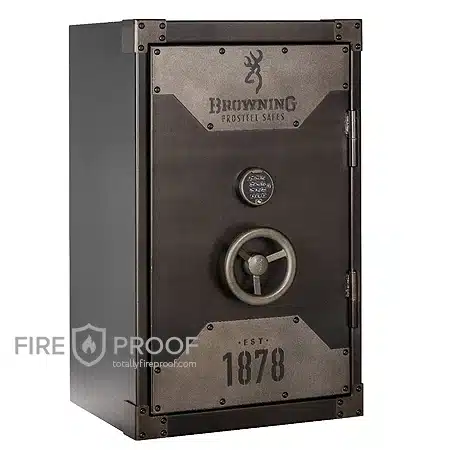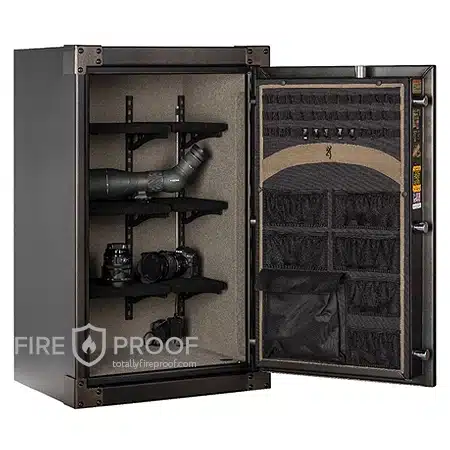 Safe Ratings:
Pros
90-minute fire rating at 1680°F
11-gauge steel body construction
UL RSC Tool Attack security rating
Axis Adjustable Shelving for optimized storage
Made in the USA
Cons
Weight may be challenging for some installations
Higher price point

Key Specifications
The Browning 1878 Series-13 Fireproof Safe is a product that has a lot to offer on quality and specifications. Below is a detailed table that encapsulates the key specifications of this model, showilng all the necessary information at a glance.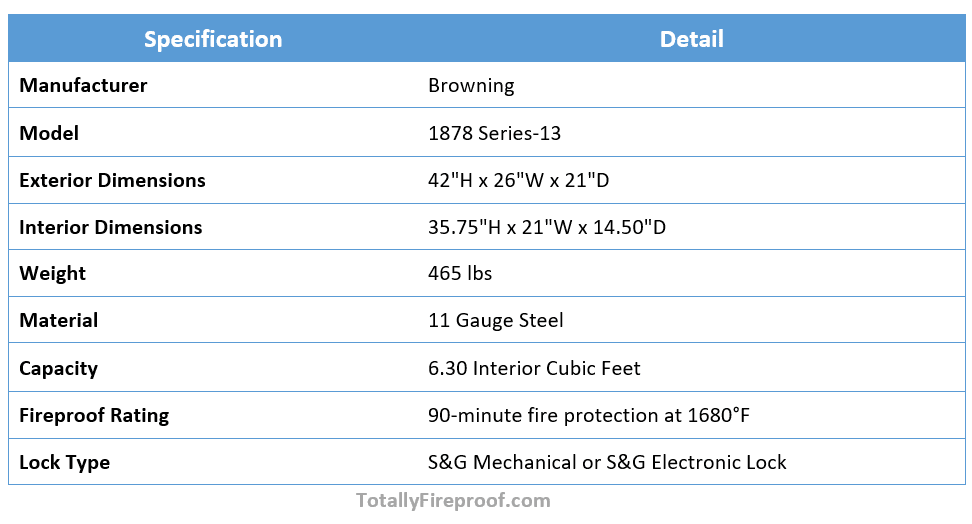 Fireproof Features
The Browning 1878 Series-13 stands as a fire-resistant barrier against the destructive power of fire. It boasts a substantial 90-minute rating, tested at temperatures reaching up to 1680°F. This level of fire resistance assures owners that their valuables, including important documents and firearms, will be safeguarded against extreme heat.
This model however does not have UL certification for fireproofing. It is factory tested. Even so, a 90-minute rating at 1680°F means that the safe's interior will remain at a temperature low enough to prevent damage to its contents for at least an hour and a half, even when external temperatures rises to near-melting points. This provides ample time for firefighting efforts to take place, potentially saving possessions that are irreplaceable or carry significant sentimental value.
Security Features
The Browning 1878 Series-13 Fireproof Safe is engineered with a suite of security features designed to prevent unauthorized access and protect against physical attacks. The safe's robust construction and security measures ensure peace of mind for owners.
Here is a table summarizing the key security features of the Browning 1878 Series-13:
| | |
| --- | --- |
| Security Feature | Description |
| UL RSC Tool Attack Rating | The safe meets the stringent requirements of the Underwriters Laboratories Residential Security Container rating, indicating its resilience to break-in attempts using common burglary tools. |
| 11-Gauge Steel Body | The safe's body is constructed with durable 11-gauge steel, providing a tough barrier against forced entry. |
| Pry-Stop End Bolts | These bolts extend from the door into the safe body, creating a secure lockup that is resistant to prying attempts. |
| Force Deflector Locking System | This system prevents bolt or handle forces from reaching the lock by diverting these forces to the mechanism's stronger components. |
| 1" Formed Door | The door's thick construction adds an additional layer of security, making it more resistant to drilling and other forms of physical attack. |
Browning 1878 Series-13 Key Security Features
The combination of these features positions the Browning 1878 Series-13 as a top-tier option for those seeking a secure storage solution.
Locking Mechanism
The Browning 1878 Series-13 Fireproof Safe is equipped with a sophisticated locking mechanism that is both reliable and secure. The default option for this safe is the S&G Group 2 Key Locking Combination Dial, a lock that is well-regarded for its durability and security features.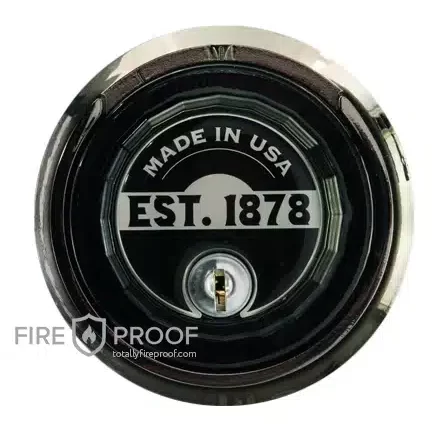 Here are some of the positive aspects of the S&G mechanical dial combination lock: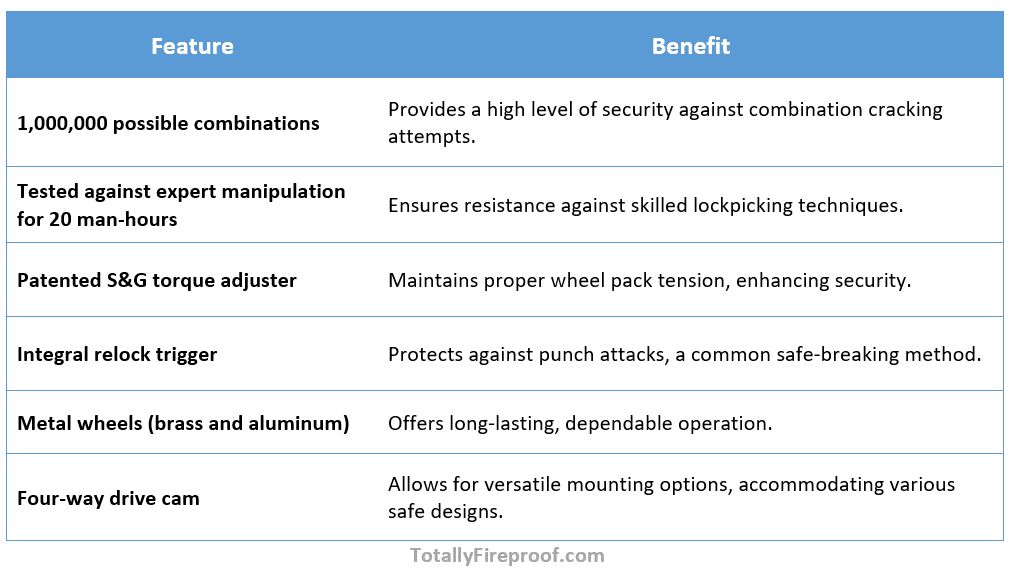 In addition to the standard S&G Key Locking Combination Dial Group 2 lock, the Browning 1878 Series-13 safe offers versatility in its lock options to suit various user preferences and security requirements. Customers have the choice to upgrade to an S&G Electronic Lock, which combines the trusted security features of the mechanical lock with the convenience of an electronic interface. Both lock options uphold the high-security standards set by Browning.
Build Quality and Additional Features
The build quality of the Browning 1878 Series-13 Fireproof Safe is constructed with a rugged 11-gauge steel body, ensuring a durable and solid foundation resistant to physical attacks. The unique weathered Metal Glaze finish not only contributes to the safe's aesthetic appeal but also provides a distinct character to each unit, as variations in the metal give every safe an individual look.
Additional features of the Browning 1878 Series-13 include:
Axis Adjustable Shelving: This industry-leading interior allows for customizable storage solutions, enabling owners to configure the shelves to meet their specific storage needs, whether for guns, documents, or other valuables.
Made in the USA: The safe's domestic manufacturing is a nod to quality craftsmanship and supports national industry.
Size and Capacity: With exterior dimensions of 42"H x 26"W x 21"D and an interior capacity of 6.30 cubic feet, the safe offers substantial space without being overly cumbersome.
Weight: At 465 pounds, the safe's heft is indicative of its solid construction and adds an additional layer of theft deterrence.
Warranty
Browning ProSteel stands firmly behind the 1878 Series-13 Fireproof Safe with a comprehensive Limited Warranty that underscores their confidence in the product's durability and security. This warranty is a lifetime commitment from ProSteel to the original purchaser, covering the safe against damage from break-ins, attempted break-ins, and fires for any Browning ProSteel gun safe produced after January 1, 2006.
Under the terms of the warranty:
Break-in Warranty: In the unfortunate event that the safe is forcibly opened, ProSteel pledges to either replace or repair the safe at no cost to the owner.
Attempted Break-in Warranty: Should the safe endure an attack by forcible means, ProSteel will similarly replace or repair it, ensuring that the integrity of the safe's security is maintained.
Fire Warranty: If the safe suffers damage as a result of a house fire, ProSteel will take the necessary steps to replace or repair it, offering reassurance that your investment is protected even in the face of disaster.
ProSteel also commits to covering all shipping costs to and from the factory in the case of warranty service, as well as any reasonable locksmith fees required to open the safe. We recommend to always check the warranty with the retailer before the purchase to get and confirm the full list of options.
Price
The Browning 1878 Series-13 Fireproof Safe is positioned in the market as a premium security product, with a retail price of $3,749.00. However, discerning buyers can find the safe available at a significantly reduced cost of $2,659.99, which translates to a substantial saving of $1,089.01, or 29.0%. This price point reflects the safe's high-end build quality, extensive security features, and the reputable Browning brand name.
The competitive pricing, coupled with the safe's specifications and warranty, positions the Browning 1878 Series-13 as a reasonable purchase for consumers looking for a high-quality safe that balances cost with features and long-term reliability.
Final Verdict
Is The Browning 1878 Series-13 Fireproof Safe any good?
Yes, Browning 1878 Series-13 Fireproof Safe is a good model that lives up to the Browning legacy. It combines a high fireproof rating, robust security features, customizable lock options, and a lifetime warranty. All these features substantiates its position as a top-tier choice for safeguarding valuables.
Overall Score: 8.5/10