Stealth HS4 Home & Office UL Rated Safe Review
The Stealth HS4 Home & Office UL Rated Safe is the focus of this review, a model designed for the secure storage of valuables and important documents as well as protection from fire. Made by Stealth company this safe has a robust construction and advanced security features for home and office use. And it boasts attractive design and aesthetics.
This review provides a clear and objective analysis of the Stealth HS4, based on detailed examination of its fireproof rating, security features, lock mechanism, and overall value.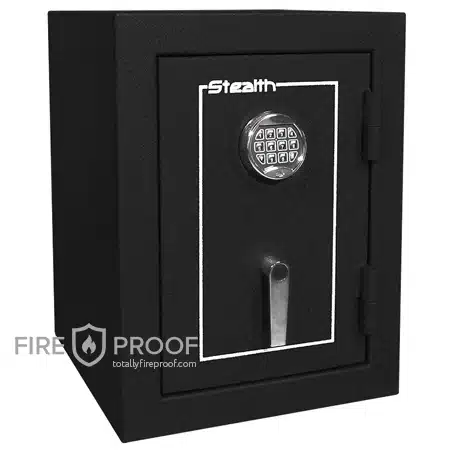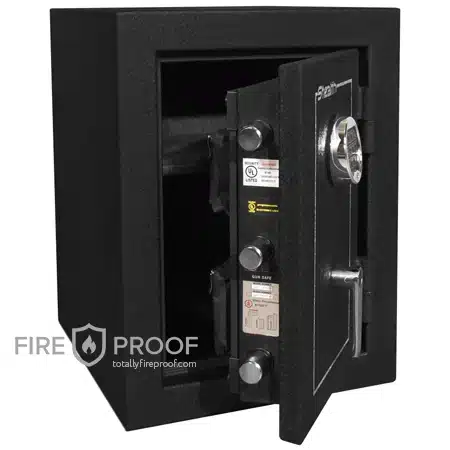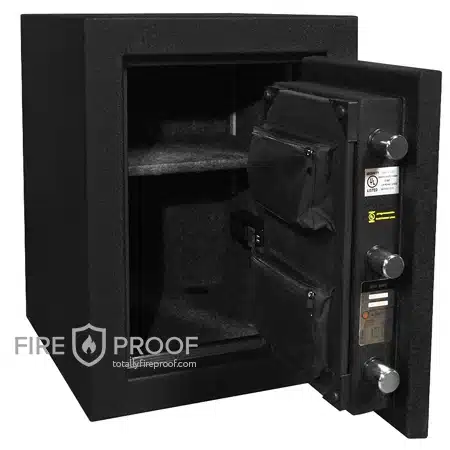 Safe Ratings:
Pros
60-minute fire rating at 1200°F
UL RSC Burglary Rating for enhanced security
Durable 12-gauge steel construction
Electrical outlet kit for charging electronics
2-year warranty
Cons
Weighs 191 lbs, heavy to move
Limited interior customization options

Key Specifications
The Stealth HS4 Home & Office fire-resistant safe comes with a solid specifications that underscore its quality and functionality. Here's a detailed look at its key specs:
Fireproof Features
The Stealth HS4 Home safe follows an industry basic 1 hour fireproof standard of 1 hour. Fire protection is a critical factor for anyone looking to protect valuable items from fire damage. This safe has 60 minutes at 1200°, a specification that provides substantial protection against intense heat.
This rating ensures that the interior temperature of the safe remains below 350 degrees Fahrenheit, even when external temperatures soar to 1200°. This level of protection is essential for safeguarding sensitive items such as documents, paper money and other valuables that are vulnerable to heat damage.
While it is not a UL certification for the fireproof rating, the safe's performance is still noteworthy. The 60-minute fireproof rating means that in the event of a fire, the contents of the safe have a higher chance of remaining intact and undamaged for a significant duration, offering peace of mind to the owner.
Security Features
The Stealth HS4 is engineered with advanced security features, making it a formidable barrier against unauthorized access and theft. Here's a detailed breakdown of its security features:
| | |
| --- | --- |
| Feature | Description |
| UL RSC Burglary Rating | This rating indicates the safe has been tested and approved for residential security, ensuring a high level of protection against break-ins. |
| Material & Construction | Made with a 12 gauge solid steel door and body, offering significantly more robustness and resistance to forced entry compared to standard safes in its price range. |
| Locking Bolts | Equipped with 6 solid steel locking bolts, each 1.25" in diameter. This includes a 2-way locking bolt system with 3 active and 3 deadbolts on the hinge side, adding to its pry-resistant capabilities. |
| Anti-Drill and Anti-Pry Measures | The safe's design minimizes door gaps, making it challenging for intruders to use pry tools. Its solid construction also provides resistance against drilling. |
| Bolt Down Capability | Comes with 4 bolt down holes and mounting hardware, allowing for secure anchoring to prevent physical removal of the safe. |
Security Features of Stealth HS4
These features collectively contribute to the Stealth HS4's superior security profile. The combination of its UL RSC Burglary Rating, robust construction, and advanced locking mechanism makes it a top contender for those seeking a secure storage solution for their valuables.
Locking Mechanism
The Stealth HS4 Safe is equipped with a state-of-the-art locking mechanism that significantly enhances its security. The centerpiece of this system is the NL UR-2020 Electronic Lock, which is UL Listed, signifying its compliance with stringent safety standards.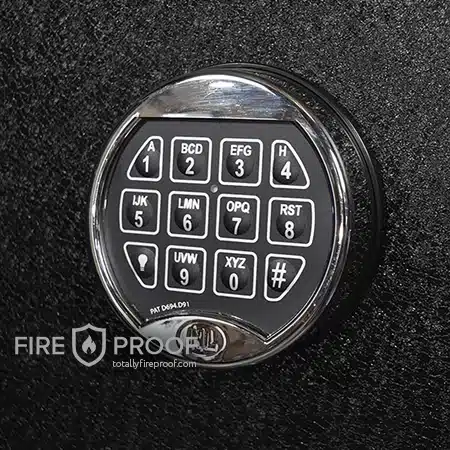 Here's a table highlighting the top features of the NL UR-2020 Electronic Lock: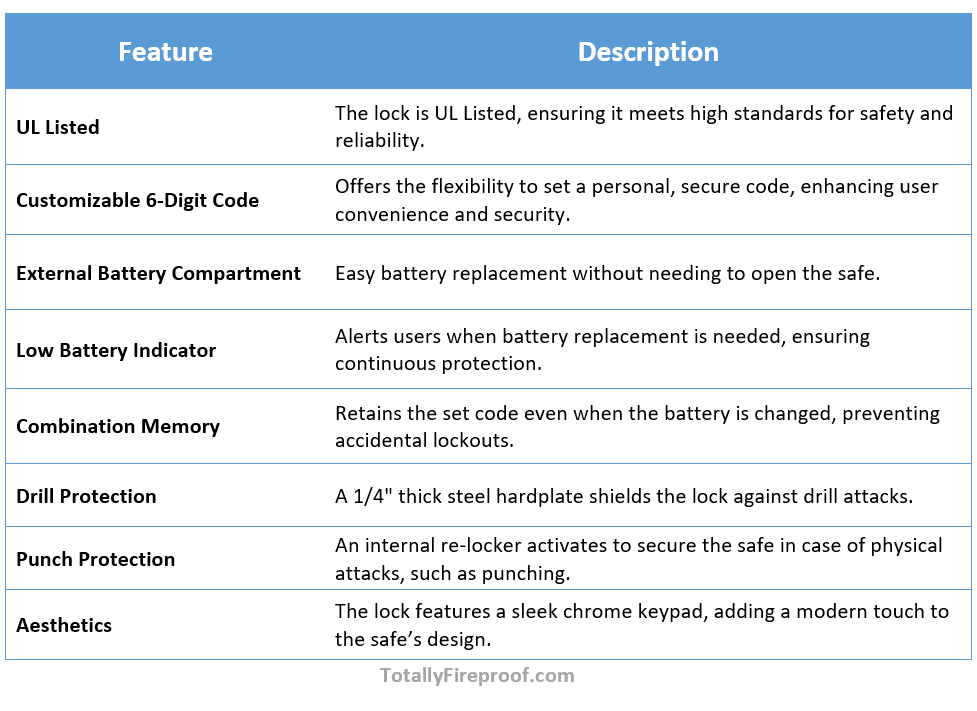 The customizable code feature, coupled with its drill and punch protection, make the NL UR-2020 an ideal choice for those who prioritize both security and ease of use.
Build Quality and Additional Features
The Stealth HS4 Home & Office Safe exhibits great build quality and good aesthetics. The safe's construction and additional features are meticulously designed to offer both security and convenience.
Build Quality:
Construction: Crafted with 12-gauge solid steel for both the door and body, the Stealth HS4 stands out for its durability and robustness. This gauge of steel is notably thicker and stronger than what's typically found in safes within this price range, providing enhanced protection against forced entry.
Finish: It boasts a textured black finish, which not only adds to its aesthetic appeal but also contributes to its durability, resisting scratches and wear over time.
Additional Features:
Molle Door Panel Organizer: A standout feature of the Stealth HS4 is its customizable Molle door panel organizer, which allows for personalized storage configuration. This flexibility is ideal for efficiently organizing and accessing items stored within the safe.
Electrical Outlet Kit: The safe includes an electrical outlet kit, featuring 3 outlets and 2 USB slots. This thoughtful addition enables charging of electronic devices inside the safe, adding a layer of convenience to its security features.
Adjustable Shelf: The inclusion of an adjustable shelf provides flexibility in storage, allowing users to customize the interior space to suit their specific needs.
Mounting Options: The safe comes equipped with four bolt down holes and mounting hardware, which is critical for securely anchoring the safe to prevent physical removal.
Warranty
The Stealth HS4 Home & Office Safe comes with a reassuring warranty that underscores the manufacturer's confidence in its product. Stealth offers a 2-year warranty on the HS4 model, covering the lock and defects in materials and workmanship. This warranty reflects Stealth's commitment to quality and customer satisfaction.
The inclusion of the lock in the warranty is particularly noteworthy, as it is a critical component of the safe's security. Should any issues arise with the lock or the construction of the safe within this two-year period, customers can rely on Stealth's support for resolution.
Price
The Stealth HS4 Home & Office Safe is priced to offer value, balancing quality and affordability. The retail price for this model is set at $1,439.99. However, it is currently available at a discounted price of $1,199.99, allowing buyers to save $240.00, which is a 16.7% reduction from the original cost.
This pricing positions the Stealth HS4 as a competitively priced option in the market, especially when considering its robust features, such as the high-grade steel construction, advanced locking mechanism, and fireproof capabilities. The current discount enhances its appeal, providing an opportunity for cost-conscious buyers to acquire a high-quality safe at a more accessible price point.
Final Verdict
Is The Stealth HS4 Home & Office UL Rated Safe any good?
Yes, Stealth HS4 fireproof safe is a robust and reliable option among other security safes. Its strong build quality, courtesy of 12 gauge steel construction, and UL-approved lock system, make it a standout choice for those seeking a high level of security for affordable price. Given its advanced features and the current discounted price of $1,199.99, the Stealth HS4 provides excellent value for money.
Overall Score: 7.5/10