AMSEC BFS2815E1 Burglary and Fire Resistant Safe Review
Choosing the right safe can make all the difference. So is AMSEC BFS2815E1 Burglary and Fire Resistant safe the right choice for you? Made by American Security, also known as AMSEC, this model is designed to meet the needs of homeowners and businesses alike who want to secure their valued items from both fire and theft.
This review is based on our careful analysis of the safe, bolstered by our extensive experience with a variety of safes. Read on to see where this model excels and where there's room for improvement.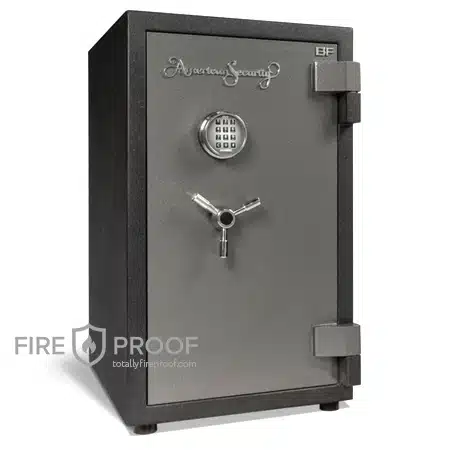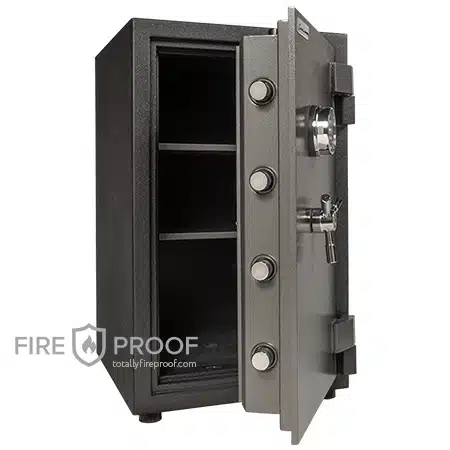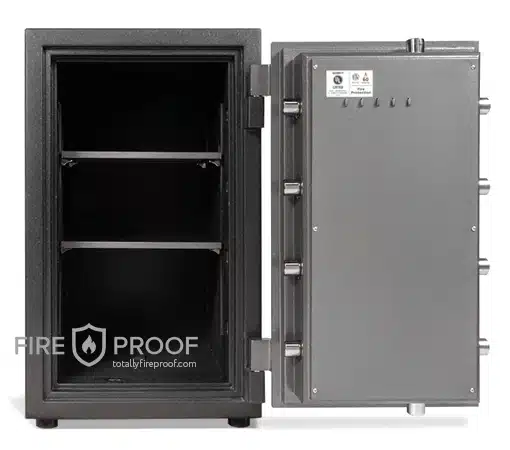 Safe Ratings:
Pros
ETL verified fire protection for up to 60 minutes
UL Residential Security Container (RSC) Burglary Classification
Solid steel plate door and double-wall steel construction
Lifetime fire warranty
Attractive two-toned black and gray finish
Cons
Weighs 490 lbs, may require professional installation

Key Specifications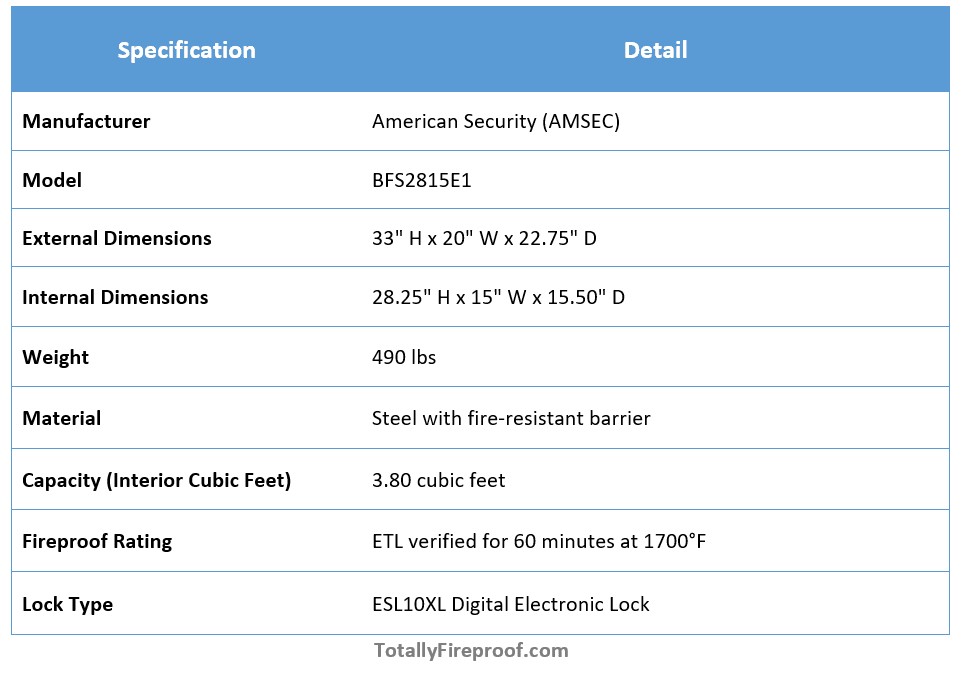 Fireproof Features
I
The AMSEC BFS2815E1 is engineered with fire protection in mind. It boasts an ETL verified fire rating, ensuring that the contents remain unscathed for up to 60 minutes in temperatures as high as 1700 degrees Fahrenheit. This level of fire resistance is significant, as it suggests that the safe can protect its contents in most house fires, which average temperatures of about 1100-1200 degrees Fahrenheit.
So if you want to compare this model to other fireproof safes, here's the list of the main strong points:
Fireproof Rating: ETL verified protection for 60 minutes at 1700°F.
Certification: The fire rating is not only ETL verified but also ensures that the internal temperature does not exceed 350 degrees F, which is critical for media and documents.
Construction: A unique fire-resistant barrier and a double-wall steel body enhance its ability to protect against high temperatures.
This fire rating is particularly relevant for those looking to safeguard critical documents, certificates, cash, and other heat-sensitive valuables.
Security Features
The American Security BFS2815E1 is not just fire-resistant; it is also quite formidable against burglary attempts.
Here is a table summarizing the security features of the AMSEC BFS2815E1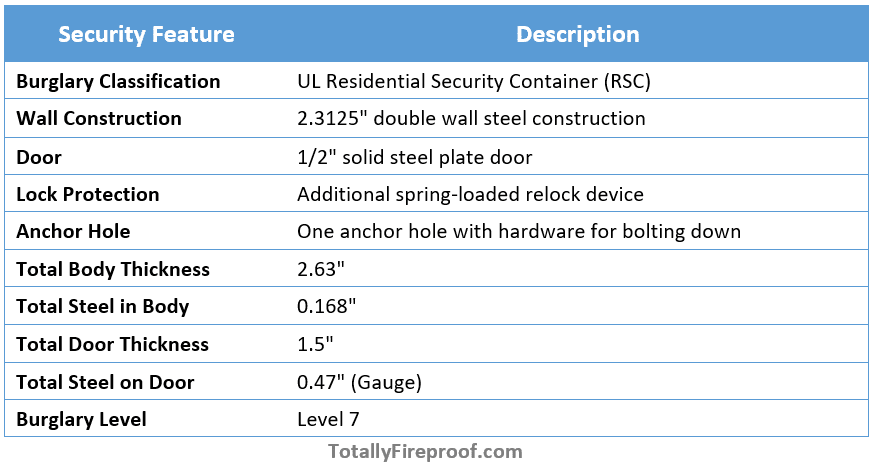 These features collectively contribute to the safe's robust security profile. The solid steel plate door, combined with the double-wall steel construction, provides a substantial barrier against forced entry. The safe's UL RSC burglary classification is a testament to its ability to resist attacks. Moreover, the inclusion of a spring-loaded relock device acts as a fail-safe, ensuring that the lock remains secure even if tampering is attempted.
Locking Mechanism
The AMSEC BFS2815E1 is equipped with the AMSEC ESL10XL Electronic Digital Lock, a UL Listed Type 1 digital electronic lock known for its reliability and ease of use. This lock represents a significant upgrade from traditional mechanical locks, offering quick and easy access without sacrificing security.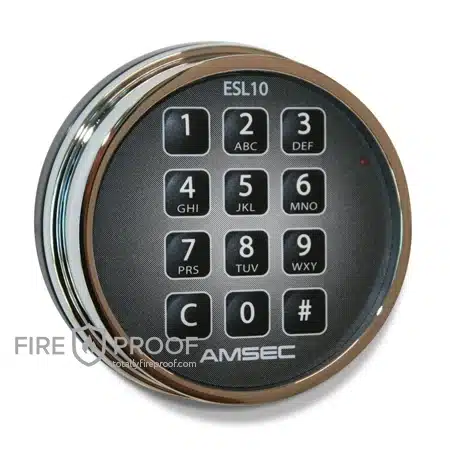 Key Characteristics of ESL5 Locking Mechanism
The ESL10XL's design includes a robust metal die-cast keypad housing with an alpha-numeric slanted keypad, which is not only user-friendly but also adds to the safe's overall security. The lock is available in various finishes, allowing for aesthetic customization to match the safe's environment.
Here are the positive aspects of the ESL10XL locking mechanism: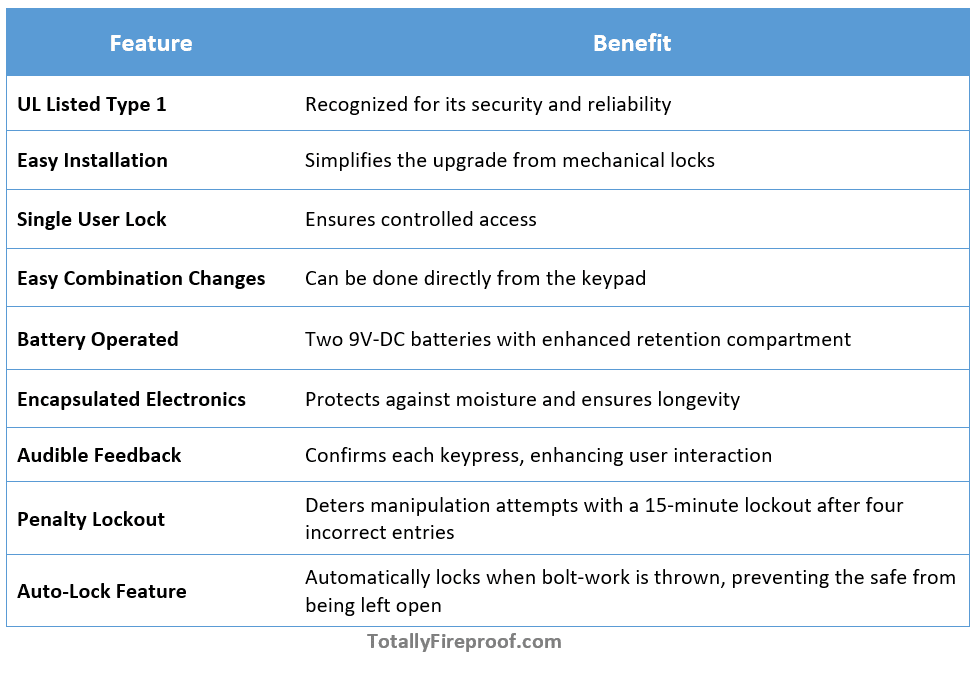 Build Quality and Additional Features
The BFS2815E1 safe is a testament to American Security's dedication to high-quality production. The safe's build quality is evident in its robust construction, featuring a 1/2" solid steel plate door and a 2.3125" thick double-wall steel body. This construction not only enhances the safe's security but also its durability, ensuring that it can withstand physical attempts to breach its defenses.
Additional features of the AMSEC BFS2815E1 include:
Material Finishing: The safe sports a handsome two-toned black and gray textured finish, which is not just about aesthetics but also about durability, helping to protect the safe from corrosion and external damage.
Interior Capacity: With an interior capacity of 3.80 cubic feet, the safe offers ample space for a variety of items, from documents to valuables.
Anchor Hole: The inclusion of an anchor hole with hardware allows for the safe to be securely bolted down, preventing thieves from easily removing the safe from its location.
Warranty: American Security stands behind their product with a lifetime fire warranty, showcasing their confidence in the safe's fire-resistant capabilities.
While the safe does not list water resistance or specific organizational features like adjustable shelves or compartments, its primary focus remains on security and fire protection. The build quality and additional features of the BFS2815E1 reflect a balance between functionality and security, making it a reliable choice for those in need of a secure storage solution.
Warranty
American Security (AMSEC) provides a Limited Lifetime Warranty for the BFS2815E1 safe. This warranty covers the safe in the event of a fire, offering repair or replacement if the safe's body or functionality is compromised due to fire damage.
The specifics of the warranty include:
Fire Damage: In the unfortunate event of a fire, AMSEC will repair or replace the safe free of charge, ensuring that the customer's investment is protected.
Attempted Break-In: Should an attempted burglary leave the safe damaged, the warranty similarly applies, offering repair or replacement to restore security.
Lock Warranty: The ESL10XL electronic lock is also covered, ensuring that the critical component of the safe's security is maintained over time.
Price
The AMSEC BFS2815E1 Burglary and Fire Safe is positioned in the market with a price range between $1,930 and $2,500. This pricing reflects the safe's premium features, including its fireproof capabilities and advanced security measures. Given these factors, the price can be seen as reasonable and competitive.
Final Verdict
Is American Security BFS2815E1 Burglary and Fire Safe any good?
Indeed, AMSEC BFS2815E1 Burglary and Fire Safe stands out as a highly reliable security solution for both residential and commercial use.
Advanced Locking, Quality Assurance, Robust Security, Verified Fire Rating, Competitive Price - all these factors make it easy for us to recommend this model.
Overall Score: 8.5/10