Browning HTR23 Hunter Series Fireproof Gun Safe Review
The Browning HTR23 Hunter Series Fireproof Closet Gun Safe is a robust solution for firearm enthusiasts who require a secure storage system and withstand fire damage. This safe is tailored for individuals who prioritize the safety of their long guns, with a capacity to hold up to 23 rifles. For potential buyers, this review aims to provide a detailed and clear understanding of the safe's features and benefits, helping you make an informed decision.
Our assessment of this model is based on careful evaluation of its capabilities, build quality, price range and our knowledge from hands-on encounters with a broad spectrum of safes in the market.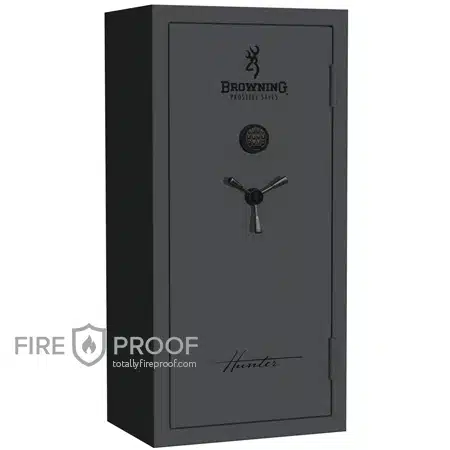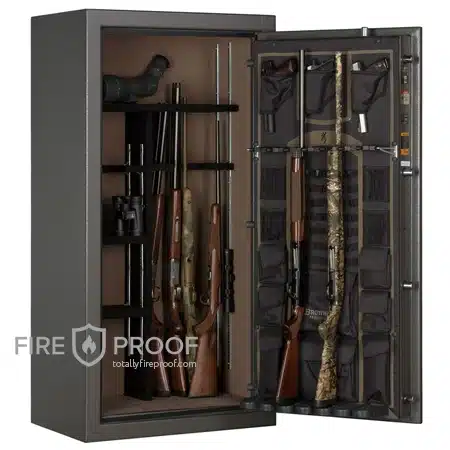 Safe Ratings:
Pros
80-minute fire rating at 1550°F
UL rated electronic lock
3-way bolt direction for improved resistance to pry attacks
Full DPX Storage System with Quick Access Barrel Rack
Made in the USA with 12-gauge steel construction
Cons
Heavier weight may require professional installation
Limited color options with only a charcoal finish

Key Specifications
The Browning HTR23 Hunter Series Closet Gun Safe is engineered with precision and attention to detail. The following table reflects the accurate specifications of the model: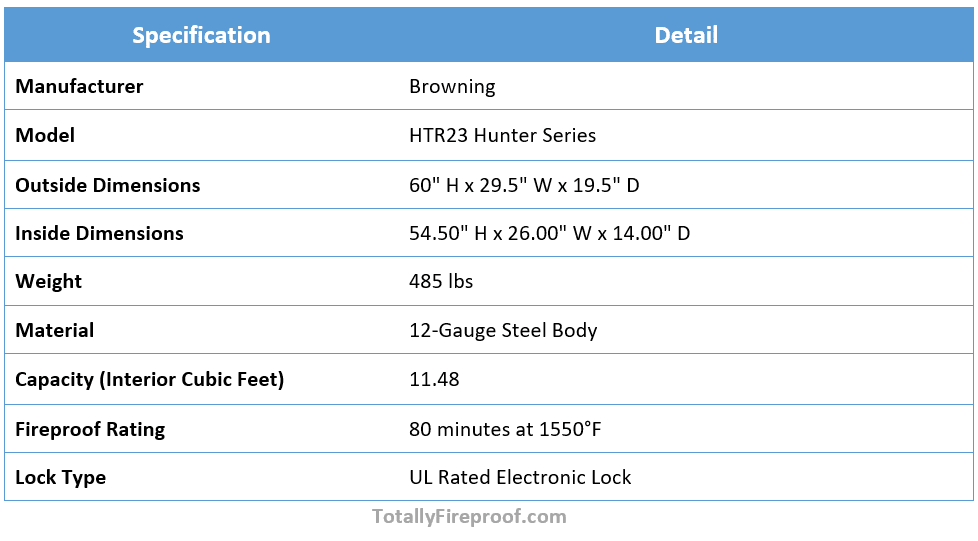 Fireproof Features
The Browning HTR23 Hunter Series Closet Gun Safe boasts solid fireproof capabilities, designed to withstand high temperatures and protect its contents. The safe has a respectable fireproof rating of 80 minutes at 1550°F. It is not a UL certification for the fire rating though.
Still a 80-minute rating at 1550°F means that the safe's interior will remain at a temperature that preserves the integrity of firearms and heat-sensitive documents for a duration of over an hour, even when external temperatures rise to extremes.
This level of protection is suitable for a wide range of items, from firearms to important personal documents, ensuring they remain unharmed in the unfortunate event of a fire.
Security Features
The safe's robust construction and thoughtful design make it a formidable opponent to common burglary tools and tactics.
List of Security Features
The Browning HTR23 Hunter Series Closet Gun Safe is equipped with a suite of security features that underscore its robustness and reliability. Here is a detailed look at the security aspects of this safe:
Material and Construction: The safe is constructed with a 12-Gauge steel body, providing a sturdy barrier against unauthorized access.
Locking Bolts: It features nine 1-inch chrome locking bolts, ensuring a secure lockup.
Locking System: Incorporating a Force Deflector Locking System, the safe is engineered to resist bolt or handle forces if an attempt is made to break into the safe.
Pry-Resistance: The design includes pry-stop end bolts which provide improved resistance to pry attacks.
Hinges: The safe has heavy-duty, exterior hinges that allow for a full 180-degree swing of the door, which not only enhances access but also adds to security by being less susceptible to tampering.
Weight: At 485 pounds, the weight of the safe itself adds an additional layer of security, making it difficult to remove or steal.

These security features collectively contribute to the safe's ability to protect your valuables from theft and unauthorized access.
Locking Mechanism
The Browning HTR23 Hunter Series Closet Gun Safe is secured with a UL listed electronic lock, ensuring a high level of security for your valuables. The specific model of the lock, while not detailed in the sources, is akin to the SecuRAM SafeLogic Series Keypad Lock, which is known for its reliability and ease of use.
Here are some characteristics of the SecuRAM SafeLogic Series Lock:
UL Listed Type 1: This designation indicates that the lock meets the stringent Underwriters Laboratories criteria for electronic locks.
User Interface: The keypad provides a simple, non-rotating interface with a membrane design, making it user-friendly.
Code Management: It allows for one manager code and one user code, ensuring controlled access.
Security Features: The lock includes a penalty lockout feature, which denies access after several incorrect attempts, enhancing security against tampering.
Combination Length: The lock operates with a 6-digit combination, offering a balance between security and memorability.
Power: It is battery-powered, with easy programming via the keypad.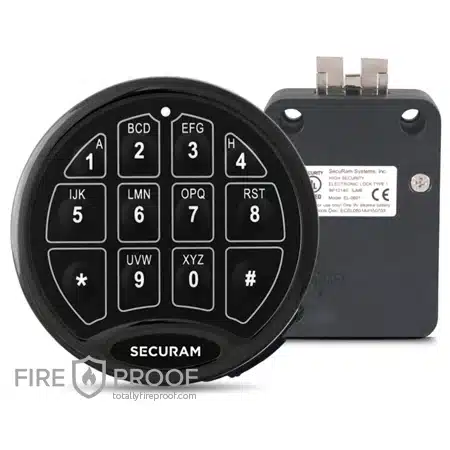 Below is a table summarizing the positive aspects of this locking mechanism:
| | |
| --- | --- |
| Feature | Benefit |
| UL Listed Type 1 | Meets high security standards |
| User-Friendly Interface | Easy to operate |
| Dual Code Management | Allows for controlled access |
| Penalty Lockout | Increases security against tampering |
| 6-Digit Combination | Secure yet easy to remember |
| Battery Powered | Convenient and reliable |
SecuRAM SafeLogic Series Lock Characteristics
The safe's versatility is once again shown in the available upgrades to either an electronic keypad or a biometric lock, catering to the your preference for convenience and advanced security features.
Build Quality and Additional Features
The Browning HTR23 Hunter Series Closet Gun Safe exhibits great build quality, a hallmark of the Browning brand. The safe's body is constructed from rugged 12-gauge steel, providing a durable and reliable safeguard against unauthorized access and damage.
Additional features of the HTR23 include:
DPX Storage System: The safe includes the patented DPX door storage system, which offers quick access to long guns and other accessories, maximizing space efficiency.
Interior Organization: It features a cantilevered modular shelving design that allows for a variety of storage configurations, catering to the diverse needs of gun owners.
ThermaBlock Fire Protection: Browning's exclusive ThermaBlock technology provides enhanced fire protection, ensuring that the safe's contents are shielded from extreme temperatures.
Appearance: The safe's exterior is finished with a high-gloss charcoal paint, giving it a sleek and professional appearance that complements its surroundings.
Pry-Stop End Bolts: These bolts extend from the top and bottom of the door side, providing additional resistance against pry attacks.
Warranty
Browning ProSteel stands firmly behind the HTR23 Hunter Series Closet Gun Safe with a comprehensive warranty. It is extended to the original purchaser for any safe produced after January 1, 2006, and covers a range of potential damages that could occur during the lifetime of the product.
Here are the key points of the warranty:
Lifetime Coverage: The warranty protects against damage from break-ins, attempted break-ins, and fire damage, ensuring long-term peace of mind.
Replacement or Repair: In the event of such damages, ProSteel will, at its discretion, either repair or replace the safe, addressing any concerns about the longevity and durability of the product.
Shipping Costs: ProSteel commits to arranging and covering the shipping costs to and from the factory, alleviating the financial burden from the customer.
Locksmith Services: If necessary, ProSteel will also cover reasonable locksmith costs to open the safe, ensuring that access to your valuables is restored.
Price
The Browning HTR23 Hunter Series Closet Gun Safe is positioned in the market with a retail price of $2,909.00. However, we can point out that this safe is currently available at a reduced price of $2,319.00, which translates to a savings of $590.00, or 20.3%. This is a significant saving for a safe of this caliber, considering its robust build, extensive security features, and comprehensive warranty.
The value proposition becomes even more compelling when weighing the cost against the safe's lifetime warranty and the peace of mind it offers. For those who understand the importance of securing their firearms and valuables, the investment in the Browning HTR23 can be seen as reasonable and justified, especially given the safe's high-quality construction and the reputation of Browning as a reliable manufacturer.
Final Verdict
Is The Browning HTR23 Hunter Series Closet Gun Safe any good?
Indeed, The Browning HTR23 Hunter Series Gun Safe is a solid choice for those looking to secure their valuables. Combined with respectable fireproof capabilities and the safe's good build quality, we can recommend this model. The safe's construction and features are thoughtfully designed, offering a high degree of protection. With a UL listed electronic lock, and a lifetime warranty, and the current price offering a substantial discount, you get a solid product.
Overall Score: 8.25/10