Browning SR-33 (Silver Series) Fireproof Gun Safe Review
The Browning SR-33 Gun Safe from the Silver Series is reliable option for anyone considering the security of valuables and firearms. A product from Browning, a trusted manufacturer known for quality and good range of features in their safes. This model offers a balance of high-level protection, fireproof capabilities and unique features.
This review examines the specifics of the SR-33 to guide gun owners in making an informed decision if this safe is worth the money. Our in-depth analysis is based on personal experience with a range of safes and a thorough examination of this model's features.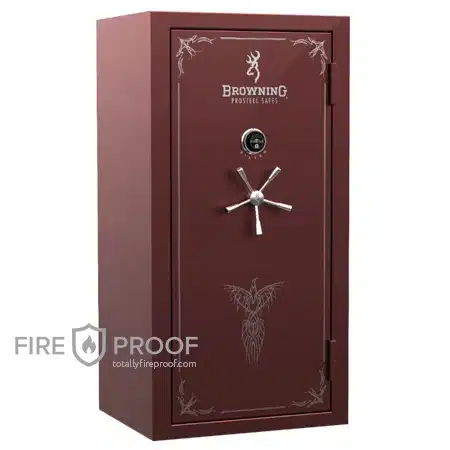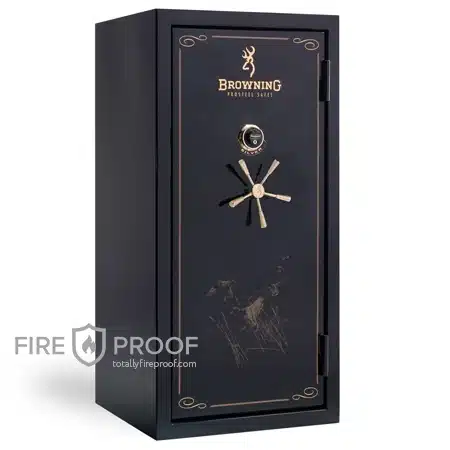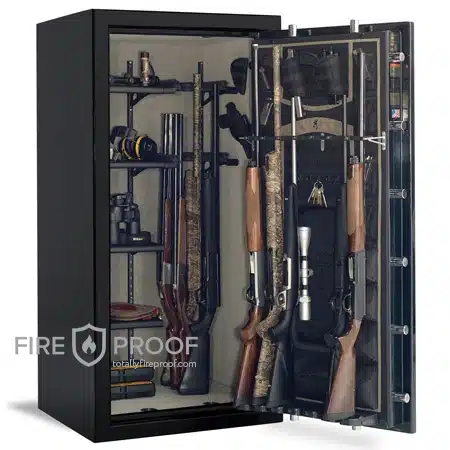 Safe Ratings:
Pros
High fireproof rating of 1680°F for 100 minutes
Robust security with UL RSC Tool Attack rating
Various lock options
Leading manufacturer
Customizable interior with Axis Adjustable Shelving
Cons
Weight of 730 lbs may require professional installation
Higher price point compared to basic models

Key Specifications
The following table outlines the key specifications of the Browning SR-33 Gun Safe, providing a clear snapshot of its features: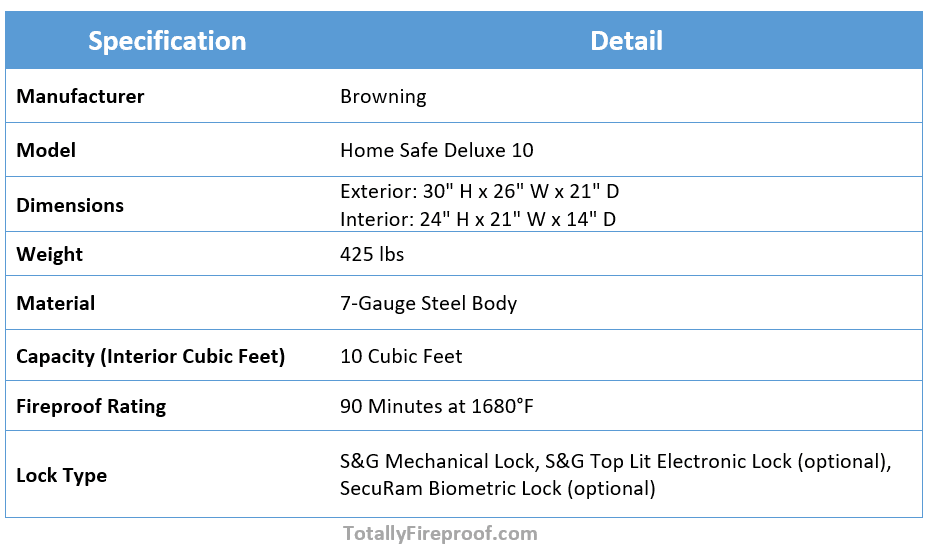 Fireproof Features
The Browning SR-33 Gun Safe is fortified with exceptional fireproof capabilities, primarily through its ThermaBlock technology. This exclusive feature of Browning ProSteel safes involves thicker sheets of fire insulation in an interlocking design, significantly reducing gaps that could allow internal temperature rise during a fire.
The safe's fireproof rating stands at an impressive 100 minutes at 1680°F. It is however not UL certified or listed. Nevertheless it still reflects a robust defense against extreme temperatures, ensuring the protection of valuables, documents, and firearms in intense fire scenarios.
Security Features
The Browning SR-33 Gun Safe showcases an array of security features designed to safeguard against unauthorized access and damage. Here's a detailed overview of its security aspects:
Heavy Gauge Steel Construction: The body of the safe is made of 11 gauge steel, offering substantial resistance to physical attempts at breaking in. This heavier gauge steel is less prone to flexing when heated, maintaining its integrity even under extreme conditions.
Comprehensive Bolt Coverage: The safe features 16 bolts, with 10 being active. This extensive bolting system secures the door on all four sides (top, bottom, left, and right), significantly enhancing the safe's resistance to pry and force attacks.
UL RSC Tool Attack Rating: This rating from Underwriters Laboratories (UL) indicates that the safe has been tested and certified to withstand break-in attempts using common burglary tools, offering a high level of security against forced entry.
Force Deflector Lock System: This locking mechanism is designed to provide additional security by deflecting force away from the lock, reducing the risk of tampering and lock-picking attempts.
Continuous Welding: Unlike safes that use spot welding, the SR-33 employs continuous welding at every seam. This continuous weld provides a more robust and integral structure, offering increased resistance to heat-related flex and break-in attempts.
Door Hinge Design: The design of the door hinges plays a crucial role in the overall security. The safe's hinge design contributes to its fire and heat resistance, while also enhancing security against forced entry.
Security Features Table: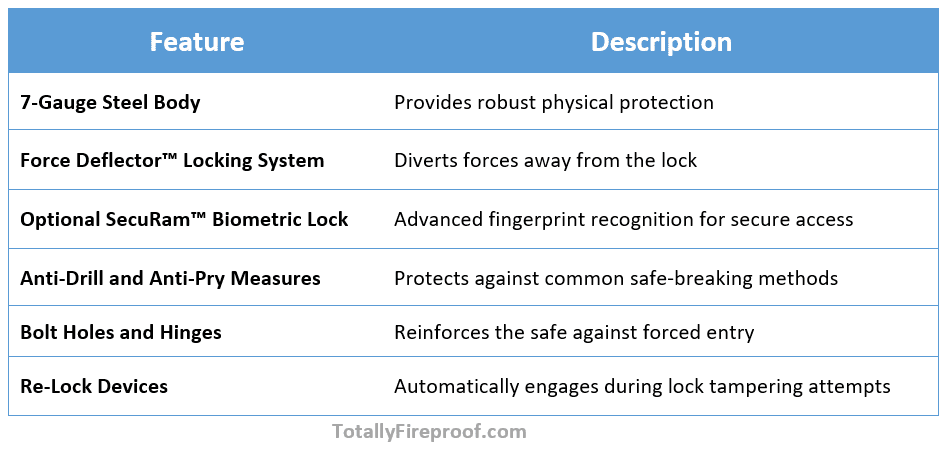 Locking Mechanism
The Browning SR-33 Gun Safe is equipped with a secure and reliable S&G Mechanical Lock by default. It's the original style of dial lock used in Browning Pro-Steel safes, renowned for its security and long-standing reliability.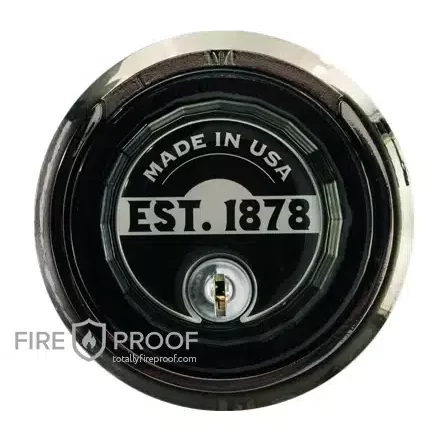 There are several options for upgrades to meet potential preferences:
Upgrade Option - S&G UL Rated High Security Electronic Lock: This is an optional upgrade for enhanced security and convenience.
Upgrade Option - SecuRam Biometric Lock: Another upgrade option, this lock offers advanced biometric security features for quick and secure access.
These locking options provide flexibility and high-level security for the safe, ensuring the protection of its contents according to individual user needs and preferences.
Build Quality and Additional Features
The Browning SR-33 Gun Safe is not only robust in its security features but also excels in build quality and additional features:
ThermaBlock Fire Protection: Utilizes thicker sheets of fire insulation in an interlocking design, significantly reducing the internal temperature rise during a fire, thus offering superior protection for the contents against extreme heat​
Axis Adjustable Shelving: A completely customizable shelving system, allowing for adjustments in height, width, and removal. This flexibility maximizes the interior storage space for long guns, handguns, and other valuables​
LED Lighting: The safe comes standard with LED lighting, providing clear visibility of the contents, eliminating the need for a flashlight or additional lighting source​
DPX Storage System: This innovative system includes door-mounted racks for long guns and various pouches and pockets for pistols and other small items, ensuring efficient organization and space utilization​
Scope Saver: A unique storage solution for scoped long guns, utilizing the space in the door to protect scopes from being bumped and saving space for other guns. It allows for quick and easy access to scoped long guns as soon as the door swings open​
​High Gloss Finish: The safes are adorned with an automotive-quality high-gloss finish, sprayed and hand-polished to achieve a deep shine. This finishing touch adds a level of sophistication and elegance to the safe, making it a worthy addition to any room​
Artwork Selection: The safe features a raised metallic logo, pinstriping, and a silk-screened scene, adding a distinctive touch to its design. This artistic element enhances the safe's aesthetic appeal, allowing it to blend seamlessly with home decor while still providing top-tier security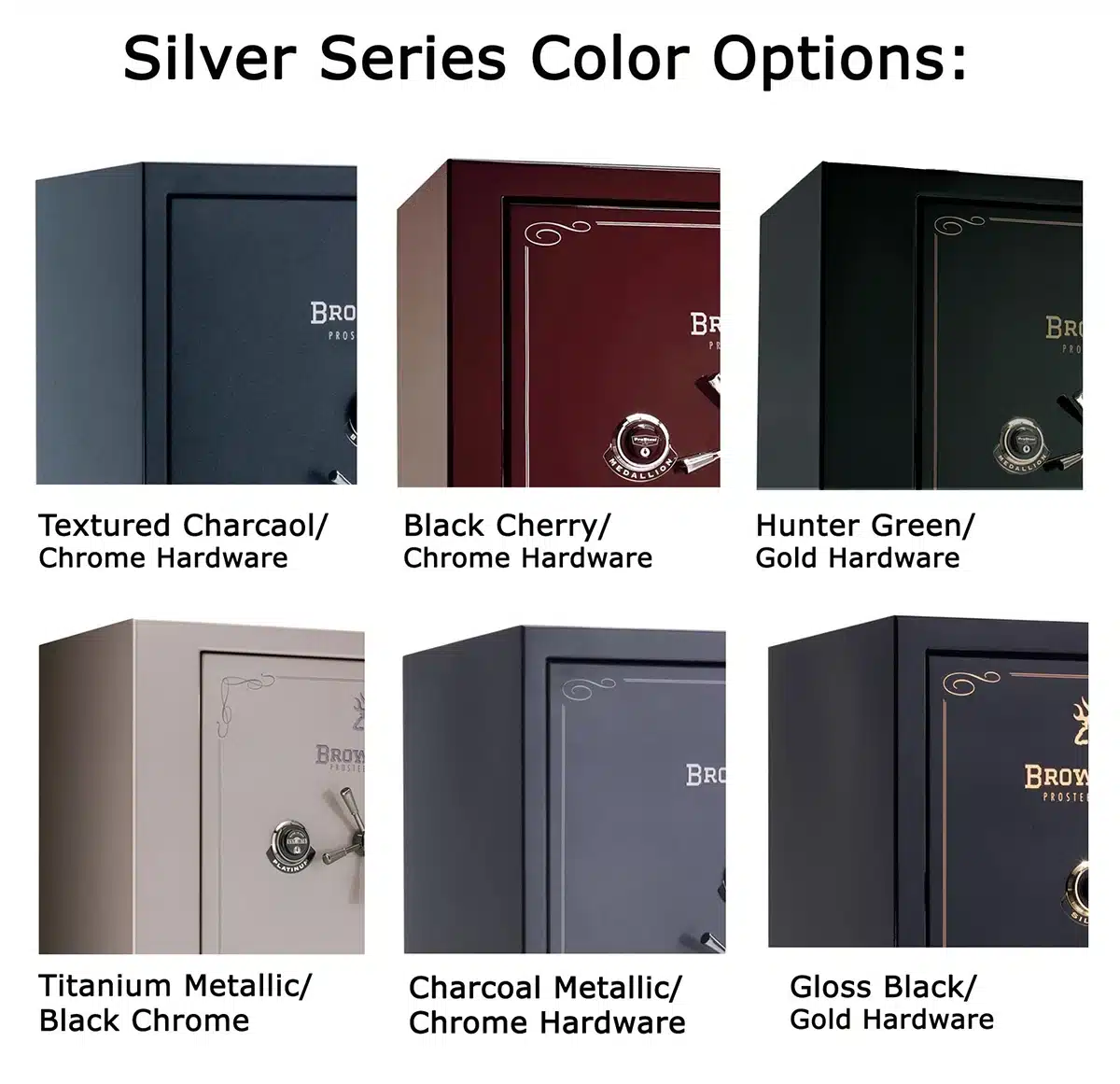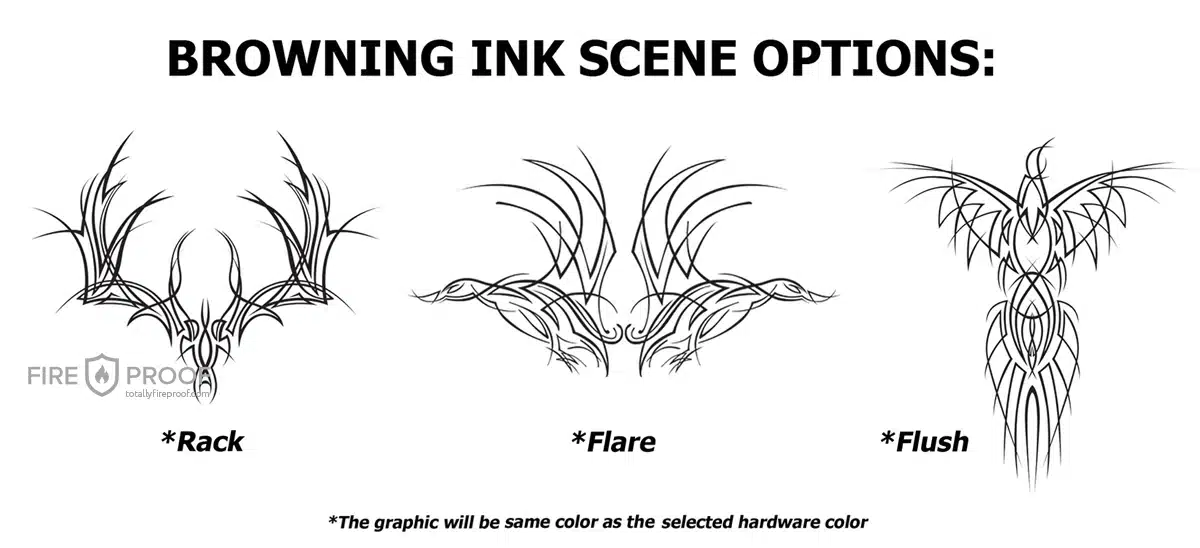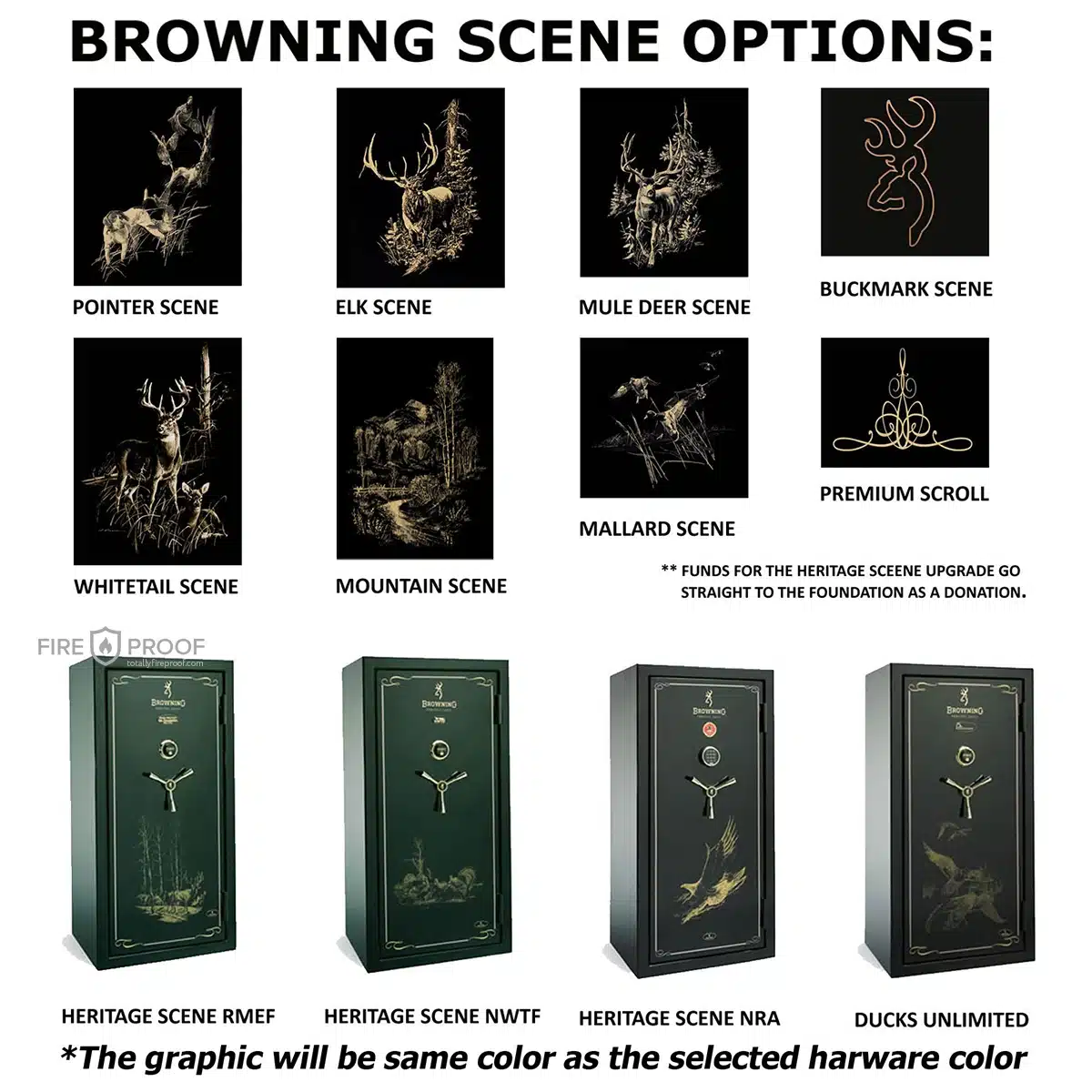 Warranty
The Browning SR-33 Gun Safe comes with a comprehensive Limited Warranty: ProSteel guarantees the safe for its entire lifetime against loss or damage due to break-in, attempted break-in, or fire for the original purchaser of any Browning ProSteel gun safe produced after January 1, 2006. This includes covering all freight costs (to and from the factory) and any reasonable locksmith costs necessary to open the safe​.
Break-In Warranty: If the safe is forcibly opened, ProSteel commits to replacing or repairing it at no cost to the owner.
Attempted Break-In Warranty: Similarly, if the safe undergoes an attack by forcible means, ProSteel will replace or repair it without any cost to the owner.
Fire Warranty: In the unfortunate event of a house fire causing damage to the safe, ProSteel will replace or repair it, again at no cost to the owner.
Price
Here's a table summarizing current pricing information for the Browning SR-33 Gun Safe:
| Pricing and Discount | Amount |
| --- | --- |
| Retail Price | $5,099.00 |
| Discounted Price | $3,829.97 |
| Savings | $1,269.03 |
| Discount Percentage | 24.9% |
With its current discounted price of $3,829.97, the Browning SR-33 Gun Safe becomes an even more appealing option for buyers. This significant reduction of 24.9% from the original price of $5,099.00 makes it a more accessible choice for a wider range of gun owners seeking top-tier safe capabilities at a more affordable price point.
Final Verdict
Is Browning Silver Series 33 (SR-33) Fireproof Gun Safe any good?
The Browning SR-33 Gun Safe is a high-quality, stylish product, offering a balance of security, functionality, fire-resistant capabilities and good price.
Its key strengths include robust build with 11-gauge steel, advanced ThermaBlock fire protection, and versatile interior organization with the Axis Adjustable Shelving and DPX System. The additional security of the Force Deflector Lock System and the unique Scope Saver feature further enhance its appeal.
Overall Score: 8.75/10