Hollon PM-1814E TL-15 Rated Fireproof Safe Review
Looking for a highly secure and fireproof safe to keep your valuables? The Hollon PM-1814E TL-15 Rated Fireproof Safe is one option to think about. Made by Hollon, a well-known safety company, this model has stood a test of time by now and has become rather popular.
We have tested dozens of various safes by leading manufacturers so we do know what too look for and what are the potential weak points. This TL-15 rated compact fortress is for sure one of the tough ones. It provides a good combination of fire resistance and high level of security. We have already reviewed its cousin Hollon PM-1814C, which is literally the same model but with a different (mechanical dial) lock. But if you are more interested in electronic locking mechanism then this is the review you need.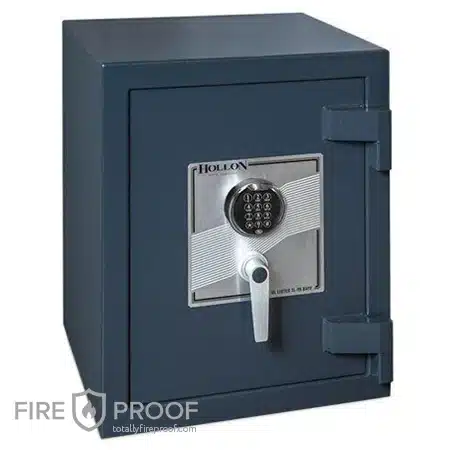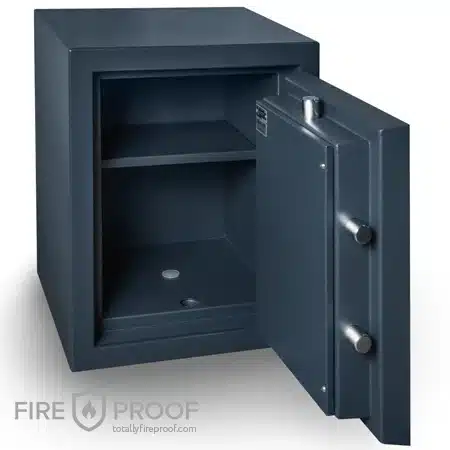 Safe Ratings:
Pros
Good fire resistance (2-Hour Fire Rating at 1700°F)
Multiple security features
Mechanical and Electronic lock options
Excellent build quality, high-quality materials
UL Listed: Meets strict safety standards.
Cons
Requires professional installation
Limited interior space. May not accommodate larger items

Key Specifications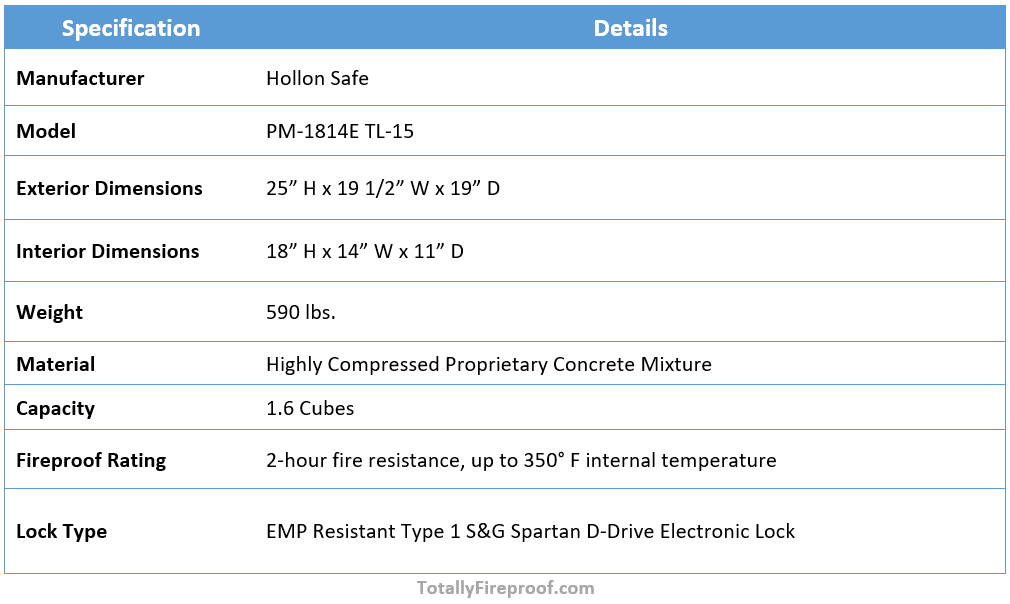 Fireproof Features
When it comes to fire resistance, the Hollon PM-1814E is designed to offer robust protection. It boasts a 2-hour fire rating, ensuring that the internal temperature remains below 350°F, even when external temperatures soar up to 1750°F. This level of thermal protection is particularly beneficial for safeguarding important documents, cash, and other valuable items during a fire.
2 hours is one of the stronger ratings, that's why we gave it 9 out of 10 stars. Such fire-resistance can surely provide solid protection in case of an emergency.
Security Features
What TL-15 Safe Means
The Hollon PM-1814E is not just about fire resistance; it's designed with a multi-layered security approach. With a TL-15 Rating, this safe stands out from many standard safes available in the market.
Understanding the TL-15 Rating TL-15 safes undergo rigorous testing and meet the standards set by Underwriters Laboratory in the United States. According to these guidelines, a TL-15 safe can withstand break-in attempts for at least 15 minutes using specialized tools like power saws, drills, rotating discs, pry bars, etc.
Superior Security Features

Locking Mechanism
One of the standout features of the Hollon PM-1814 safe is its versatile locking options. This safe offers you the choice between a Group 2M UL Listed S&G Dial and an EMP Resistant Type 1 S&G Spartan D-Drive Electronic Lock. Hollon PM-1814E options are designed to provide maximum security while offering ease of use. By default comes with Electronic Lock, hence the E in the model number.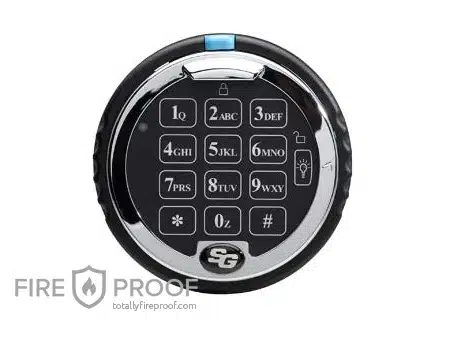 Characteristics of EMP Resistant Type 1 S&G Spartan D-Drive Electronic Lock
The Spartan lock by Sargent and Greenleaf is a two-user electronic gun safe lock designed for easy use and robust security. It features a motorized blocking device and is tested to the highest EMP (Electromagnetic Pulse) impact standards. The lock offers two types of product options: PivotBolt and Direct Drive. It also provides various keypad compatibility options, including 1-Battery Keypad, 2-Battery Keypad, and both rotating and non-rotating low-profile keypads. The Spartan lock comes with a two-year limited warranty from the date of shipment.
Main Advantages of Spartan Lock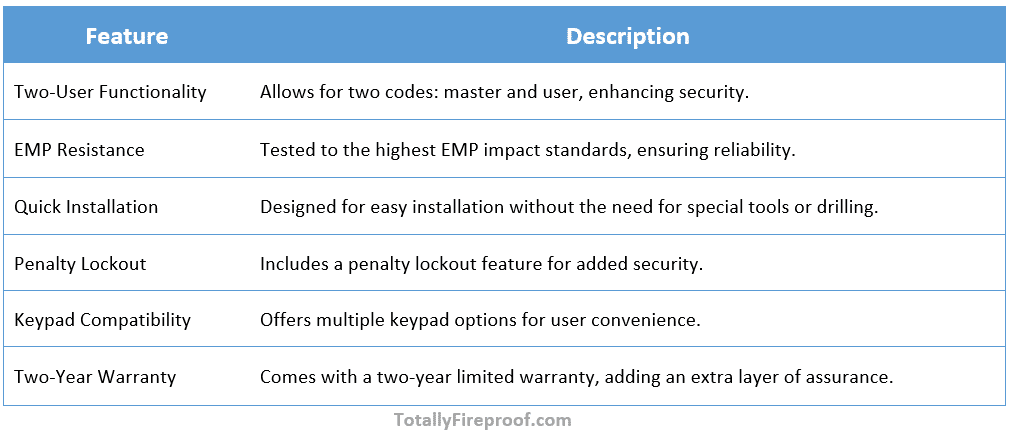 Build Quality and Additional Features
The Hollon PM-1814E is constructed with a proprietary blend of highly compressed concrete, making it a durable and long-lasting option for securing your valuables.
Additional Features
Moisture Resistance: While not officially rated for water resistance, the safe's robust construction offers some level of protection against moisture.
Organizational Features: Comes equipped with a shelf to help you organize your valuables more efficiently.
Material Finish: Features a sleek, powder-coated finish that not only adds to its aesthetic appeal but also provides an extra layer of protection against wear and tear.
The build quality and additional features of this safe are designed to offer both functionality and durability, making it a well-rounded choice for those looking to invest in a high-quality safe.
Warranty
When it comes to warranty, Hollon offers a one-year limited warranty on this model, covering defects in materials and workmanship. This provides an added layer of assurance for your investment.
Price
The Hollon PM-1814E is priced between $2,200 and $2,500, depending on the retailer and any additional features or configurations you may choose. While this may seem like a significant investment, it's important to consider the comprehensive security features and fireproof capabilities that this TL-15 rated safe offers.
Is the Price Justifiable?
Yes. Given the high-quality build, extensive security features, and impressive fireproof rating, the price is reasonable for those who are looking for a top-of-the-line safe. It's not just a purchase; it's an investment in peace of mind.
Final Verdict
Is Hollon PM-1814E TL-15 Fireproof Safe any good?
So, is the Hollon PM-1814E TL-15 Fireproof Safe worth the investment? Based on its comprehensive features, the answer leans towards a resounding yes. The safe offers a balanced mix of fire resistance, advanced security features, and durable build quality. Its TL-15 rating further elevates its standing, making it a strong contender in the market for high-security safes.
Overall Score: 8.75/10