Stealth CS45 Fireproof Composite Safe Review
The Stealth CS45 Fireproof Composite Safe is designed for those seeking reliable protection for their valuables without the excessively high cost often associated with high-security safes. Manufactured by Stealth Safes, this safe offers an effective blend of burglary resistance and solid fire protection.
This review takes a close look at the Stealth CS45 Fireproof Composite Safe by Stealth Safes. We'll explore its features, design, and performance to help you decide if it's the right fit for your security needs.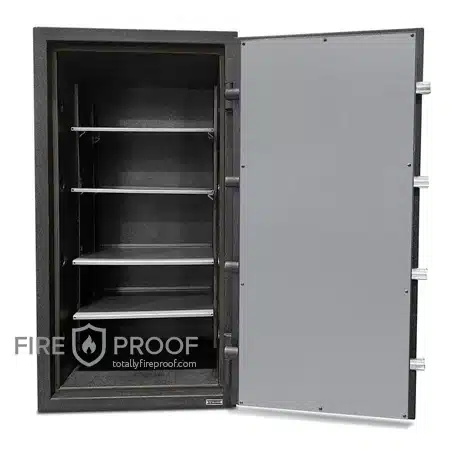 Safe Ratings:
Pros
90-minute fire rating
Advanced burglary resistance
UL-rated high-security electronic lock
Adjustable interior design
Lifetime burglary and fire warranty
Cons
Heavier weight may limit placement options
Potentially limited internal space if all the shelves installed

Key Specifications
The Stealth CS45 Fireproof Composite Safe stands out with its substantial dimensions and weight, reflecting its robust build. Key specifications include:
| Specification | Detail |
| --- | --- |
| Manufacturer | Stealth Safes |
| Model | CS45 |
| External Dimensions | 45"h x 24"w x 24"d (Add 1-1/2" for Handle, Keypad, Hinges) |
| Internal Dimensions | 41"h x 19-1/2"w x 16"d |
| Weight | 941 pounds |
| External Cubic Feet | 15 |
| Internal Cubic Feet | 7.4 |
| Fireproof Rating | 90 minutes at 1200°F |
| Lock Type | UL-rated high-security electronic lock |
Fireproof Features
Fireproof Rating: The Stealth CS45 Fireproof Composite Safe has a remarkable fireproof rating of 90 minutes at a temperature of 1200°F. This rating is a testament to the safe's ability to withstand high temperatures, ensuring the protection of contents inside during prolonged exposure to fire.
UL Certification: While the fire rating of the Stealth CS45 isn't UL certified or listed, the construction materials and design are in line with those found in UL-rated safes, particularly the use of concrete, which is a standard in fire-resistant safes.
Rating Implications: This 90-minute, 1200°F rating means that the safe can protect various items like documents, paper money, and other valuables from fire damage for a considerable duration. This duration is typically longer than the average house fire, offering an added layer of security for important belongings.
Security Features
The Stealth CS45 offers an array of security features designed to provide extended protection against burglary:
Lock: UL Rated High-Security Electronic Lock, protected by a hardplate and internal relocker, with a mechanical dial lock option available.
Door Thickness: Total thickness of 4 ½", including a 2" barrier of concrete composite fill between inner & outer steel plates (9 gauge steel thickness).
Body Thickness: Overall thickness of 2 ¼", featuring concrete composite fill encased within inner & outer steel plates (9 gauge steel thickness).
Locking Bolts: Eight 1.25" thick solid steel locking bolts, with a 2-way locking bolt system comprising 4 active and 4 deadbolts.
Security Features Summary Table:

Locking Mechanism
CS45 composite safe is equipped with a sophisticated locking system, central to which is the NL UR-2020 Electronic Lock: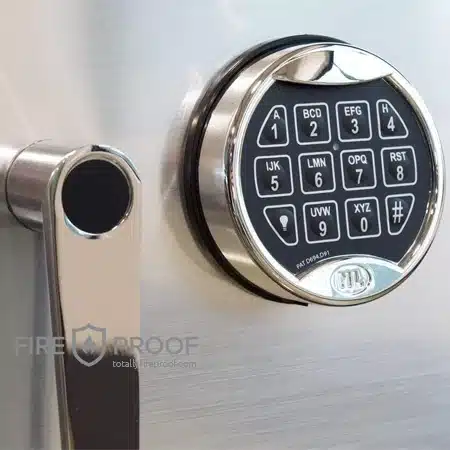 Primary Lock: The NL UR-2020 Electronic Lock is UL Listed, signifying its compliance with stringent safety standards. It is known for its reliability and advanced security features.
Lock Features:

Customizable Code: Users can set a personalized 6-digit code, enhancing security and personalization.
Drill and Punch Protection: The lock is fortified with a hard plate and internal re-locker, offering substantial resistance against drilling and punching attempts.
Upgrade Options:
NL-EL25: An upgrade option suitable for commercial applications, adding a Time Delay Function capability.
NL-EL30: Another upgrade primarily for commercial use, featuring Time Delay and Multi-User mode for up to 9 users, enhancing security management in environments with multiple users.
Alternative Lock Options: In addition to the electronic lock, the safe offers a mechanical dial lock, providing an alternative for those who prefer traditional locking mechanisms.
Locking Mechanism Summary Table
This range of options and upgrades, ensures that the Stealth CS45 provides a high level of security and flexibility, catering to various user needs and security requirements.
Build Quality and Additional Features
The Stealth CS45 demonstrates exceptional build quality and offers several additional features:
Build Quality: The safe is constructed with a focus on durability and security. It features a total door thickness of 4-1/2 inches, including a 2-inch barrier of concrete composite fill, and an overall body thickness of 2-1/4 inches. This robust construction ensures the safe is extremely difficult to breach.
Interior Design: The safe's interior is designed for functionality and aesthetic appeal. It includes adjustable/removable shelves, allowing for customization based on storage needs.
Finish and Appearance: Finished in a durable textured black, the safe boasts a sleek and professional appearance, suitable for both home and office settings.
Additional Security Measures: The safe includes pre-drilled bolt-down holes and comes with mounting hardware, providing an additional layer of security by anchoring it to a fixed location.
Warranty
The Stealth CS45 fire-resistant safe comes with a comprehensive warranty package, reflecting the manufacturer's confidence in its product:
Lifetime Burglary and Fire Warranty: This robust warranty coverage provides peace of mind, ensuring protection against theft and fire damage.
2-Year Parts and Labor Warranty: In addition to the lifetime warranty, the safe is covered by a 2-year warranty for parts and labor. This includes repair or replacement of components as needed.
Price
As of now, the Stealth CS45 safe is available at a discounted price of $2,099.99. Which is lower compared to it's initial retail price tag of $2,599.99. This makes the safe more affordable and adds even more value to this model. Especially taking into account all the features it comes with, its build quality and anti-burglary security measures.
It's important to tone that it's better to make an order at official authorized dealers of Stealth company to get the best of your purchase.
Final Verdict
Is Stealth CS45 Fireproof Composite Safe any good?
Yes, Stealth CS45 Concrete Composite Burglary and Fireproof Safe is a high-end, reliable and robust security safe. It offers excellent build quality, UL-approved electronic lock with multiple upgrade options, 90 minutes of fire protection, advanced security features. And this whole package is currently available at a more affordable price.
We can recommend this model to everyone who is looking for not only a secure safe but also added fire-resistance capabilities.
Overall Score: 8.25/10