Stealth UL23 Fireproof Gun Safe Review
The Stealth UL23 Fireproof Gun Safe is a tough but nice looking model that does a great job combining quality and reliability. Made by Stealth, this particular safe is designed to protect your firearms and other valuables not only from burglary or theft, but also from fire.
This review explains all important details about Stealth UL23, like its security features, build quality and design elements. Such in-depth analysis will help you make a choice of a safe that meets your needs and expectations.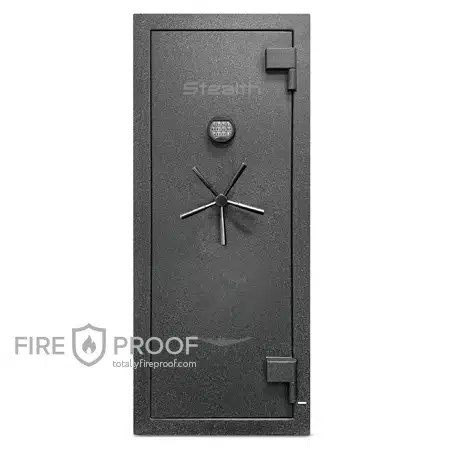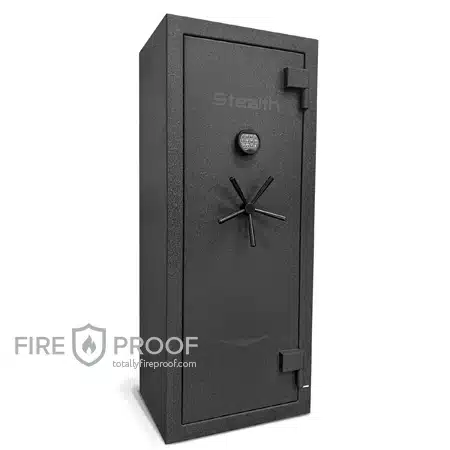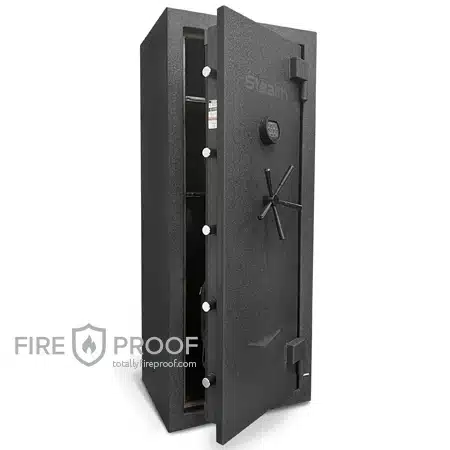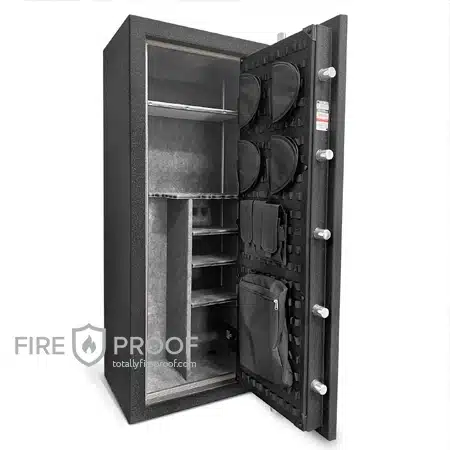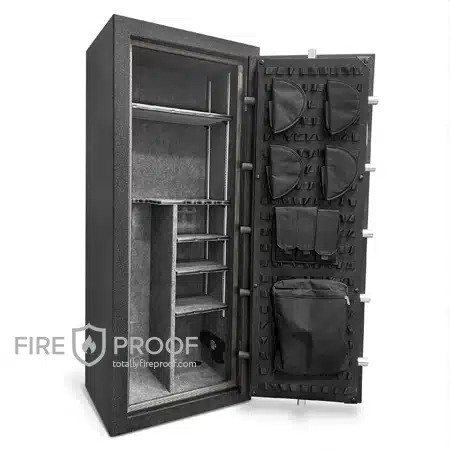 Safe Ratings:
Pros
60-minute fire rating at 1200°F
Durable 12 gauge steel construction
UL rated high-security electronic lock
Versatile storage with adjustable shelves
Lifetime burglary + fire warranty
Cons
Relatively heavy at 450 lbs
Limited color options

Key Specifications
Stealth UL23 Fireproof Gun Safe has c considerable weight, packing all the necessary features to make it truly robust and fire resistant. Here's a table summarizing the key specifications of the Stealth UL23:
| Specification | Detail |
| --- | --- |
| Manufacturer | Stealth |
| Model | UL23 |
| Dimensions (External) | 59" H x 24" W x 18" D (Add 3" for handle) |
| Dimensions (Internal) | 56" H x 21" W x 12" D |
| Weight | 450 lbs |
| Material | 12 Gauge Steel Door & Body |
| Capacity | 23 Long Guns |
| Fireproof Rating | 60 Minute at 1200°F |
| Lock Type | UL Rated High-Security Electronic Lock |
Fireproof Features
The Stealth UL23 offers good fireproof capabilities, essential for protecting valuables and firearms from high temperatures:
Fireproof Rating: The safe boasts a 60-minute fire rating at 1200°F, which is significant for a safe of this size and type.
Certification: This fire rating is not UL certified or listed, but the safe does meet and exceed the California Department of Justice Gun Safe requirements.
Protection: The safe's interior is designed to maintain temperatures below 350°F, ensuring the safety of contents during a fire. Additionally, it features an intumescent door seal that expands in a fire, preventing smoke entry and further protecting the contents.
This fireproof rating means that the safe can protect paper money or vital documents, jewelry and other heat-sensitive items for up to an hour in a typical house fire scenario.
Security Features
Stealth UL23 gun safe is equipped with several advanced security features, making it a robust choice for safeguarding your valuables:
12 Gauge Steel Construction: The use of 12 gauge steel for both the door and body of the safe provides a substantial barrier against forced entry, making it exceptionally resistant to physical attacks.
Solid Steel Locking Bolts: The ten 1.25-inch thick solid steel locking bolts offer enhanced security, ensuring that the door remains firmly locked under attempted break-ins.
4-Way Locking Bolt System: This system, featuring 7 active and 5 deadbolts, provides comprehensive locking coverage on all sides of the door, significantly increasing the safe's resistance to prying and forcing open.
Pry-Resistant Design: The thin gaps around the door make it extremely difficult for tools to gain leverage, reducing the risk of successful prying attempts.
Bolt Down Capability: With four pre-drilled holes and included mounting hardware, the safe can be securely anchored to a floor, preventing potential thieves from physically moving or tipping the safe.
Hard Plate & Internal Relocker: These features are critical in resisting drilling and punching attacks. The hard plate protects the lock mechanism, while the internal relocker ensures that the locking bolts remain engaged even if the lock is tampered with or damaged.
Security Features Summary Table: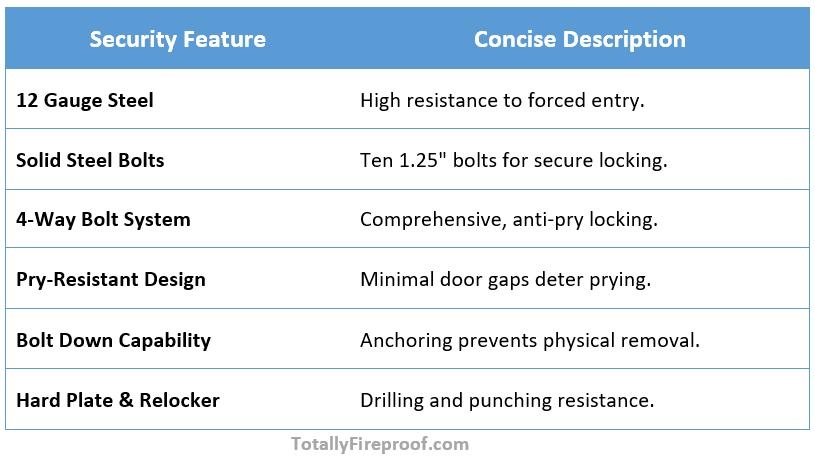 Locking Mechanism
The Fireproof Stealth UL23 features a sophisticated locking system, central to its security.
Default Lock
The safe includes the UL Approved NL UR-2020 High Security Electronic Lock as standard. This lock is renowned for its reliability and advanced security features. It is UL Listed, ensuring compliance with stringent safety standards.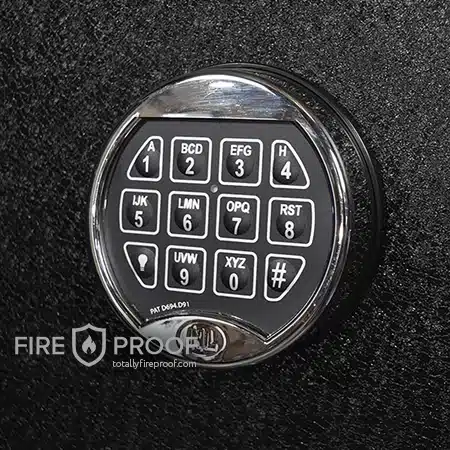 Customization and Security: Users can personalize the lock with a 6-digit code. It is fortified with a hard plate and internal re-locker, offering substantial resistance against drilling and punching attempts.
Upgrade Options:
NL-EL25: Suitable for commercial applications, adds Time Delay Function capability.
NL-EL30: Primarily for commercial use, features Time Delay and Multi-User mode for up to 9 users.
Alternative Options:
In addition to the electronic lock, there is an option for a mechanical dial lock, catering to preferences for traditional locking mechanisms.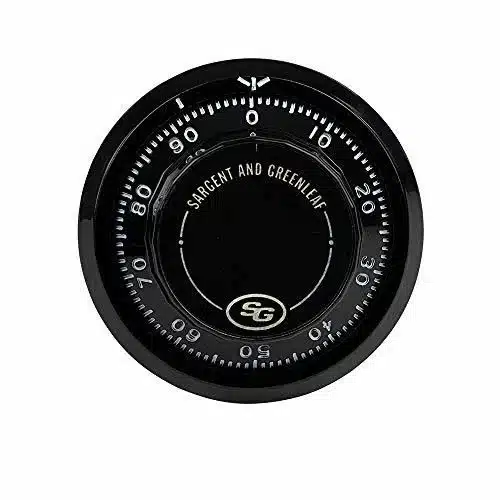 Locking Mechanism Summary Table
| Feature | Description |
| --- | --- |
| Standard Lock | NL UR-2020 High Security Electronic Lock (UL Listed) |
| Security Enhancements | Customizable Code, Drill and Punch Protection |
| Upgrade Options | NL-EL25 (Time Delay), NL-EL30 (Time Delay & Multi-User) |
| Alternative Option | Mechanical Dial Lock |
Build Quality and Additional Features
The Stealth UL23 fireproof safe stands out for its excellent build quality and array of additional features:
Build Quality:

Construction: 12 gauge solid steel door and body.
Finish: Textured black with a black 5-spoke handle for enhanced durability.

Storage and Organization:

Capacity: Accommodates 23 long guns.
Interior: Gray fabric lining, leather-lined top shelf, and adjustable gun rack.
Shelves: Three side shelves, adjustable or removable.
Door Organizer: Customizable Molle door panel for flexible storage.

Electrical Outlet Kit:

Features: 3 outlet plug-ins and 2 USB slots for in-safe charging.
Example of gray fabric lining, leather-lined top shelf, and adjustable gun rack of the safe: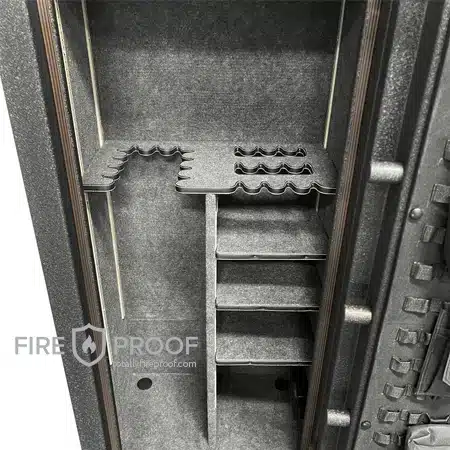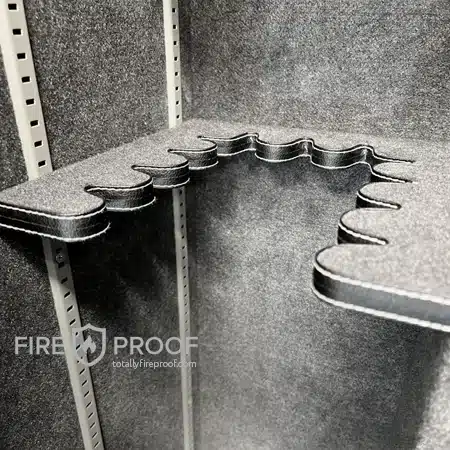 Warranty
The Stealth UL23 comes with a comprehensive warranty package, underscoring the manufacturer's confidence in its product. For the customers that's another thing they can worry less about. Here's what you should know about the warranty coverage:
Lifetime Warranty: Covers any damage due to burglary attempts or fires, ensuring long-term peace of mind for the owner.
2-Year Parts and Labor Warranty: Provides additional protection, covering any potential manufacturing defects or issues in workmanship.
Price
The Stealth UL23 gun safe has a retail price of $2,099.99, but it is currently available at a discounted price of $1,599.99. This significant price reduction enhances the value of the safe, making it an even more attractive option for those seeking a high-quality security solution.
Given its robust build, advanced security features, and comprehensive warranty, the current pricing offers an excellent opportunity for buyers to acquire a premium product at a more accessible price point. Just be sure to make an order at the official authorized dealers of Stealth Safes company to get the best of your purchase.
Final Verdict
Is Stealth UL23 Fireproof gun safe any good?
Yes, the Stealth UL23 Fireproof gun safe is a great robust safe, offering proven security features, respectable 1-hour fire protection, several lock options and versatile storage solutions. All this comes at a competitive price, especially with the current discount.
Overall, it's a solid investment for those prioritizing safety and durability in a gun safe. And for those who also want fire-resistance to add additional level of protection in emergency situations.
Overall Score: 8.25/10