Stealth Essential EGS28 Flag Edition Gun Safe Review
The Stealth Essential EGS28 Flag Edition Gun Safe combines patriotic design with practical security. This review provides an objective analysis and will assist you in understanding the capabilities and features of this safe, ensuring a well-informed purchase decision.
In short, Flag Edition EGS28 gun safe, manufactured by Stealth, is a robust solution for firearm enthusiasts and safety-conscious individuals seeking for a modern looking, reliable safe with some fireproof capabilities.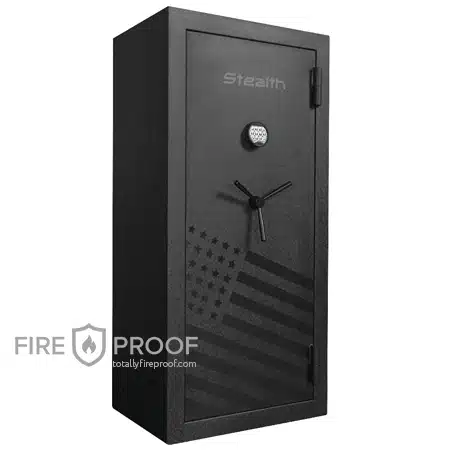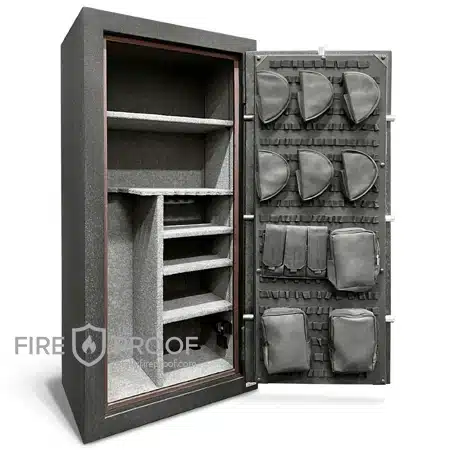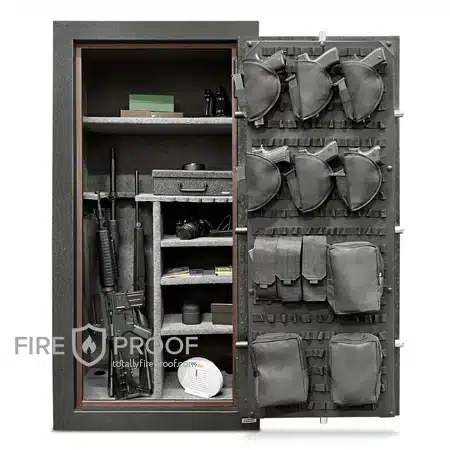 Safe Ratings:
Pros
Fireproof capabilities
Comprehensive security features
Customizable interior with ample storage
UL Approved High security electronic lock with Mechanical Lock option
Limited Edition USA Flag design on front side
Cons
Relatively heavy weight
Less than 1-hour Fireproof Rating

Key Specifications
Here is a detailed table of the key specifications for the Stealth Essential EGS28 Flag Edition Gun Safe:
| | |
| --- | --- |
| Specification | Detail |
| Manufacturer | Stealth |
| Model | EGS28 Essential Gun Safe |
| Dimensions (External) | 59" H x 28" W x 20" D (Add 3" for Handle and Electronic Lock) |
| Dimensions (Internal) | 56" H x 25.5" W x 16.5" D |
| Weight | 375 Pounds |
| Material | 14 Gauge Steel Door & Body |
| Capacity (Interior Cubic Feet) | 13.64 |
| Fireproof Rating | 30 Minute Fire Rating at 1200 degrees F |
| Lock Type | UL Approved High Security Electronic Lock NL UR-2020 |
Stealth Essential EGS28 Special Flag edition safe specs
Fireproof Features
The Stealth Essential EGS28 offers basic fireproof capabilities. With a fire rating tested at 1200 degrees F for up to 30 minutes, it provides a foundational level of protection against fire damage. While this level of fireproofing is not UL certified, it still represents a significant step up from safes without any fire-resistant features.
While a 30-minute fire rating, though basic, can still be adequate for many home safety needs. In the event of a fire, this rating can offer crucial time for the safe contents to remain protected, especially in situations where response times for firefighting services are swift. The safe's intumescent door seal, which expands significantly under high heat, adds an extra layer of protection by keeping smoke and heat out, further safeguarding valuables inside.
While this fireproof rating may not be suited for extremely high-temperature fires or prolonged exposure, it is certainly a beneficial feature for those looking for a safe with basic fire-resistant capabilities, offering peace of mind that is better than having no fire protection at all.
Security Features
The Stealth UL28 Gun Safe is engineered with a focus on high-level security, incorporating several advanced features to safeguard your valuables against burglary attempts.
The table below summarizes its key security attributes: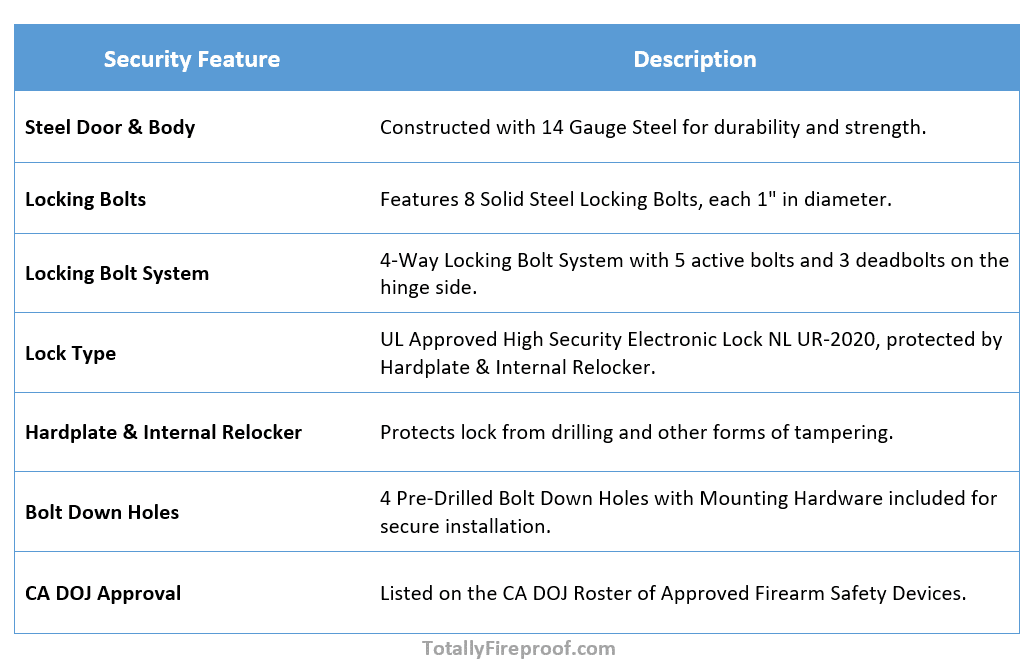 These security measures collectively offer a high degree of protection. The solid steel construction, extensive locking bolt system, and UL-approed high security electronic lock are specifically designed to resist forced entry and tampering. Additionally, the ability to securely bolt the safe to a solid surface adds an extra layer of security, preventing the entire safe from being removed.
Locking Mechanism
The Stealth Essential EGS28 Flag Edition Gun Safe features two options for locking mechanisms, catering to different security preferences:
UL Approved High Security Electronic Lock NL UR-2020 (Default Lock)
Known for its high security, providing reliable protection.
Electronic operation for quick and easy access.
Enhanced security against lock picking and tampering.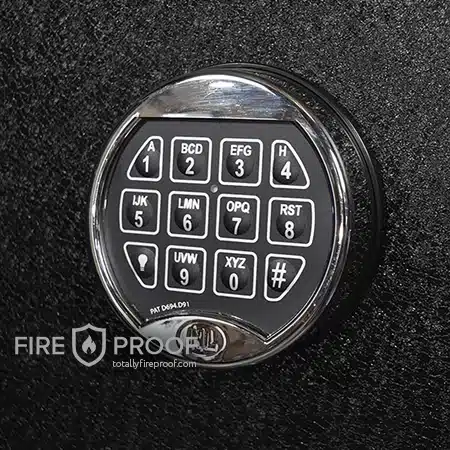 Sargent and Greenleaf Group 2 Mechanical Dial Safe Lock (Upgrade Option)
Ideal for high-security, high-traffic environments.
Mechanical operation offers a classic, reliable locking mechanism.
Million possible combinations adds a reliable security level.
Features such as aluminum wheel cases and left-right-left dialing.
Key-changeable wheel design allows for customizable security.
Internal relock trigger adds an additional layer of security in case of tampering.
UL-Listed Group 2 certification ensures a high standard of security.
One-year limited warranty offers additional peace of mind.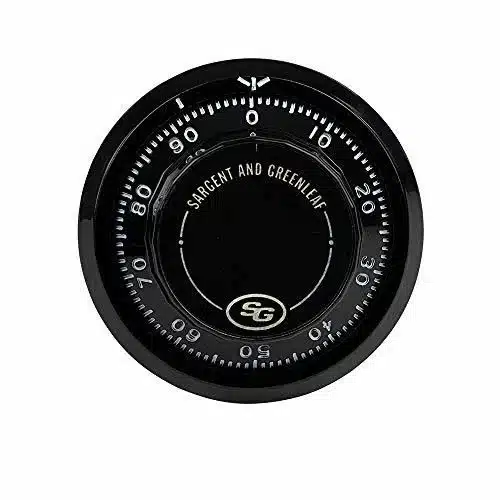 Both lock options provide robust security measures, with the electronic lock offering modern convenience and the mechanical lock offering traditional reliability.
Build Quality and Additional Features
The EGS28 flag edition fireproof gun safe showcases exceptional build quality and offers a range of additional features:
Build Quality:
Material: Made with 14 Gauge Steel for the door and body, ensuring durability and strength.
Finish: Coated with an extremely durable flat black paint, complemented by an American flag design on the door.
Handle: Features a sturdy black 3-spoke handle.
Additional Features:
Interior: Lined with gray fabric to protect against scratches.
Storage: Includes 1 carpeted top shelf and 3 carpeted side shelves, all adjustable and removable.
Gun Rack: Comes with a dual gun rack, which is also adjustable and removable.
Electrical Outlet Kit: Equipped with an outlet kit including 3 outlet plugins and 2 USB slots.
Molle Door Panel Organizer: Customizable and includes size pistol holsters, a triple magazine pouch, and three medium zippered pockets.
Warranty
Stealth Essential EGS28 offers an extensive warranty that underscores its quality and reliability:
Lifetime Burglary & Fire Warranty:
This robust warranty extends throughout the lifetime of the safe.
It encompasses coverage against break-ins, attempted break-ins, and damage resulting from house fires.
Reflects the manufacturer's commitment to long-term durability and protection.
2-Year Parts & Labor Warranty:
Complementing the lifetime warranty, this coverage addresses any issues with parts and labor.
Effective for the first two years following the purchase.
Ensures that any early concerns are addressed promptly and efficiently, emphasizing customer care and product reliability.
Price
The Stealth Essential EGS28 Flag Edition Gun safe is priced at $1,599.99. When considering the features and specifications of this safe - from its fireproof capabilities and robust security features to its quality construction and comprehensive warranty - this price point represents a significant investment in security and peace of mind.
Given the safe's capacity, fire resistance, security measures, and additional features like the electrical outlet kit and customizable storage options, the pricing seems reasonable and competitive within the market for high-quality safes.
Final Verdict
Is Stealth Essential EGS28 Flag Edition Gun Safe any good?
Yes: The Stealth Essential EGS28 Gun Safe is a great product for those prioritizing security and quality in a gun safe, offering a balance of features at a reasonable price point. It also give the basic fireproof capabilities for additional peace of mind.
Its most prominent visual feature is the unique American Flag design, which definitely make it one of the better looking safes in this range. And behind that you will get UL approved locks, customizable interior, comprehensive security features and decent warranty.
Overall Score: 7.75/10