American Security NF6032E5 Fireproof Gun Safe Review
If you need a secure safe with solid fireproof capabilities for your firearms then American Security NF6032E5 Fireproof Gun Safe can be a great choice. It is designed to keep your valuable guns and other valuables away from elemental hazards as well as potential theft threats.
American Security, the manufacturer, is renowned for its commitment to quality, with a reputation built on reliability and a history of solid products. With this model they continue the line of their popular gun safes.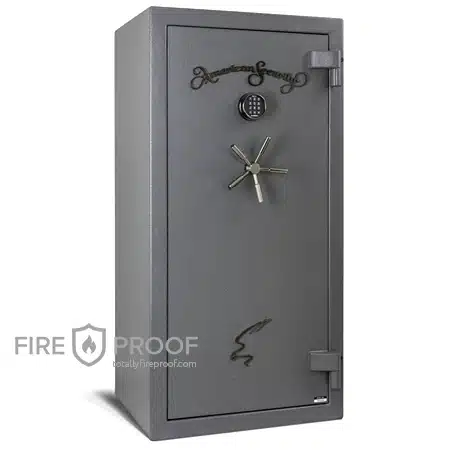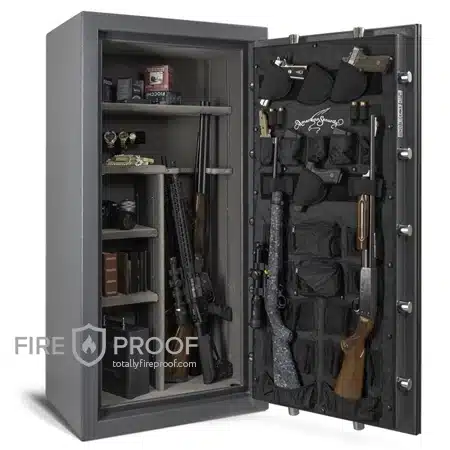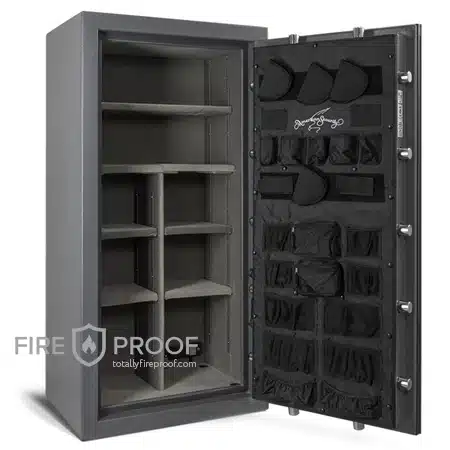 Safe Ratings:
Pros
ETL certified 90-minute fire protection
UL certified RSC burglary protection
Quality construction with a ¼" solid steel plate door
Good build quality
Equipped with an AC power outlet for convenience
Cons
Weight may be challenging for some installations
Limited customization options

Key Specifications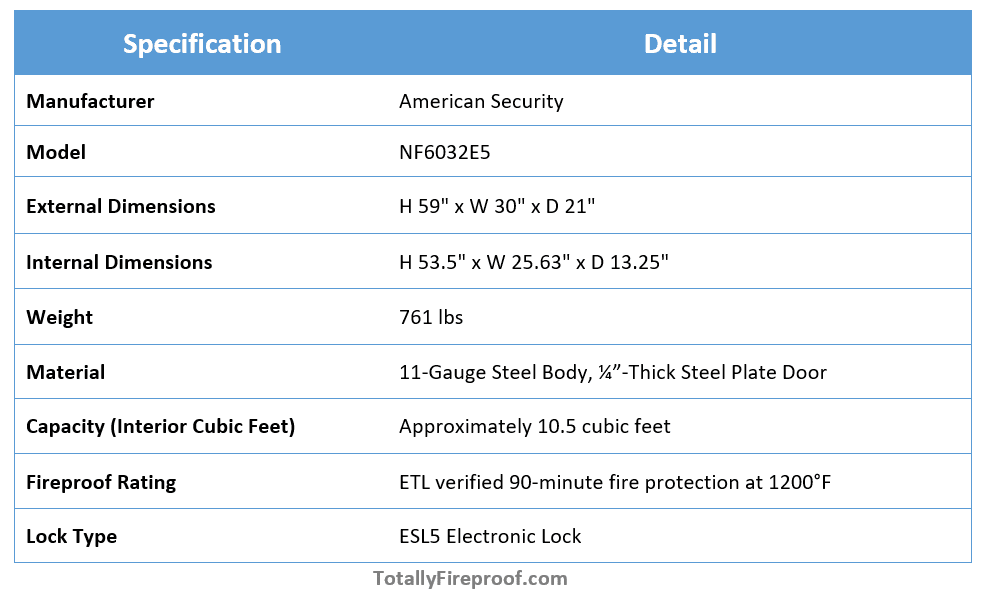 Fireproof Features
The American Security NF6032E5 is not just a secure vault for your firearms and valuables; it's also a reliable defence against flames and high heat. The safe has a ETL verified 90-minute fire protection rating, capable of withstanding temperatures up to 1200°F. This level of fireproofing ensures that the contents remain protected even in the extreme fire conditions.
The fireproofing of this safe is further enhanced by its construction, featuring three layers of drywall lining, which play a critical role in insulating the interior against high temperatures. The dual door seals offer an additional defense, guarding against fire and smoke ingress, which is a testament to the safe's thoughtful and robust design.
Security Features
The American Security NF6032E5 Fireproof Gun Safe is engineered with a complex of security features that are designed to stop unauthorized access and protect against physical attacks. Here is a table summarizing the key security attributes of this formidable safe:
List of Security Features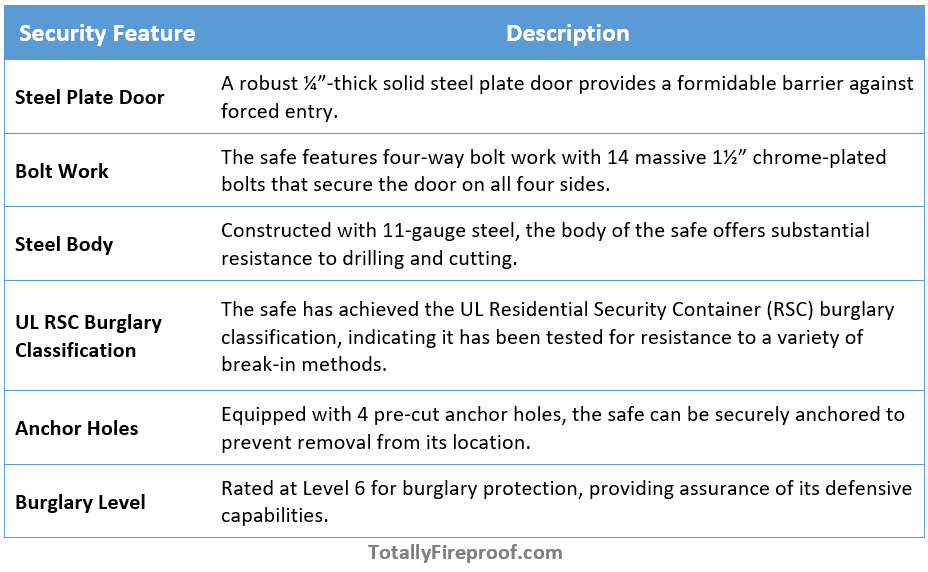 Locking Mechanism
The American Security NF6032E5 Fireproof Gun Safe is equipped with the AMSEC ESL5 Illuminated Electronic Lock, a UL listed Type 1 digital lock that enhances the safe's security with its advanced features.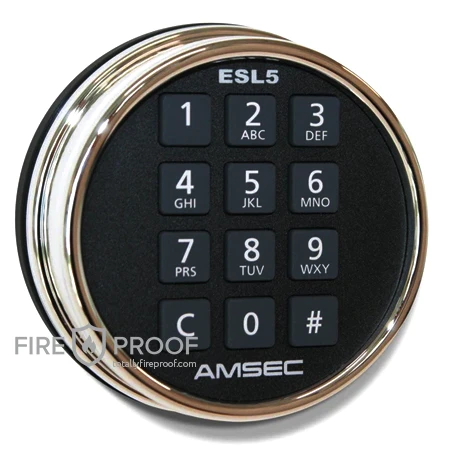 Characteristics of AMSEC ESL5 Electronic Lock
| Feature | Benefit |
| --- | --- |
| UL Listed Type 1 | Recognized for its high security and reliability |
| Backlit Keypad | Ensures easy operation in low light conditions |
| Audible and Visual Feedback | Provides confirmation of each entry for added security |
| Swing Bolt (Pivot Bolt) | Ensures lock integrity during attempted breaches |
| Penalty Lockout | Deters tampering by locking out after four incorrect entries |
| Stealth Mode | Allows for silent operation to maintain discretion |
Characteristics of AMSEC ESL5 Electronic Lock. TotallyFireproof.com
The AMSEC ESL5 lock's illuminated keypad is particularly beneficial for those needing to access the safe in dark environments. The visual and audible feedback mechanisms are crucial for confirming correct usage, while the penalty lockout feature adds an extra layer of security against unauthorized attempts to open the safe.
Build Quality and Additional Features
The American Security NF6032E5 Fireproof Gun Safe showcases exceptional build quality, a hallmark of the manufacturer's dedication to durability and functionality. The safe's body is constructed from 11-gauge solid steel, providing a sturdy and impenetrable shell. The door is made from a ¼-inch thick steel plate, further reinforcing the safe against any forced entry attempts.
In addition to its robust construction, the NF6032E5 comes with a range of additional features that enhance its usability and performance:
Interior Capacity: The safe offers an interior capacity of approximately 10.5 cubic feet, providing ample space for multiple firearms and valuables.
Organization: Inside, the safe is equipped with four adjustable shelves, allowing for a customizable storage solution to accommodate various item sizes.
Finishing: The safe's interior is lined with plush velour, adding a layer of protection for delicate items and a touch of elegance.
Power Outlet: For added convenience, the safe includes an AC power outlet with a removable cord, facilitating the use of dehumidifiers, lighting, or other electrical devices.
Warranty: American Security backs the NF6032E5 with a lifetime warranty against theft and fire, showcasing their confidence in the product's quality.
Warranty
American Security offers a lifetime warranty on all their gun safes that are 55 inches and taller. The warranty covers the following:
Burglaries: If your safe is forcibly entered, American Security will repair or replace it free of charge.
Attempted Burglaries: If your safe undergoes a drill, punch, or pry attack and is not breached, American Security will repair or replace it free of charge.
Damage from a House Fire: If your safe is damaged in a house fire, American Security will repair or replace it free of charge.
The warranty is valid for the original owner of the safe and is non-transferable.
To file a claim, you must properly file a police report documenting the incident within 30 days of the burglary/fire incident. A copy of the police report must be submitted to American Security with your warranty claim.
Price
The American Security NF6032E5 Fireproof Gun Safe is listed with a retail price of $3,315.00. However, potential buyers will be happy to find that the safe is currently available at a discounted price of $2,486.25, offering a substantial saving of $828.75, which equates to a 25.0% discount off the retail price.
This price point positions the NF6032E5 as a competitively priced option within the market, especially when considering its robust build quality, comprehensive security features, and fireproof capabilities. The discount makes it an even more attractive proposition for those seeking a high-quality safe without stretching their budget.
Final Verdict
Is American Security NF6032E5 Fireproof Gun Safe any good?
Yes, AMSEC NF6032E5 is a great product that offers a good level fire protection to boost it already robust build quality. It also comes with efficient security features, and reliable warranty make it a worthwhile investment for anyone serious about safeguarding their valuables.
Overall Score: 8.25/10