Stealth PR23 Premier 23 Gun Safe Review
Looking for a secure place to store your firearms or valuables? The Stealth Premier 23 Gun Safe PR23 might just be what you need. Manufactured by Stealth, a brand recognized for its robust and reliable security products, this safe is a great combination of quality craftsmanship and advanced security features.
In this review, we'll take a close look at this safe and cover everything from its security features to its fireproof capabilities. If you're in the market for a reliable safe, this review will give you all the details to help you decide if the Stealth PR23 is the right fit for your home.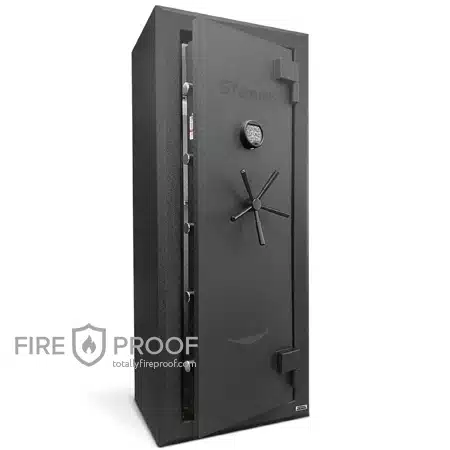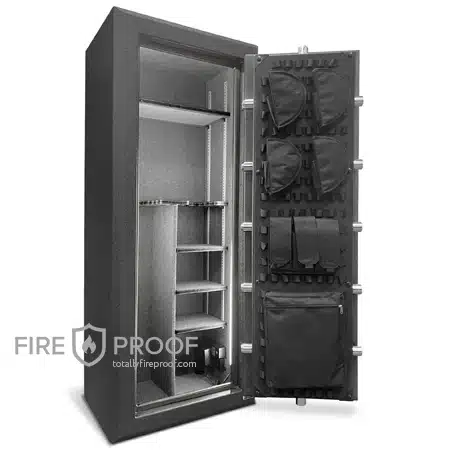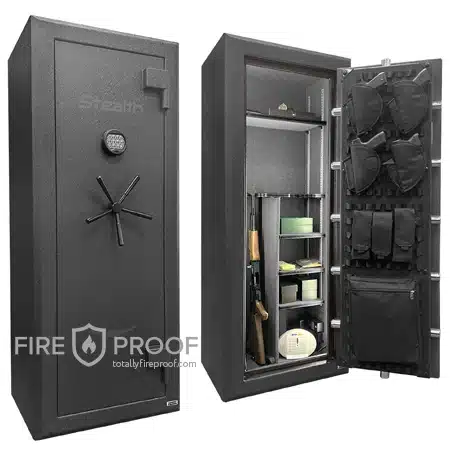 Safe Ratings:
Pros
90-minute fire rating at 1200° F
UL Approved high-security electronic lock
Robust 1/4" steel plate door
Customizable interior with Molle system
Lifetime warranty against break-in/fire
Cons
High price point for some budgets
Fire rating is not UL listed

Key Specifications
Here is a detailed table of the key specifications for the Stealth PR23 Fireproof Premier 23 Gun safe:
| | |
| --- | --- |
| Specification | Detail |
| Manufacturer | Stealth |
| Model | Premier 23 Gun Safe PR23 |
| External Dimensions | 59"H x 24"W x 18"D (Add 3" for handle) |
| Internal Dimensions | 55"H x 20"W x 11"D |
| Weight | 486 lbs |
| Material | 1/4" Steel Plate Door, 10 Gauge Steel Body |
| Capacity (Interior) | 23 Long Guns (without optics) |
| Fireproof Rating | 90 min at 1200° F |
| Lock Type | UL Approved High Security Electronic Lock |
Stealth PR23 Premier 23 Gun safe key specs
Fireproof Features
The Stealth Premier 23 Gun Safe PR23 is equipped with significant fire protection capabilities. It has a 90-minute fire rating at 1200° F, which is crucial for safeguarding contents during intense heat.
A key component of this fire protection is the heat expandable door seal. In a fire, this seal enlarges to block smoke and heat, preserving the safe's interior.
While the fireproof rating doesn't specify UL certification, the safe's ability to withstand high temperatures makes it suitable for protecting valuables like documents and firearms.
Security Features
The Stealth Premier 23 Gun Safe PR23's security attributes are designed to provide exceptional protection:
Heavy-Duty Construction: The safe's robust build, featuring a 1/4" steel plate door and a 10 gauge steel body, ensures a high level of resistance to forced entry attempts.
Advanced Locking System: It's equipped with 12 solid steel locking bolts, each 1.5" in diameter, forming a comprehensive 4-way locking bolt system. This includes 7 active bolts and 5 deadbolts, offering enhanced security against prying.
High-Security Lock: The inclusion of a UL Approved High Security Electronic Lock, backed by a hard plate and an internal re-locker, provides strong protection against sophisticated burglary techniques like drilling or punching.
Compliance with Regulations: The safe not only meets but exceeds California DOJ Gun Safe Requirements, indicating a high standard of security.
Secure Installation: With pre-drilled bolt down holes, the safe can be firmly anchored to the floor, deterring any attempts to remove or relocate it.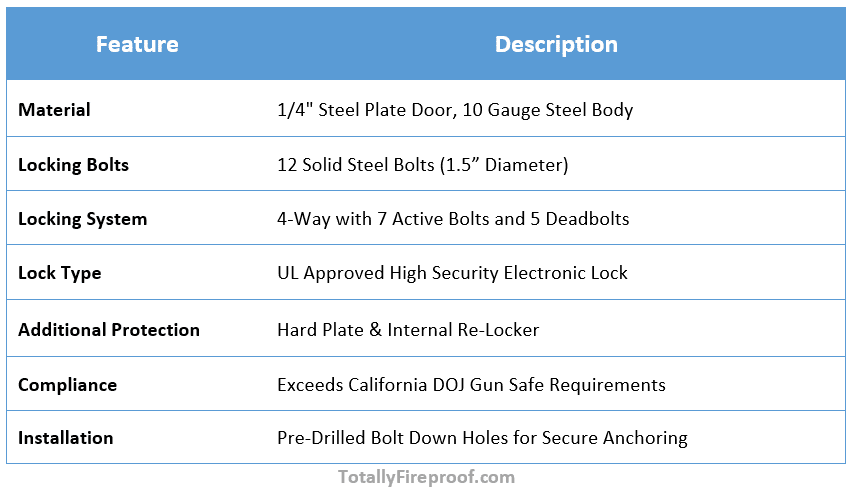 Locking Mechanism
The Stealth Premier 23 Gun Safe PR23 is secured by the NL UR-2020 Electronic Lock, renowned for its reliability and security features:
Lock Features: The NL UR-2020 is a UL Listed lock, ensuring high security standards. It is assembled and tested in the USA, offering drill and punch resistance thanks to its robust build.
Customization and Security: This lock allows for a customizable 6-digit code, has an external battery compartment, and a low battery indicator. Additionally, its combination memory retains the code even if the battery is changed.
Enhanced Protection: It includes a 1/4" thick steel hardplate to protect against drill attacks and an internal relocker to guard against punch attacks.
Alternate Options: For those preferring a traditional approach, a Mechanical Dial Combination Lock is also available.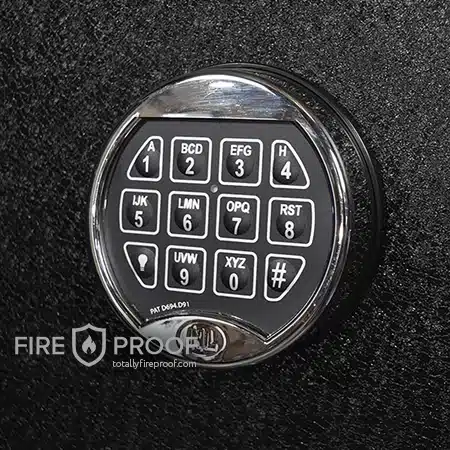 Other lock options are available for additional fee. The lock selection depends on the specific retailer you pick for your purchase. So you will need to check which options are currently possible. Among the most popular options is S&G Mechanical Dial.
Sargent and Greenleaf Group 2 Mechanical Dial Safe Lock (Upgrade Option)
Ideal for high-security, high-traffic environments.
Mechanical operation offers a classic, reliable locking mechanism.
Million possible combinations adds a reliable security level.
Features such as aluminum wheel cases and left-right-left dialing.
Key-changeable wheel design allows for customizable security.
Internal relock trigger adds an additional layer of security in case of tampering.
UL-Listed Group 2 certification ensures a high standard of security.
One-year limited warranty offers additional peace of mind.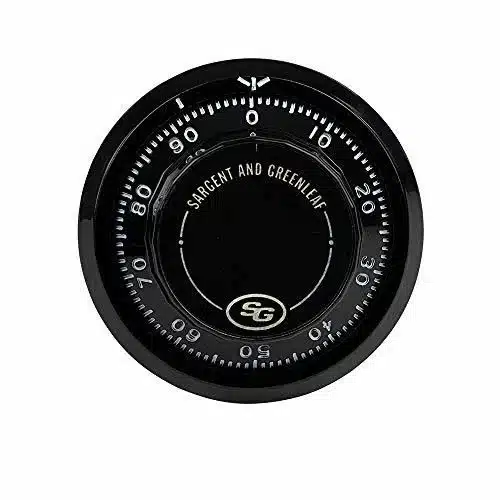 Another option for the Stealth Premier 23 Gun Safe is NL Doomsday Redundant Lock. This lock combines advanced electronic and mechanical security features, ensuring robust protection and ease of use.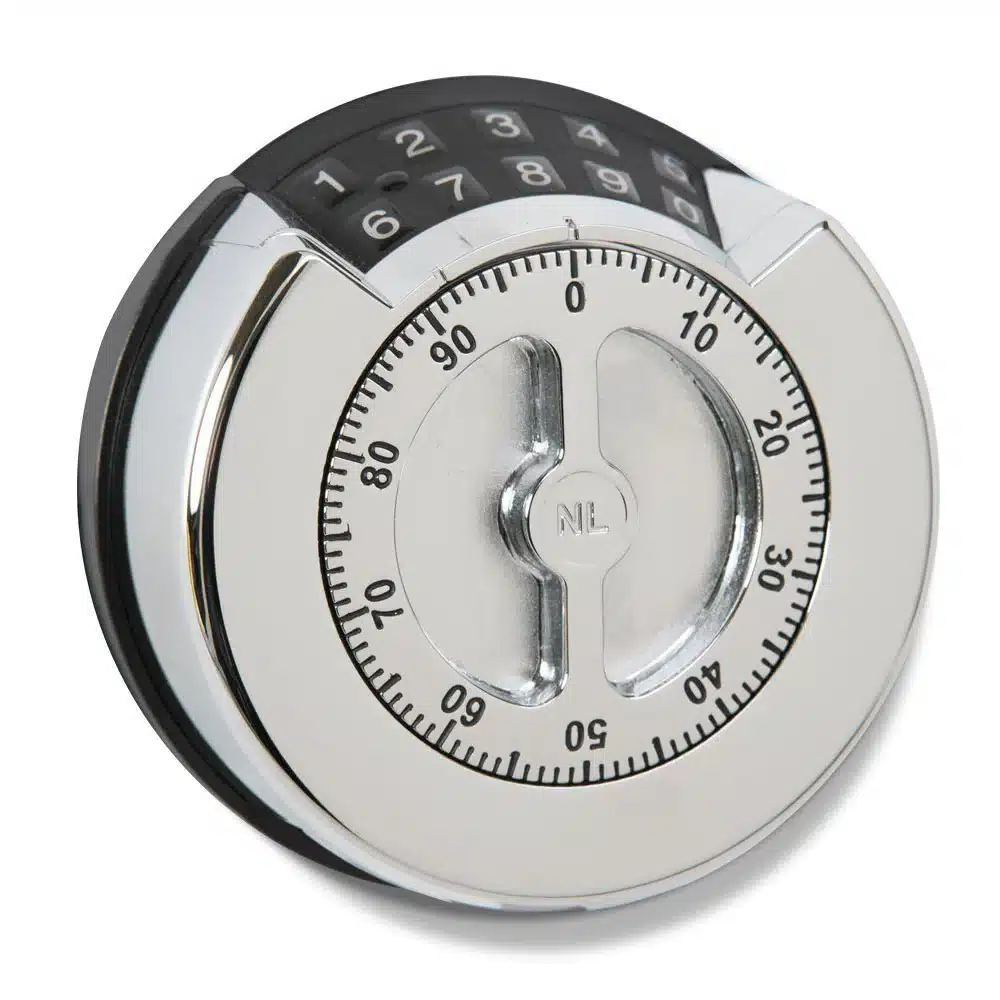 Here is a comprehensive table summarizing the NL Doomsday Lock:
| Feature | Description |
| --- | --- |
| Type of the Electronic Part | Type 1 Electronics |
| Software | Patented Simple Software (1 Manager / 1 User) |
| Code System | 6 Digit Changeable Code, Simple Code Change |
| Diagnostics | Function #5 Self-Diagnostics |
| Battery | Low Battery Warning |
| Manipulation Protection | Yes |
| Type of the Mechanical Part | Group 2M Mechanical |
| Resistance | Manipulation Resistant |
| Footprint | Standard Foot Print, No Spline Key Required |
| Design | Premier Redundant RotoBolt Lock and Keypad |
| EMP Proof | Yes |
| Redundancy | Provides redundancy for safety |
| Feedback | Audible and visual feedback |
| Keypad | Durable mylar keypad, Spy-proof Digital Entry (top reading) |
| Battery Access | Sliding door access to battery compartment |
Build Quality and Additional Features
The Stealth Premier 23 Gun model combines high-quality materials and thoughtful design to offer superior build quality and functionality:
Material and Finish: It features a durable construction with a 1/4" steel plate door and a 10 gauge steel body. The safe is finished with a robust and sleek armored black finish.
Organizational Features: A dual gun rack accommodates 23 long guns, and the Molle door panel organizer offers customizable storage options.
Electrical Features: The safe includes a pre-installed electrical outlet with 3 plugins and 2 USB slots, ideal for charging electronics or using dehumidifiers.
Light Kit: A light kit is included to enhance visibility inside the safe.
Fire Resistance: The safe's 90-minute fire rating at 1200º F, along with a heat expandable door seal, offers extra protection against fire.
Interior Layout: Inside, the safe is lined with gray carpet, and the shelves are leather-lined and adjustable. It includes a dual gun rack, one adjustable top shelf, and three smaller side shelves.
Storage Customization: The Molle Door Panel Organizer, with 4 pistol holsters, 1 triple magazine pouch, and 1 large zippered pocket, allows for adjustable and removable accessory placements.
Aesthetic Appeal: The safe showcases an extremely durable and unique Stealth Armored Black Finish, a black 5-spoke handle, and beveled edges.
Secure Installation: Four pre-drilled bolt down holes and included mounting hardware aid in securing the safe to the floor.
Warranty
The Stealth Premier 23 Gun Safe PR23 comes with reassuring warranty coverage:
Lifetime Burglary & Fire Warranty: This coverage includes break-in, attempted break-in, and damage due to house fire.
2-Year Parts & Labor Warranty: Applies to the lock and all components of the safe, ensuring peace of mind for the buyer.
| | |
| --- | --- |
| Coverage Aspect | Details |
| Break-In | Covered under warranty |
| Attempted Break-In | Coverage includes any attempted break-ins |
| House Fire | Damages from house fires are covered |
Lifetime Burglary & Fire Warranty Summary Table
Price
The pricing of the Stealth Premier 23 Gun Safe PR23 reflects both its high quality and the value it offers. Initially listed at a retail price of $3,999.99, it is now available at a significantly reduced price of $1,899.99. This reduction amounts to a substantial 52.5% discount, equating to a saving of $2,100.00. Such a price point makes this safe a more accessible option for those seeking a balance between top-notch security features and affordability.
Final Verdict
Is The Stealth Premier 23 Gun Safe PR23 Safe any good?
Yes: The Stealth Premier PR23 is a great safe combining high-grade security, solid fireproof features, and thoughtful design elements. It stands out for its robust construction, UL approved electronic lock, and comprehensive warranty.
Given its features and current discounted price, the PR23 offers excellent value. A high-quality, versatile safe that is definitely worth its price, especially for those prioritizing security and fire protection.
Overall Score: 8/10