American Security CSC1913 Fire & Burglary Safe Review
Are you interested in American Security CSC1913? A product of American Security, this safe promises not just to keep your items secure from theft but also to protect them from the ravages of fire. Can it deliver on the promises? In this review we point out to all the key characteristics of the safe and show where it excels and where there;s room for improvement.
As always we base our opinion on a meticulous analysis of the CSC1913, alongside our personal insights gained from extensive experience with a variety of safes.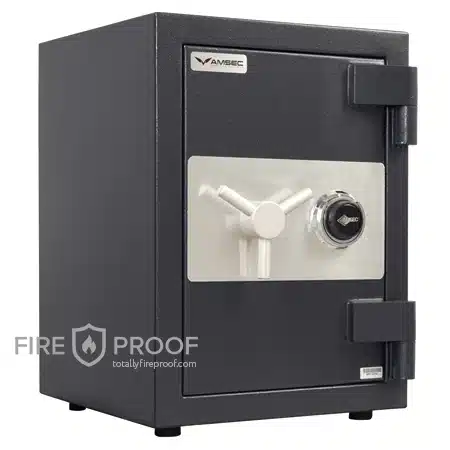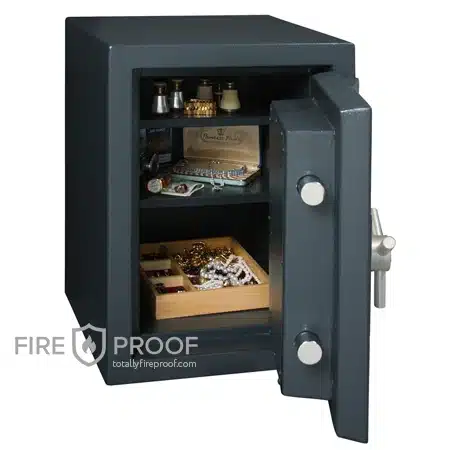 Safe Ratings:
Pros
2-hour fire protection tested at temperatures up to 1700°F
UL certified RSC burglary protection
Quality construction with robust steel plates
Advanced lock options available
Attractive design with charcoal gray finish
Cons
Limited interior capacity for larger items
Electronic lock options increase cost

Key Specifications
The American Security CSC1913 is not just any safe; it's a testament to the company's commitment to quality and security. Below is a table that encapsulates the key specifications of this model, reflecting its capacity to stand against both fire and burglary attempts.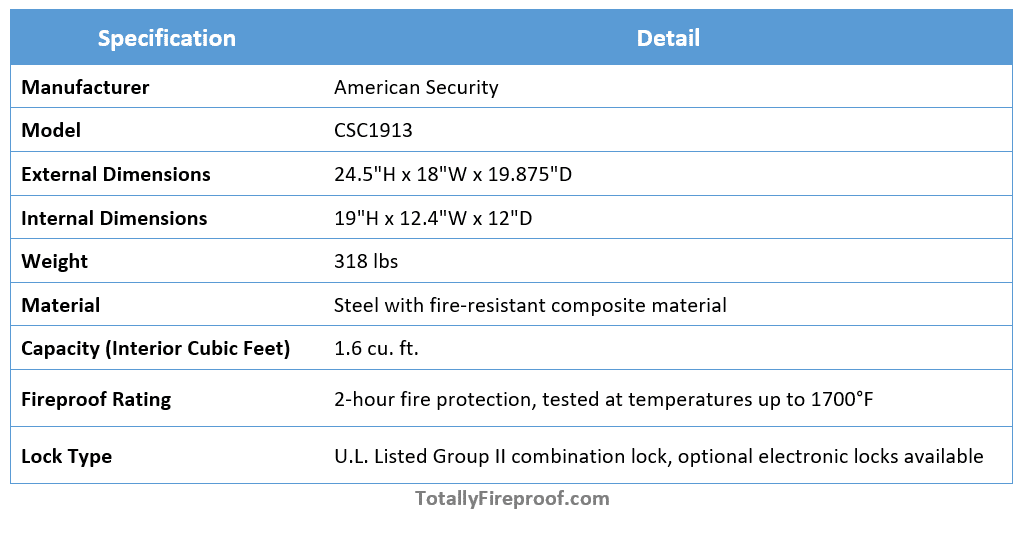 Fireproof Features
The American Security CSC1913 is engineered to offer substantial fire protection, a must have feature for safeguarding valuables against high temperatures. It is equipped with a 2-hour fire protection feature, tested at temperatures as high as 1700°F. This indicates the safe's interior can withstand such extreme conditions, keeping its contents below 350°F for a duration of two hours.
The safe's construction includes a composite door with a thickness of 4-5/8 inches, which incorporates a defense barrier of steel plates and a proprietary fire-resistant material. The door is fitted with a heat expandable intumescent seal that is designed to expand in the presence of heat, sealing the door edges to prevent fire damage to the contents inside.
Security Features
The AMSEC CSC1913 is engineered with a suite of security features that underscore its robustness and reliability. Here is an overview of the security features based on the provided sources:
List of Security Features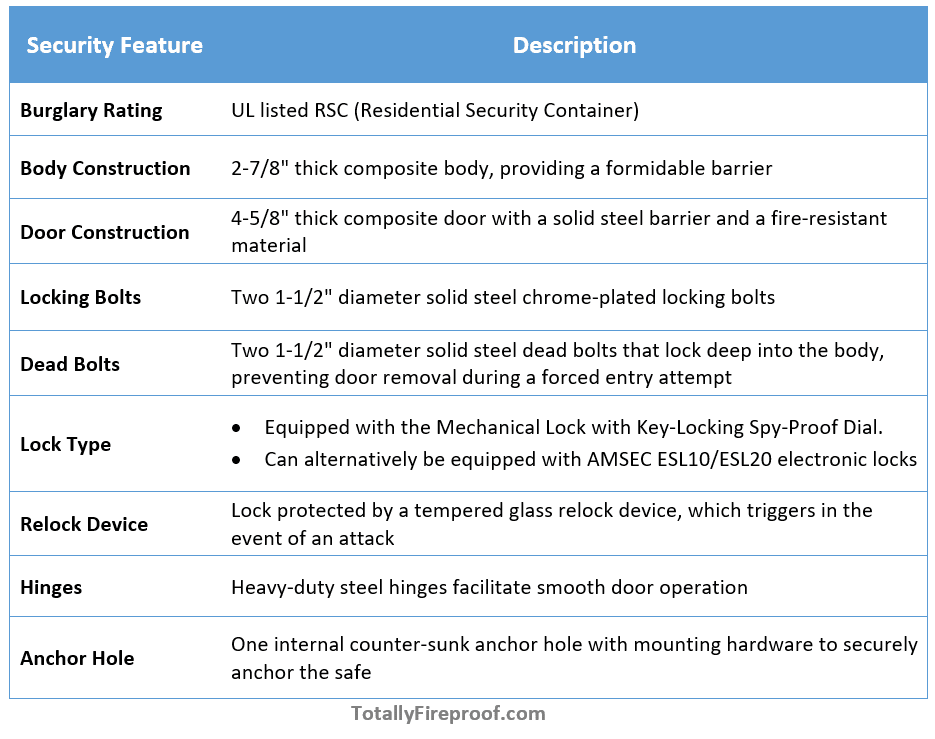 Locking Mechanism
The American Security CSC1913 is equipped with a reliable and secure locking mechanism to ensure the safety of your valuables. By default, the safe features a Mechanical Safe Lock with a key-locking, spy-proof dial, which is detailed in the source provided.
This lock is a UL Listed Group 2 mechanical combination lock, designed to offer high security without the need for power or batteries. The spy-proof dial ensures that the combination numbers are concealed from onlookers, providing an additional layer of security. The key-locking feature allows for a secondary level of access control, which is particularly useful in scenarios requiring dual control or for armored car pick-up services.
For those who prefer modern technology or require quick access, the CSC1913 can be upgraded to an electronic lock system. The electronic locks available for this model are also UL Listed, providing the same level of security assurance as the mechanical option.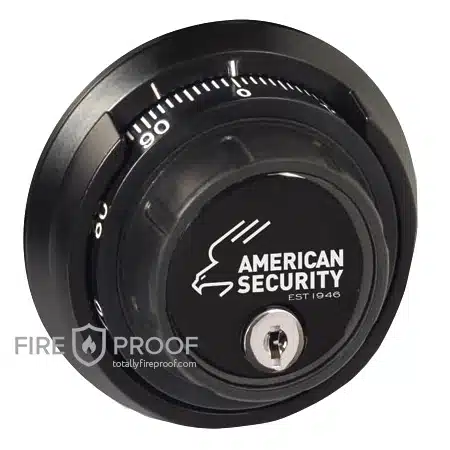 | | |
| --- | --- |
| Lock Type | Features |
| Mechanical Dial | UL Listed Group 2, spy-proof dial, key-locking feature |
| Electronic Lock (Optional) | Quick access, multiple user codes, audit trail capability |
Lock options
The choice between a mechanical or electronic lock allows owners to select the locking mechanism that best fits their security needs and preferences, ensuring that the CSC1913 is adaptable to various requirements.
Build Quality and Additional Features
CSC1913 is constructed with a focus on durability and functionality. The safe's body is made from a 2-7/8" thick composite material, providing a sturdy barrier against both fire and physical attacks. The door is equally robust, with a 4-5/8" thickness comprising a solid steel plate barrier and fire-resistant materials, ensuring a high level of protection.
Additional features include:
Interior Capacity: With 1.6 cubic feet of interior space, the safe offers ample room for various items while maintaining a compact footprint suitable for home or office use.
Adjustable Shelves: The safe includes shelves that can be adjusted to accommodate items of different sizes, enhancing organizational flexibility.
Attractive Finish: The safe features a sleek, charcoal gray finish, allowing it to fit seamlessly into professional or personal environments.
Anchor Kit: It comes with an anchor kit, providing the option to securely bolt the safe to the floor for additional theft deterrence.
Warranty
American Security stands behind the CSC1913 with a Limited Lifetime Warranty, which is a strong testament to the confidence they have in their product's quality and durability. This warranty ensures that in the event of a burglary attempt or a fire, the safe will be repaired or replaced at no cost to the customer. Additionally, this warranty covers defects in materials and workmanship, providing an extra layer of assurance for the safe's longevity.
Price
The American Security CSC1913 is listed with a retail price of $1,890.00. However, savvy shoppers can find this safe available for $1,417.50, which translates to a substantial saving of $472.50, or 25.0% off the retail price. This price point positions this model at a mid to high-range safe, reflecting its advanced security features and fireproof capabilities.
Considering the safe's robust construction, versatile locking mechanism options, and the peace of mind offered by the Limited Lifetime Warranty, the price of $1,417.50 can be seen as a reasonable investment for the level of protection it provides. It's a price that balances the safe's quality and features with the practical consideration of affordability for both home and business users.
Final Verdict
Is American Security CSC1913 Fire & Burglary Rated Safe any good?
Yes, AMSEC CSC1913 is an excellent safe for those looking for a reliable protection for their valuables. It offers peace of mind through its fireproofing and anti-burglary features, all backed by a reputable brand in the security industry. It is a solid choice for securing important documents, valuables, and heirlooms.
Overall Score: 8.5/10