Browning HTR33 Special Patriotic Edition Safe Review
The Browning HTR33 Special Edition Patriotic Safe, crafted by reputable American brand, is a robust and patriotic storage option for storing firearms and precious valuables. This model promises not only to secure your guns but also protect them from fire. This review does a full examination of the Browning HTR33 and gives you insights that will help you to make a well-informed choice of whether this safe is worth buying.
Released in the summer of 2022, this is a rather new model. So how well does it perform?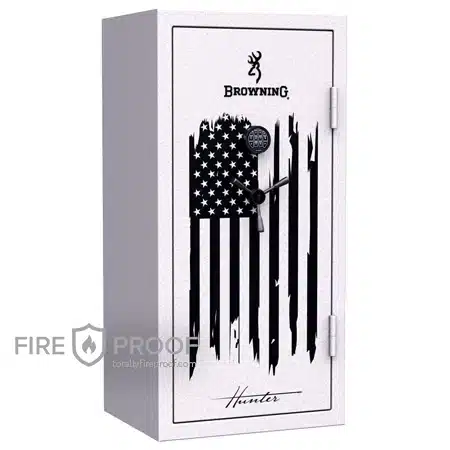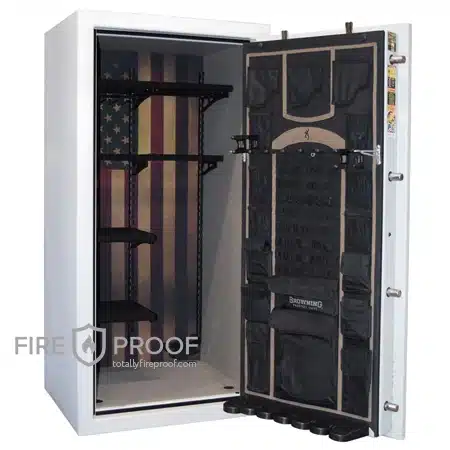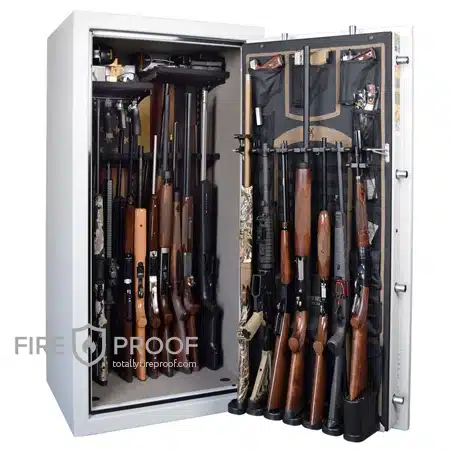 Safe Ratings:
Pros
80-minute fireproof rating 1550°F
Good capacity
High-quality build and materials
12-gauge steel body with UL Rated Electronic Locks
Made in the USA + Patriotic design with American flags
Cons
Limited customization options
Heavier weight (615 lbs)

Key Specifications
The Browning HTR33 Hunter Series Gun Safe, also known as the Special Edition Patriotic Safe, offers high quality and functionality. The detailed specifications are presented in the table below:
Fireproof Features
The Browning HTR33 Special Patriotic Edition fireproof safe provides adequate fireproof capabilities for a product of its class. Which is critical aspect for any gun safe. This model has been rigorously tested and earned a notable fireproof rating:
Fireproof Rating: 80-minutes at outside temperatures reaching up to 1550 degrees Fahrenheit. This rating is enough to protect its contents from extreme heat over a substantial period, making it an ideal choice for safeguarding firearms and other valuables in case of fire.
This fire rating, though not explicitly listed as UL certified, which is typical Browning. Yet, 80 minutes of fire protection for important documents, cash, jewelry and firearms is a good feature to have.
Security Features
HTR33 Patriotic Safe is equipped with a range of security features that make it a formidable barrier against unauthorized access and potential break-ins. These features are detailed in the table below, highlighting the safe's comprehensive approach to security:
| | |
| --- | --- |
| Security Feature | Description |
| Body Material | 12-gauge steel body, providing a strong and durable barrier. |
| Door | 1-1/4" Formed Door with integrated fully reinforced frame. |
| Locking Bolts | Nine 1" chrome locking bolts, including six active and three deadbolts. |
| Bolt Direction | 3-Way bolt direction ensuring secure locking on top, sides, and bottom. |
| Locking System | Force Deflector Locking System, designed to prevent bolt or handle forces from reaching the lock. |
| Lock Protection | Hardened steel pin for added security against drilling. |
| Hinges | Heavy-duty, exterior hinges for increased resilience. |
| Lock | UL-rated electronic lock, allowing for a secure and personalized combination. |
Browning HTR33 Special Edition Patriotic Safe Key Security Features
The combination of these features positions the Browning 1878 Series-13 as a top-tier option for those seeking a secure storage solution.
Locking Mechanism
A crucial aspect of any safe is its locking mechanism, which ensures secure access to its contents. The Browning HTR33 Special Edition Patriotic Safe is equipped with a proven lock system by SecuRAM.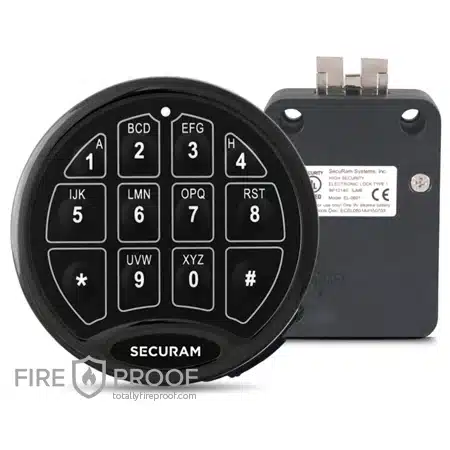 Here are some characteristics of the SecuRAM SafeLogic Series Lock:
UL Listed Type 1: This means that the lock meets the stringent Underwriters Laboratories criteria for electronic locks.
User Interface: The keypad provides a simple, non-rotating interface with a membrane design, making it user-friendly.
Code Management: It allows for one manager code and one user code, ensuring controlled access.
Security Features: The lock includes a penalty lockout feature, which denies access after several incorrect attempts, enhancing security against tampering.
Combination Length: The lock operates with a 6-digit combination, offering a balance between security and memorability.
Power: It is battery-powered, with easy programming via the keypad.
The electronic lock allows users to program their own custom combination, adding a personal layer of security. Moreover, the lock is designed to be user-friendly, ensuring that access to the safe's contents is straightforward yet secure.
Build Quality and Additional Features
The Browning HTR33 Special Edition Patriotic Safe is not hiding its great build quality and unique features that cater to both security and aesthetic preferences. Here's an overview highlighting these aspects:
Build Quality: This safe is constructed with a 12-gauge steel body, ensuring strength and resilience. The door is 1-1/4" thick, reinforcing its robustness. Such heavy-duty materials underscore the safe's capability to resist external threats.
Storage and Organization: It offers a spacious interior of 14.35 cubic feet, accommodating up to 33 long guns. The inclusion of the Full DPX Storage System, featuring the Quick Access DPX Barrel Rack and pistol pouches, enhances organization and accessibility.
Interior Design: Lined with beige fabric, the interior not only protects the contents but also adds an elegant touch. Adjustable CMS shelving allows for flexible storage solutions.
Additional Security Features: Key security enhancements include a hardened steel pin for lock protection, a force deflector locking system, and three-way bolt direction, ensuring comprehensive protection.
Aesthetic Appeal and Patriotism: The safe's textured charcoal finish is complemented by two distinctive American Flag graphics. This patriotic design not only adds to the aesthetic appeal but also makes a statement about the product's American heritage and manufacturing.
Ease of Use: A 3-spoke black chrome handle adorns the safe, blending style with functionality for ease of operation.
Warranty
The Fireproof Browning HTR33 comes with a comprehensive limited warranty, providing long-term assurance and peace of mind to the original purchaser. This warranty is offered by ProSteel, the manufacturer of Browning ProSteel gun safes. The key aspects of this warranty include:
Lifetime Limited Warranty: ProSteel guarantees the safe against damage resulting from break-ins, attempted break-ins, or fire for the lifetime of the safe, provided it was produced after January 1, 2006. In the event of such damage, the owner must provide the necessary documentation, following which ProSteel will either repair or replace the safe at their discretion.
Break-In Warranty: If the safe is forcibly opened, ProSteel commits to repairing or replacing it at no cost to the owner. This warranty reflects the confidence in the safe's security features and the commitment to the customer's satisfaction.
Attempted Break-In Warranty: Similarly, in the event of an attack on the safe through forcible means, ProSteel will undertake the repair or replacement of the safe without any charge to the owner.
Fire Warranty: In the unfortunate event that the safe is damaged in a house fire, ProSteel will repair or replace it free of charge. This warranty component is particularly reassuring, given the safe's significant fireproof rating.
Price
Retail Price: Initially, the Browning HTR33 was priced at $3,189.00, placing it in a higher-end category in terms of pricing.
Current Offer: As of now however, there is an attractive offer available for this safe, reducing the price to $2,499.99. This significant reduction represents a saving of $689.01, which is approximately 21.6% off the retail price.
Value for Money: At the current price, the Browning HTR33 offers exceptional value. Considering its robust build quality, comprehensive security features, substantial fireproof rating, and the added aesthetic appeal of the patriotic design, this price point makes it an attractive option for those seeking a high-quality gun safe.
Final Verdict
Is Browning HTR33 Special Patriotic Edition Safe any good?
Yes, Browning HTR33 Special Edition Patriotic Safe is a great new model that delivers both high-end security and fire protection. It is a full package, giving its owners robust build, a UL-rated electronic lock, a spacious interior with organized storage solutions and unique American patriotic design. In conclusion, the Browning HTR33 is a testament to quality, security, and American pride, offering great value for its price.
Overall Score: 8.5/10