Browning Medallion Series M49 Gun Safe Review
The Browning Medallion Series M49 Gun Safe is designed for those who want a combination of security, nice looks and fireproof capabilities for their safes. Built with robust 10-gauge steel and boasting a capacity of up to 49 long guns, the M49 can be a great choice for both enthusiasts and professionals.
This comprehensive review offers valuable objective insights on all the important characteristics of this safe. Based on our extensive experience with a range of safes, both fireproof and standard, we provide an in-depth look at what makes the M49 a noteworthy option in the market.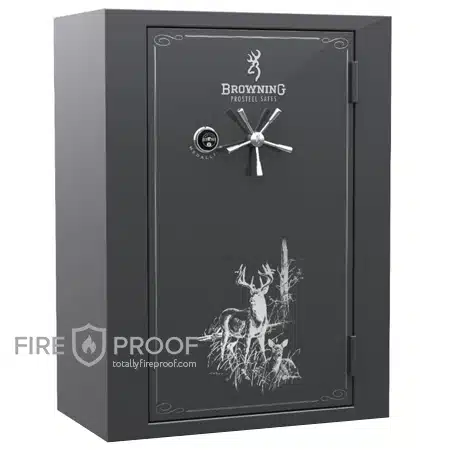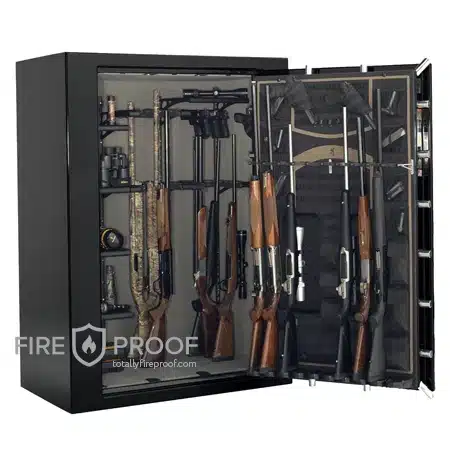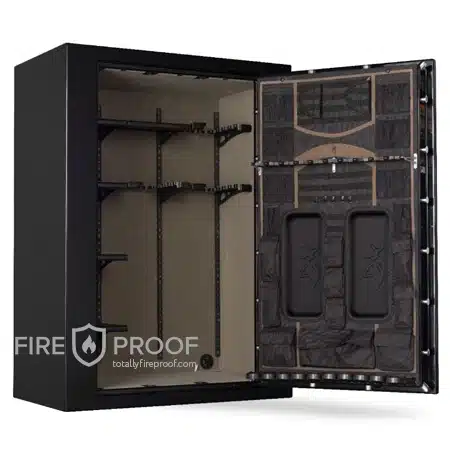 Safe Ratings:
Pros
Fire rating of 110 minutes at 1700°F
High gun capacity (49 long guns)
Various lock options
Robust 10-gauge steel construction
Great aesthetics and build quality
Cons
May require professional installation
Higher price point

Key Specifications
The Browning Medallion Series M49 Gun Safe's specifications highlight the strong sides of the model. Just as they show what aspects you personally might find lacking: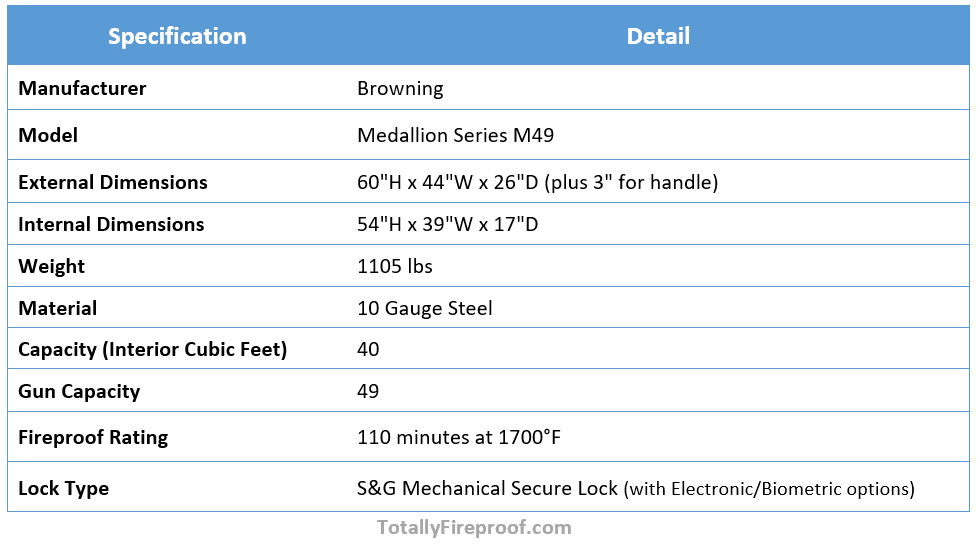 Fireproof Features
The Browning M49 safe's fireproof capabilities are notably sound, featuring the exclusive ThermaBlock technology. This technology ensures up to 110 minutes of protection at 1700°F. The design employs thicker sheets of fire insulation in an interlocking pattern, significantly reducing internal temperature rise during a fire.
It's important to note that this fire rating is not UL certified but is instead factory tested by Browning. The safe's 10-gauge steel body adds to its fire resistance, helping to prevent heat-related flex and distortion, ensuring the protection of both firearms and other valuable items in extreme conditions.
Security Features
The Browning Medallion Series M49 Gun Safe excels in security, offering a robust set of features to protect against theft and unauthorized access:
10-Gauge Steel Construction: Provides a solid, tamper-resistant body.
18 Active Bolts: Enhances security with bolts on all four sides (top, bottom, left, right).
UL® RSC Tool Attack Rating: Indicates a high standard of resistance to forced entry.
Uni-Force Lock System: A reliable locking mechanism known for its strength and durability.
Interior Design: Prevents prying with its unique construction.
Fire Resistance: Adds to security by protecting contents from fire damage.
Security Features Table: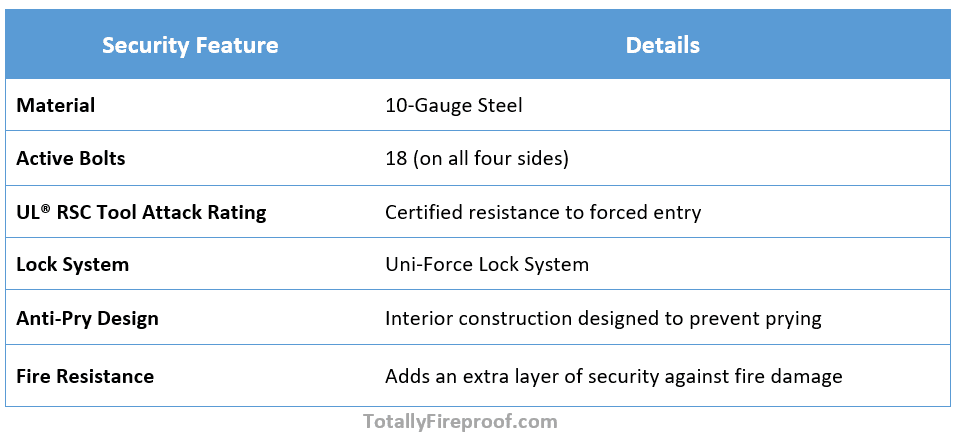 Locking Mechanism
The Browning Medallion Series M49 Gun Safe is equipped with the S&G Mechanical Secure Lock by default, and offers additional upgrade options for enhanced security and convenience.
Features of Browning S&G Mechanical Secure Lock:
Original Browning Pro-Steel Style: Maintains the traditional and reliable dial lock design.
Proven and Dependable: Known for consistent and reliable performance.
Highly Secure: Offers robust protection against unauthorized access.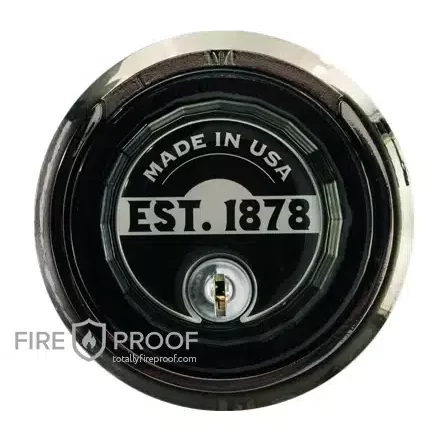 These are the lock upgrade options: Sargent and Greenleaf Electronic Lock and Securam Biometric ScanLogic.
Sargent and Greenleaf Electronic Safe Lock features:
Easy to install or retrofit.
EMP-resistant.
Single control mode with nine codes (1 master, 8 users).
Time delay feature (1-9 minutes).
Two-year limited warranty.
UL-Listed Type 1 RoHS2 Compliant​
Securam Biometric Lock features:
Supports 30 fingerprints with One Touch verification.
2 Manager Codes, 28 User Codes.
UL-Listed
Hierarchical user management.
Programmable Time Delay (0-99 minutes).
Controls up to 4 locks.
Over 4,000 openings on a 9 Volt battery.
Easy battery replacement without removing the entrypad.
Compatible with various SECURAM Lock types.
Chrome finish​
Summary Table of all lock the options:
| | |
| --- | --- |
| Lock Type | Key Features |
| S&G Mechanical Secure Lock | Original style, proven and dependable, very secure, UL-Listed |
| Sargent and Greenleaf Electronic | Electronic, EMP-resistant, time delay, UL-Listed |
| Securam Biometric ScanLogic Optical | Biometric, supports 30 fingerprints, time delay, UL-Listed |
Build Quality and Additional Features
The Browning Medallion M49 fireproof safe distinguishes itself with exceptional build quality and a host of additional features:
10-Gauge Steel Construction: Ensures robust and enduring protection, effectively resisting tampering and forced entry attempts.
Large Capacity: Capable of storing up to 49 long guns, making it ideal for extensive collections.
ThermaBlock Fire Insulation: Provides up to 110 minutes of fire protection at 1700°F, safeguarding contents against extreme heat.
Axis Adjustable Shelving: Allows for a fully customizable interior, accommodating a wide range of items beyond firearms.
Elegant Interior: The beige fabric lining not only protects the contents but also adds a touch of elegance to the safe's interior.
Organized Storage Solutions: Comes with 5 standard shelves, 3 barrel racks, and 1 pistol rack, enabling efficient and organized storage of various items.
Unique Browning Color and Scene options: You can customize the looks of your safe with the Brands special visual scenes and multiple color palettes, as scene below.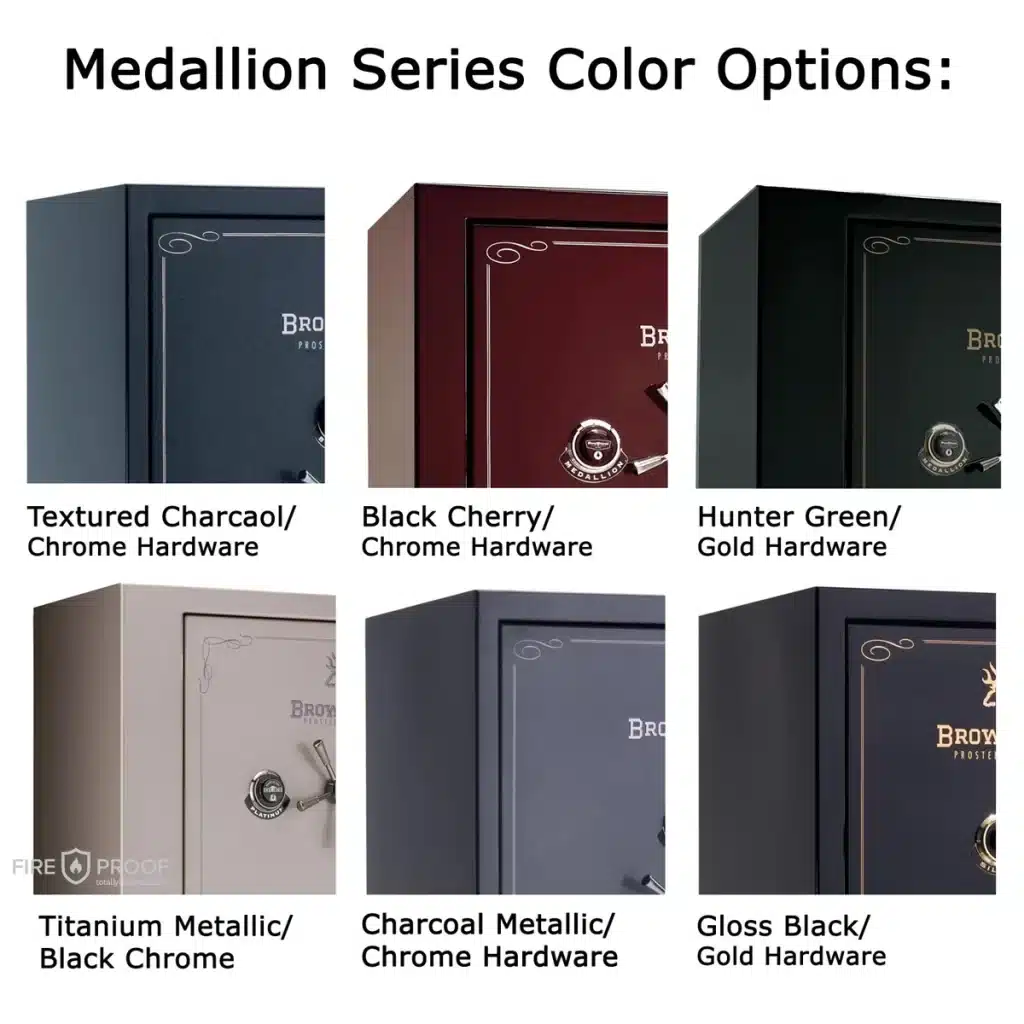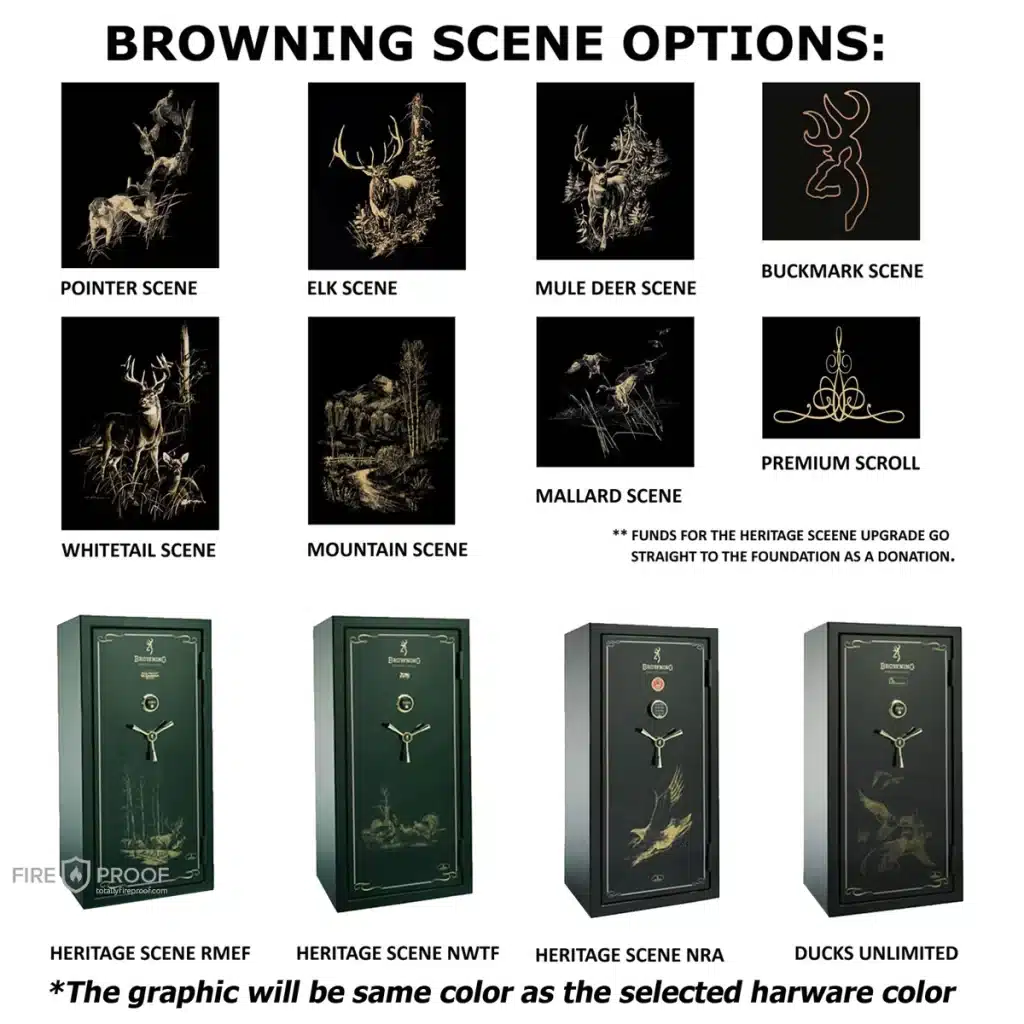 Warranty
Medallion Series M49 Safe comes with a comprehensive lifetime warranty provided by ProSteel. Lifetime Protection covers: Against break-ins, attempted break-ins, and fire damage for the original purchaser, applicable to safes produced after January 1, 2006.
Break-In Warranty: In case of forcible opening, the safe will be repaired or replaced at no cost.
Attempted Break-In Warranty: Coverage includes repair or replacement in the event of an attack by forcible means.
Fire Warranty: If damaged in a house fire, the safe will be repaired or replaced without charge.
Price
The Browning Medallion Series M49 Gun Safe is priced to reflect its premium quality and features. The retail price for the safe is set at $7,809.00. However, it is currently available at a reduced price of $6,199.99, offering a significant saving of $1,609.01, which is approximately 20.6% off the original price. This pricing positions the M49 as a high-end option in the market, catering to buyers seeking top-tier security and quality.
It is crucial for potential buyers to consider purchasing this high-end safe from authorized dealers. This ensures authenticity, guarantees quality, and enables customers to fully benefit from the comprehensive warranty and customer service support provided by Browning and ProSteel.
Final Verdict
Is Browning Medallion Series M49 Gun Safe any good?
Yes, The Browning Medallion Series M49 Gun Safe is a robust and elegant solution for secure fire-resistant storage. It has an extensive firearm capacity, advanced fire protection through ThermaBlock technology, and a comprehensive range of security features, including the durable 10-gauge steel construction
Considering its quality, the safe presents significant value for money, especially with the current discount.
Overall Score: 8.5/10