American Security SF6030E5 1-Hour Fireproof Gun Safe Review
Are you looking for a reliable and secure place to store your firearms and valuable possessions? Then check out American Security SF6030E5 Fireproof Gun Safe. It's a robust storage solution designed for those who prioritize both security and fire protection. Manufactured by American Security, a reputable company known for its high-security safes, this model is worth considering.
In this review we delve into its fireproof rating, security features, lock mechanism, and much more to help you decide if this is the right safe for you.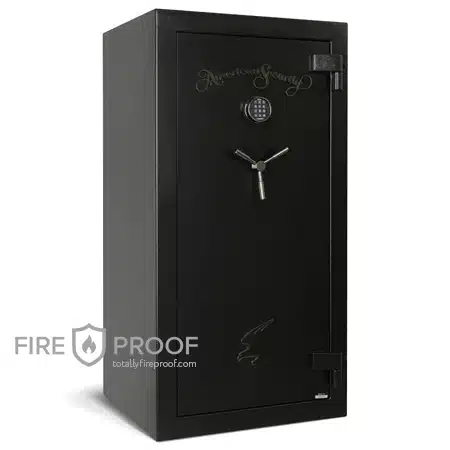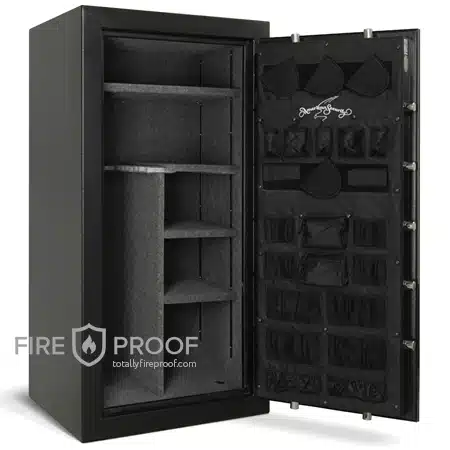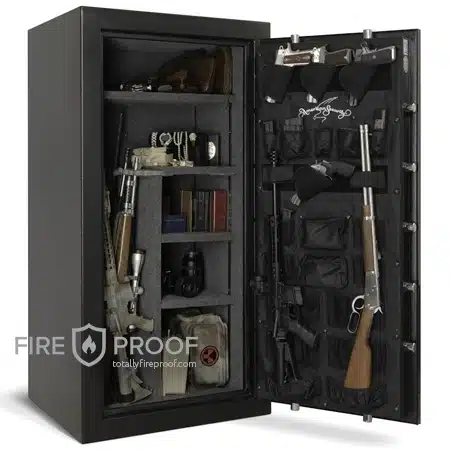 Safe Ratings:
Pros
60-minute fire rating verified by Intertek (ETL)
3/16-inch thick steel plate door for enhanced security
Flexible interior storage
U.L. Listed ESL5 Electronic Lock with illuminated keypad
Good build quality
Cons
Weighs 748 lbs, may require professional installation
Limited color options (Textured Black)

Key Specifications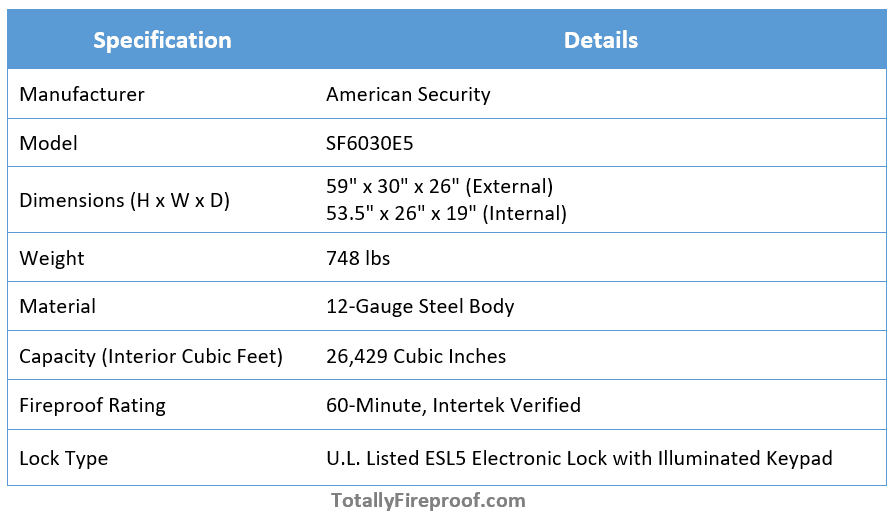 Fireproof Features
If you want to safeguarde your valuables against fire, the American Security SF6030E5 is a good solution. The safe has a verified 60-minute fire rating from Intertek, an independent testing laboratory. This means that the safe can withstand temperatures up to 1200°F for a full hour, providing additional time for firefighters to put down the fire and for you to protect your important posessions.
The fireproof rating is backed by the safe's construction, which includes lining the interior with three layers of drywall. This engineering strategy enhances the safe's fire resistance, making it a reliable choice for storing not just firearms but also important documents, jewelry, and other irreplaceable items.
What Does the Fire Rating Mean?
A 60-minute fire rating means that the safe can protect its contents from fire damage for at least an hour. This is crucial for items like legal documents, passports, cash and other important valuables are sensitive to heat and could be irrevocably damaged in a fire.
Security Features
The American Security SF6030E5 is engineered with a focus on robust security measures to keep your valuables safe from unauthorized access. Here's a breakdown of its key security features:
table Highlighting Security Features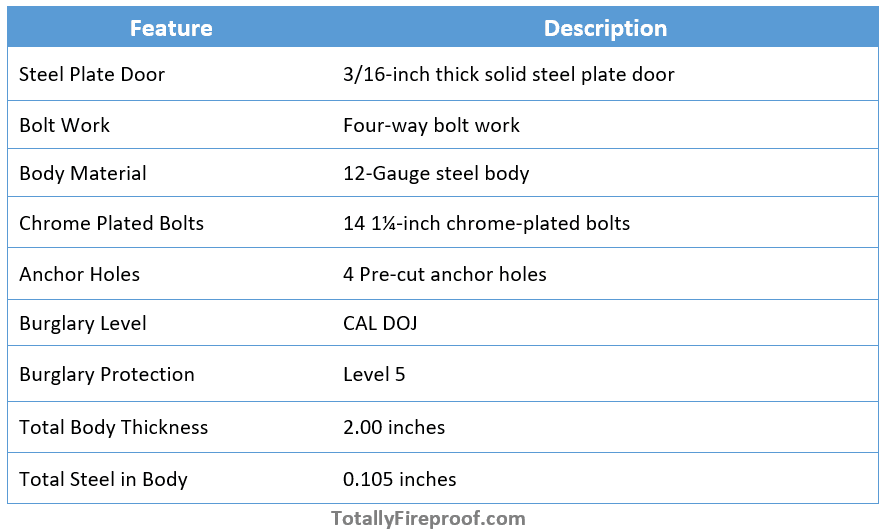 The safe comes with a 3/16-inch thick steel plate door and four-way bolt work, making it incredibly difficult for intruders to break in. The body of the safe is made of 12-gauge steel, further enhancing its security features. Additionally, it has 14 1¼-inch chrome-plated bolts and 4 pre-cut anchor holes for added security.
The safe is rated Level 5 for burglary protection and is CAL DOJ certified, ensuring that it meets the stringent standards for firearm safety.
Locking Mechanism
The safe comes equipped with a U.L. Listed ESL5 Electronic Lock that features an illuminated keypad, making it easy to access your safe even in low-light conditions.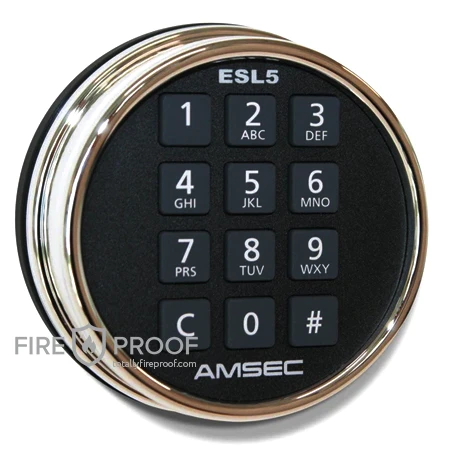 Key Characteristics of ESL5 Locking Mechanism
The ESL5 lock features a backlit keypad, providing ease of access in low-light conditions. It also offers both audible and visual feedback, confirming that you've successfully entered the code. One unique feature is the stealth mode, which allows you to silence the beeper for discreet access. Additionally, the lock has a 15-minute penalty lockout feature that activates after four incorrect entries, adding an extra layer of security.

Build Quality and Additional Features
The American Security SF6030E5 is not just about security and fire protection; it's also about durability and functionality. The safe is constructed with a 12-gauge steel body and a 3/16-inch thick steel plate door, ensuring long-lasting performance.
Additional Features
Flexible Interior: The safe offers a flexible interior that allows for versatile storage options.
Door Storage: It provides storage for two long guns or assault rifles on the door, maximizing space utilization.
Door Organizer: Comes with a door organizer for smaller items.
Finish: The safe has a black textured paint finish, adding to its aesthetic appeal.
Cubic Inches (Interior): The internal storage space amounts to 26,429 cubic inches.
While the safe doesn't have a water resistance rating, its robust build quality ensures that it can withstand daily wear and tear effectively. The black textured paint finish not only enhances its visual appeal but also adds an extra layer of protection against scratches and dents.
Warranty
One of the reassuring aspects of investing in the American Security SF6030E5 is the manufacturer's commitment to quality, as evidenced by its lifetime warranty against theft and fire. This warranty is a testament to the safe's robust build quality and the manufacturer's confidence in its product.
The lifetime warranty ensures that you're covered in the unfortunate event of a fire or theft, giving you peace of mind that your investment is protected for the long term.
Price
AMSEC SF6030E5 is in the upper price category, with the range being between $2300 and $2800 depending on the retailer. While the price may be on the higher side, it's essential to consider the value you're getting in terms of security, fire protection. The lifetime warranty against theft and fire further adds to the value proposition, making it a worthwhile investment for those who prioritize safety and quality.
Final Verdict
Is American Security SF6030E5 1-Hour Fireproof Gun Safe any good?
Yes, AMSEC SF6030E5 is a high-quality, reliable choice for anyone looking to secure their valuables and firearms. It is a good combination of the safe's features that makes it easy to recommend:
Fireproof Rating: The 60-minute fire rating provides enough time for firefighters to take under control the emergency, protecting your valuables.
Security Features: The CAL DOJ certification and Level 5 burglary protection make it a secure choice.
Lock Mechanism: The UL-listed ESL5 Electronic Lock with an illuminated keypad adds both convenience and security.
Quality/Price: Given the robust features and lifetime warranty, the safe offers good value, although the price may be steep for some.
Overall Score: 8/10