American Security (AMSEC) FS149E5LP Fireproof Safe Review
When it comes to safeguarding your prized possessions, the American Security FS149E5LP Fire Safe stands out as a reliable choice. Manufactured by American Security, a brand synonymous with robustness and reliability, this safe offers a dual layer of protection against both theft and fire.
This review is grounded in thorough product examination and our experience with various safes, both fireproof and regular ones.
Safe Ratings:
Pros
Good Fireproof Rating (1 Hour of 350°F at 1700°F)
Convenient Electronic Lock
Well-known Brand
Affordable Price
Cons
Limited Interior Space
A Single Color Option

Key Specifications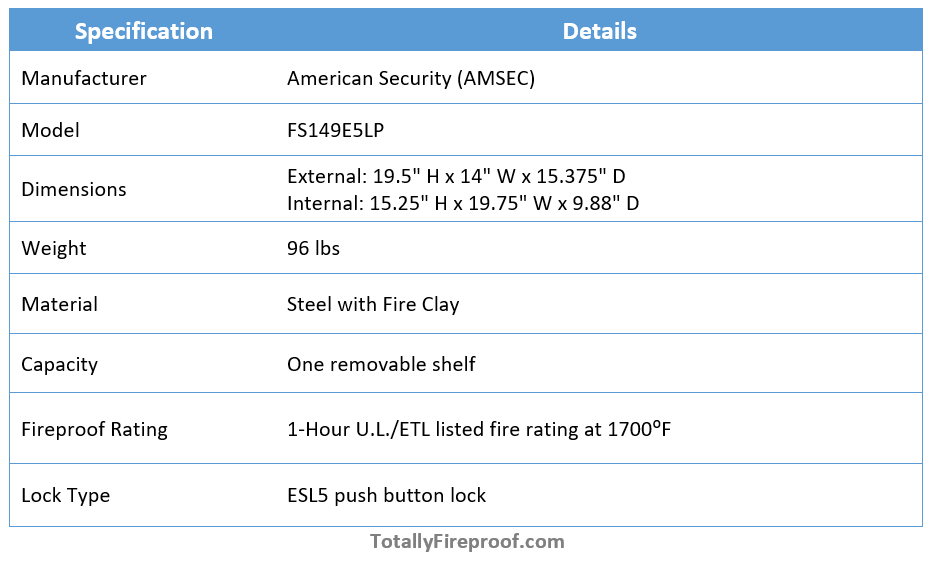 Fireproof Features
When it comes to safeguarding your valuables against fire, the American Security FS149E5LP offers a good protection. The safe is U.L. certified, providing 60-minute fire protection at temperatures up to 1700°F. The 1 hour fire rating means that the safe can withstand high temperatures for up to an hour, providing ample time for firefighters to control the blaze.
This rating is particularly beneficial for protecting paper documents, cash, photos and other heat-sensitive items. UL certification for fire resistance adds an extra layer of trust and reliability to the product.
Security Features
E5LP Electronic Lock with Illuminated Keypad
The safe is equipped with an E5LP electronic lock that features an illuminated keypad. This makes it easier to operate the safe in low-light conditions. The lock can also be programmed to operate in stealth mode, silencing the beeps for added discretion.
Factory Reset Combination
Forgot your combination? No need to panic. The safe comes with a factory reset combination feature. This eliminates the need for expensive service calls to resolve lost combinations.
Penalty Lockout
Security is further enhanced with a 15-minute penalty lockout feature. This activates after four incorrect entries, protecting against manipulation attempts.
Steel Deadbolts
The safe is designed with two steel deadbolts that prevent door removal, even if the hinges are forcibly removed. This adds an extra layer of security against forced entry attempts.
Ball Bearing Hinges
Ease of operation is ensured with ball bearing hinges, allowing for smooth opening and closing of the safe door.
Locking Mechanism
The AMSEC FS149E5LP model comes with a ESL5LP Electronic Safe Lock as its primary locking system. It is designed to replace most mechanical combination locks, offering an electronic alternative.
Main Characteristics of ESL5LP Safe Lock:
Finish and Housing: Comes in an attractive chrome or black rubberized finish with ABS housing.
Backlit Alphanumeric Keypad: The lock features a backlit alphanumeric keypad for better visibility.
Factory Reset Combination: Allows for resolving lost combinations without the need for expensive service calls.
Sealed Electronics: The electronics are encapsulated within the lock and sealed to prevent moisture-related failures.
Cable Installation: The cable can fit through a ½" spindle hole without the need for cutting and re-crimping the connector.
User Feedback: Provides beep and flash feedback from every keystroke.
Stealth Mode: The lock can be programmed to silence the beep for stealthy operation.
Penalty Lockout: Features a 15-minute penalty lockout after four incorrect entries to protect against manipulation attempts.
Reversible Lock Design: New swing bolt design allows for right- or left-handed installation.
Auto-Lock Feature: The lock "auto-locks" when the boltwork is thrown, preventing the safe from being left in a day-lock position.
Battery Replacement: Operates on one 9-volt battery that can be easily replaced in the keypad housing.
Build Quality and Additional Features
Build Quality:
The safe is built with attention to detail and quality. It comes in an attractive Black Granite finish, adding a touch of elegance to its robust build. The safe is designed with ball-bearing hinges, ensuring ease of operation when opening and closing the door.
Storage Capacity:
With a capacity of 0.85 cubic feet, this model can potentially limit the type of items or the amount of valuables you may want to store in it.
Interior Organization:
The safe comes with one removable shelf, allowing you to organize your valuables efficiently. This is particularly useful for segregating documents from other valuables.
Warranty
When it comes to safeguarding your valuables, warranty matters. American Security offers a limited warranty for the FS149E5LP Fireproof Safe. While the specific terms and conditions may vary, the warranty generally covers defects in materials and workmanship. It's always advisable to consult the manufacturer's website or contact customer service for the most up-to-date and detailed information on the warranty.
Price
The American Security FS149E5LP 1-Hour Fire Safe with Electronic Lock is priced at just above $500. This is a significant discount from the retail price of $730.00, allowing you to save 25% off the retail price. Taking into account the Pros of the model, it's a very reasonable price.
Availability: The safe usually in stock and ships within 1 to 2 weeks, ensuring that you won't have to wait long to secure your valuables.
Final Verdict
Is FS149E5LP Fireproof Home Safe any good?
Yes, the American Security FS149E5LP Fireproof Safe is a good-quality, fireproof, and secure option for anyone looking to safeguard their valuables. Its well-balanced mix of features and reliable performance make it a solid product in its category. Given the affordable price the model is definitely worth considering.
Overall Score: 8.25/10