AMSEC AM3020E5 Fire-resistant Home Security Safe Review
If you need a compact safe with the good security capabilities then AMSEC AM3020E5 can be a candidate. Whether you're a first-time safe buyer or looking to upgrade, in this review we dive into the safe's fireproof rating, security features, lock mechanism, and more.
This American Security made safe is designed for those who seek robust security features with simple fire-resistant features. With its 45 minute fire rating it is definitely not the most fireproof model, but it still provides additional protection.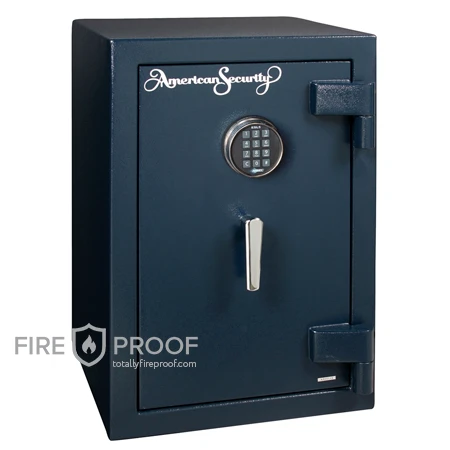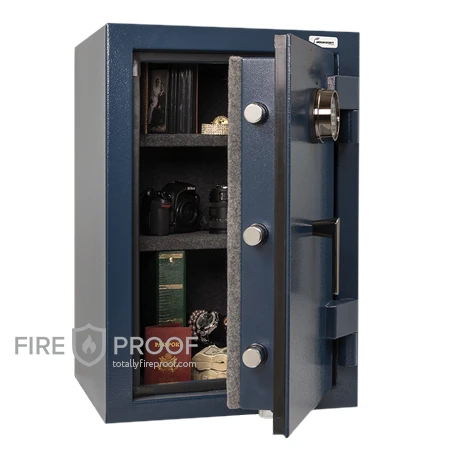 Safe Ratings:
Pros
High-strength 12-gauge steel body
5 active 1-1/4" bolts for added security
4 pre-cut anchor holes
Good build quality
Cons
Less than1 Hour fire rating
Limited to electronic lock option

Key Specifications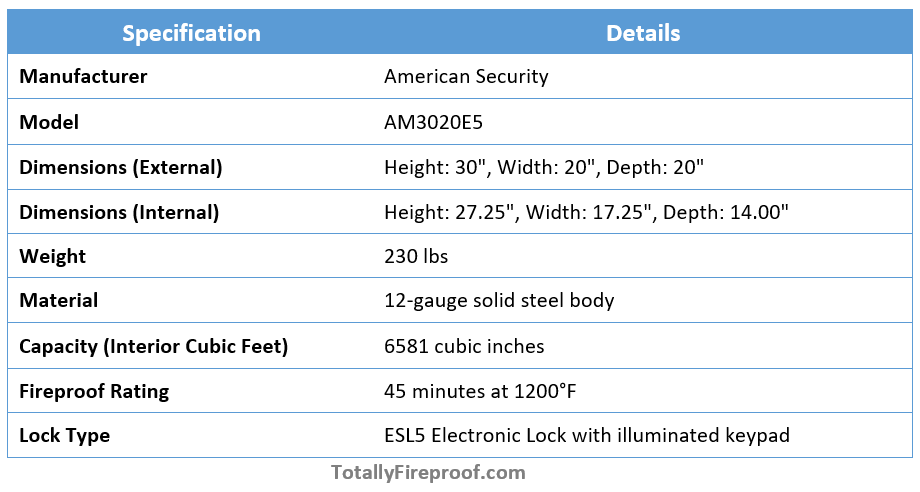 Fireproof Features
When it comes to fire protection, the American Security AM3020 is not the ultimate fireproof safe. The it has a 45-minute fire rating, capable of withstanding external temperatures of up to 1200°F. So it is better than the very basic 30 minute fire-resistance, but still less than a full hour. During this 45 minutes though, the interior temperature will not exceed 350°F, ensuring your valuable items remain protected.
It's worth noting that the fire rating is ETL-verified, which is a reputable third-party certification. This should provide additional peace of mind.
What Does 45-minute Fire Rating Mean?
A 45-minute fire rating at 1200°F means that the safe can protect paper documents, paper money, certificates,ID cards and other items for up to 45 minutes in the event of a fire. This duration is less than optimal 1-2 hour rating, but generally may be sufficient for residential use.
Security Features
The American Security AM3020 offers robust security features to keep your valuables safe from unauthorized access. The safe features a high-strength unitized 12-gauge solid steel body, ensuring durability and resistance against physical attacks. The door is 1-1/8" recessed and constructed of a 1/4" solid steel plate, adding an extra layer of security.
The safe also comes with 5 active 1-1/4" diameter chrome-plated steel locking bolts in a 3-way configuration, making it extremely difficult for intruders to gain access. Additionally, the safe has 4 pre-cut anchor holes, allowing you to secure it to the floor for added protection.
Additional Security Features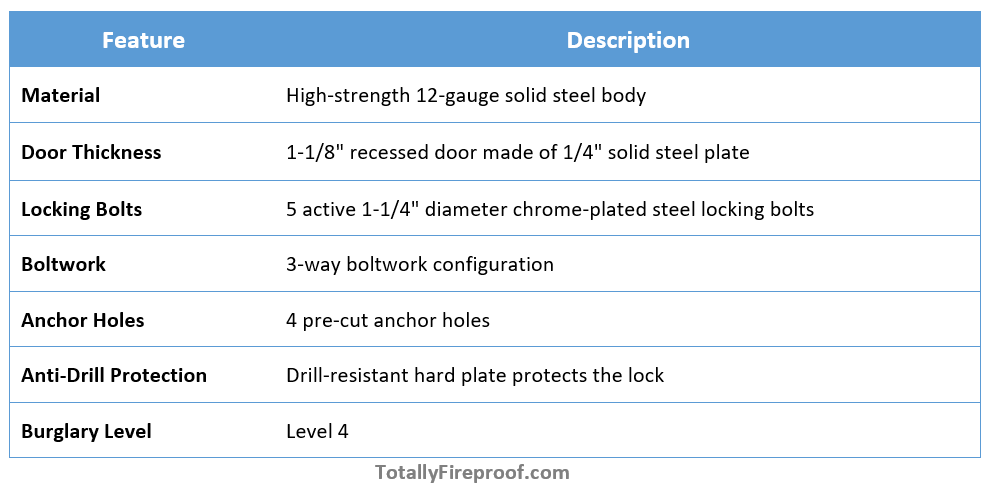 Locking Mechanism
The American Security AM3020 comes equipped with the ESL5 Electronic Safe Lock, a U.L. Listed Type 1 lock that offers both security and convenience.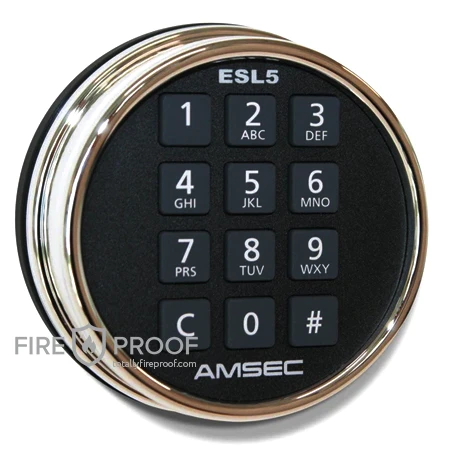 Key Characteristics of ESL5 Locking Mechanism
The ESL5 lock features a backlit keypad, providing ease of access in low-light conditions. It also offers both audible and visual feedback, confirming that you've successfully entered the code. One unique feature is the stealth mode, which allows you to silence the beeper for discreet access. Additionally, the lock has a 15-minute penalty lockout feature that activates after four incorrect entries, adding an extra layer of security.

Build Quality and Additional Features
The American Security AM3020 is built to last, featuring a high-strength unitized 12-gauge solid steel body. The safe is finished with a deep blue textured paint and comes with a plush gray fabric interior, including back-cover and firewalls, adding both aesthetics and functionality.
Additional Features
Interior Design: The safe offers a plush velour interior, providing a soft surface that helps prevent scratches on your valuables.
Finish: Deep blue textured finish with black nickel hardware adds a touch of elegance to the safe.
Hinges: The safe features adjustable ball-bearing hinges for smooth operation.
Mounting: Comes with 4 pre-cut anchor holes and mounting hardware, allowing you to secure the safe to the floor for added protection.
While the safe does not have a water-resistance rating, its robust build quality and additional features make it a versatile choice for anyone looking to secure their valuables against both theft and fire.
Warranty
The American Security AM3020 comes with a 1-year parts and labor warranty. This warranty coverage ensures that you're protected against any manufacturing defects or issues that may arise within the first year of ownership.
While a 1-year warranty may not be as extensive as some other options on the market, it does provide a basic level of protection and peace of mind for the consumer.
Price
The AM3020 Safe falls within the mid-range price category, with prices varying between $1100 to $1300 depending on the retailer. Given its basic fireproof and solid security features, the price point can be considered reasonable.
Final Verdict
Is AMSEC AM3020E5 Fire-resistant Home Security Safe any good?
Yes, AM3020E5 is a decent product that offers a good level of anti-theft protection and basic fire rating. There are several reasons why you may consider it for purchase:
Fireproof Rating: With an ETL-verified 45-minute fire rating at 1200°F, this safe offers basic fire protection for residential use.
Security Features: The high-strength 12-gauge steel body, 5 active locking bolts, and drill-resistant hard plate make it a robust choice for safeguarding your valuables.
Lock Mechanism: The UL-listed ESL5 Electronic Lock with an illuminated keypad adds both convenience and security.
Build Quality: The deep blue textured finish and plush gray fabric interior add a touch of elegance while maintaining functionality.
While the 1-year warranty may be shorter than some would prefer, and the absence of a water-resistance rating might be a drawback for some, the safe's overall features make it a worthwhile investment for those looking to protect their valuables.
Overall Score: 7.25/10