TOP #1 Fireproof Box for Legal Size Documents
Even though we tend to have more and more information about us backed up in digital format, we still keep important legal documents on our hands. These physical papers hold immense value. Legal documents like contracts, certificates, wills, deeds and others represent critical transactions, life events, and legal rights.
However, because they are made of paper, they are quite vulnerable to fire and water. Losing these documents in a house fire can have serious consequences, such as legal complications, financial losses, and emotional distress. That's why protecting them is so important. And fireproof boxes are one of the best ways to do it.
What Are Legal Size Documents?
Before delving into the features of fireproof lock boxes, it's essential to understand what legal size documents are and why they require special attention and protection.
In United states documents can come in 2 formats: A Letter and Legal. Legal sized documents typically measure 8.5 inches in width and 14 inches in length. Legal Letter documents measure 8.5 inches in width and 11 inches in length.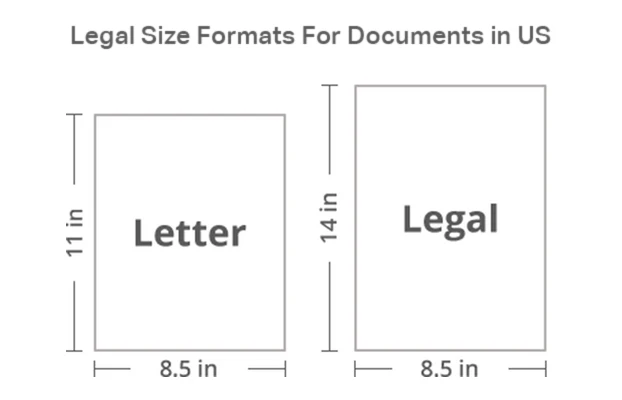 EU and most countries of the world uses a different system, based on ISO standards. There a A4 format is considered and accepted as a legal size. It measures 11.75 inches (297mm) in width and 8.25 inches (210 mm) in length.
Examples of legal sized documents include legal contracts, certificates, wills, and deeds. These documents carry crucial legal significance, often used in courts and are can even be irreplaceable. Losing them to fire is the last thing anyone wants.
Why Fireproof Boxes are Great for Legal Size Documents Storage
Fireproof boxes are the extremely useful and capable for legal size documents storage, because they have unique advantages compared to other storage options. They give you fire and water protection, they are cheap and they are portable, which is handy during fire emergencies. Let's expand on it in more detail.
Fire Protection
Fire is unpredictable and can strike when least expected. Standard document storage options may not suffice when it comes to preserving your vital legal papers. Fireproof lock boxes, on the other hand, are specifically designed to withstand extreme heat.
These lock boxes are engineered with fire-resistant materials that can endure temperatures up to 1700°F (927°C). This means that even in the event of a fire, your legal-size documents remain intact and undamaged.
Portability
All fire-resistant boxes are portable. Therefore, in the event of the fire emergency they can be carried away together with other most important items.
A Cost-Effective Security Solution
Investing in fireproof lock boxes is a cost-effective measure compared to the potential loss and expenses incurred in the aftermath of a fire. Replacing legal documents can be a complex and costly process. At the same time fireproof box typically cost from a hundred to a couple hundred dollars. This is considerably cheaper than a full seized safe, especially if you want to get a fireproof one.
And of course, a reliable lock box comes with a locking mechanism. So, in addition to fire protection, you get added security features.
TOP #1 Pick for Fireproof Box for Legal Documents
Our top pick from all the models currently available in the market is:
Honeywell 1104 Molded Fireproof & Waterproof Box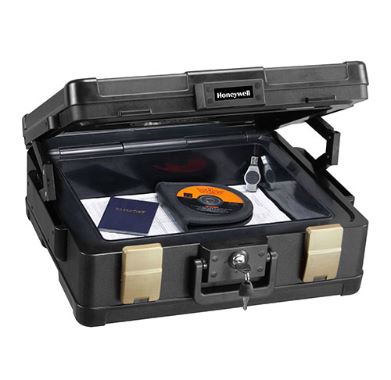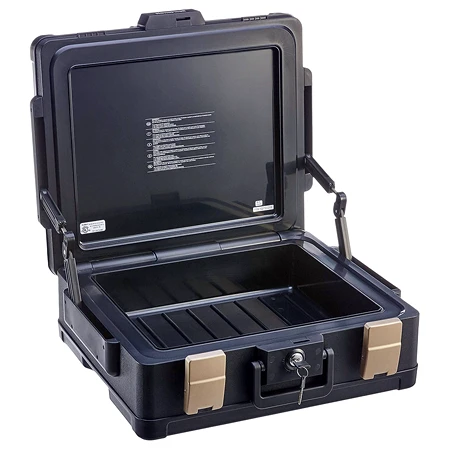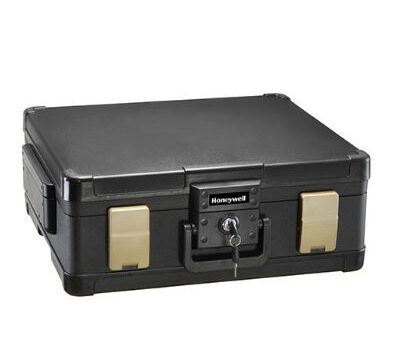 It was created with the aim to protect legal size documents. This Fire and Waterproof box offers a perfect blend of fire protection, water resistance, and great storage space.
With 1-hour UL Class 350 fireproof rating (tested in temperatures up to 1700° F/ 927°C), it ensures your documents remain safe even in the most intense fires. Its waterproof seal guarantees that no moisture can infiltrate, providing comprehensive protection for up to 24 hours. These extensive protection from both elements sets it apart from other boxes. It has a good key mechanism. And the spacious interior allows for storing of ALL most used document sizes.
Here are the main characteristics of this model:
Storage capacity of .39 cubic feet allows to keep both Letter, A4 and Legal-size Documents Flat.
Outer Dimensions: 7.3 H x 20.0 W x 17.2 D in.
Interior Dimensions: 3.8 H x 14.8 W x 12 D in.
Weight: 55.8 lbs.
Features to Look for in a Fireproof Box for Legal Size Documents
When we selected our recommendation of a fireproof lock box for your legal size documents, we compared dozens of models. We took into account every notable feature that can make a change during a fire/water accident and put the specific model above others.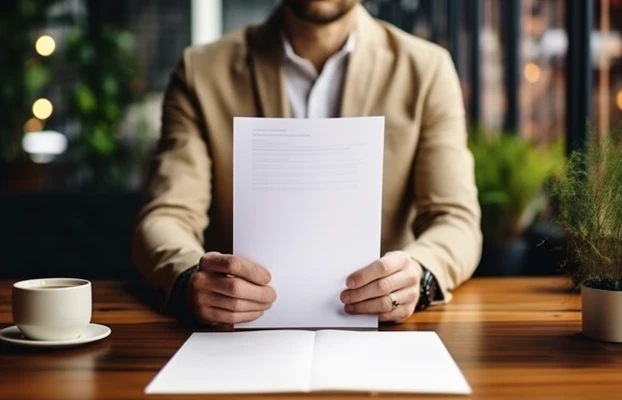 Here are several crucial factors to keep in mind if you choosing a Fireproof box for legal size docs. These features ensure that your documents are not only protected from fire but also remain easily accessible and organized:
The Appropriate Fireproof Rating for Document Protection. One of the most critical aspects of a fireproof lock box is its fireproof rating. Understanding what these ratings mean is essential for choosing the right level of protection for your legal-size documents. Fireproof ratings are typically expressed in terms of time and temperature. For example, you might come across rating like UL Class 350. This rating indicates that the temperature inside the safe box will not exceed 350°F (177°C) during a fire. This level of protection is suitable for paper, and thus vast majority of legal documents.
Added Water Protection. While fire is an obvious threat, water damage can also destroy your documents. In fact water often accompany firefighting efforts. Firefighters use it to extinguish flames, which can potentially damage documents inside a lock box if it's not equipped to handle moisture. When selecting a fireproof lock box, it's important to look for models with water-resistant features.
Sufficient Space for Legal Size Documents. Fireproof lock boxes come in a variety of sizes, so it is important to choose one that is large enough to fit all of your legal sized documents. Also, consider the portability of the lock box, especially if you need to be able to move it easily in case of emergency.
Conclusion
Protecting your legal size documents from fire damage is a responsibility that cannot be taken lightly. Fireproof lock boxes offer an ideal solution, ensuring that your legal documents remain intact even in the face of a such emergencies.
Investing in a high-quality fireproof lock box is a proactive measure, that can save you from potential financial and emotional stresses. You might be also considering a safety deposit box in a bank as an alternative storage option. Feel free to read out comparison Fireproof Safe vs. Safety Deposit Box to decide which one is better.