Browning Home Safe Deluxe Series 19 Review
Are you looking for a secure storage solution for firearms, important documents, and valuables? Browning Home Safe Deluxe Series 19 is a product of Browning, a reputable manufacturer known in the security industry, and it may very well be the safe you want. This review provides all the necessary insights for you to make the informed decision.
Our assessment of the Browning Home Safe Deluxe Series 19 is based on a thorough evaluation of its features and performance, and our knowledge from hands-on encounters with a broad spectrum of safes in the market.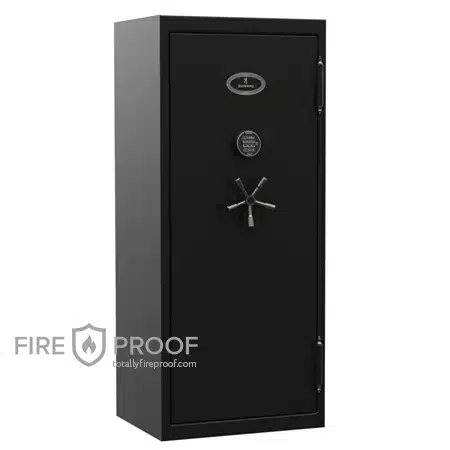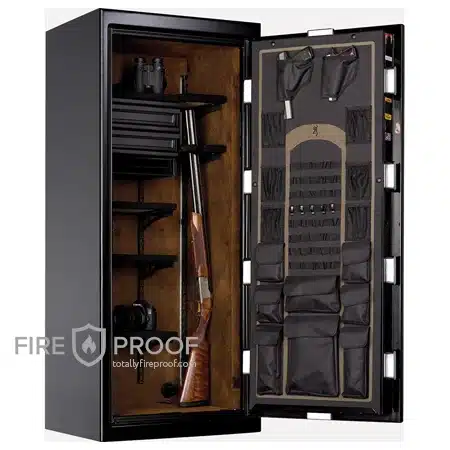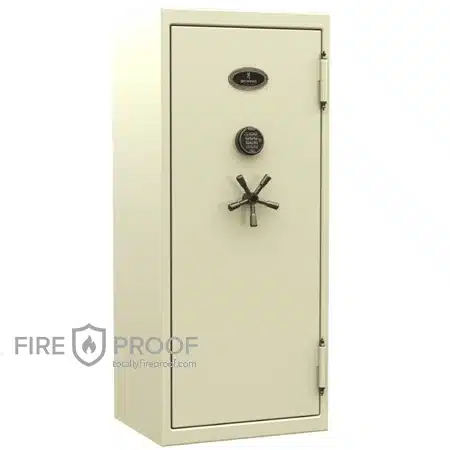 Safe Ratings:
Pros
90 minutes fire protection tested at temperatures up to 1680°F
Various lock options
Robust security features
Customizable interior
Made in the USA
Cons
Premium pricing
Heavy weight may require professional installation

Key Specifications
The American Security CSC1913 is not just any safe; it's a testament to the company's commitment to quality and security. Below is a table that encapsulates the key specifications of this model, reflecting its capacity to stand against both fire and burglary attempts.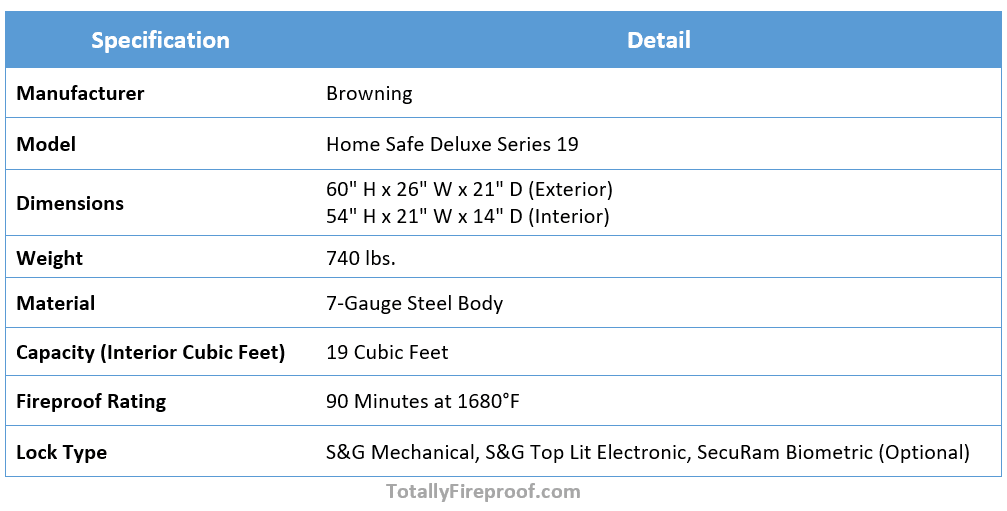 Fireproof Features
The Browning Home Safe Deluxe Series 19 is engineered with good fire protection capabilities, ensuring that your valuables are safeguarded against extreme temperatures. The safe's fireproof rating of 90 minutes at 1680°F provides a high level of security for items susceptible to heat damage. The ThermaBlock technology used in this safe shows a high standard of fire resistance, designed to protect contents such as documents, firearms, and heirlooms. However it is worth mentioning that this model does not have UL certification.
This fireproof rating means that the interior of the safe will remain at a temperature that does not exceed 350°F, the critical threshold for damage to paper and other sensitive materials. The test were done at 1680°F outside temperature.
Security Features
The safe's robust construction and thoughtful design make it a formidable opponent to common burglary tools and tactics.
List of Security Features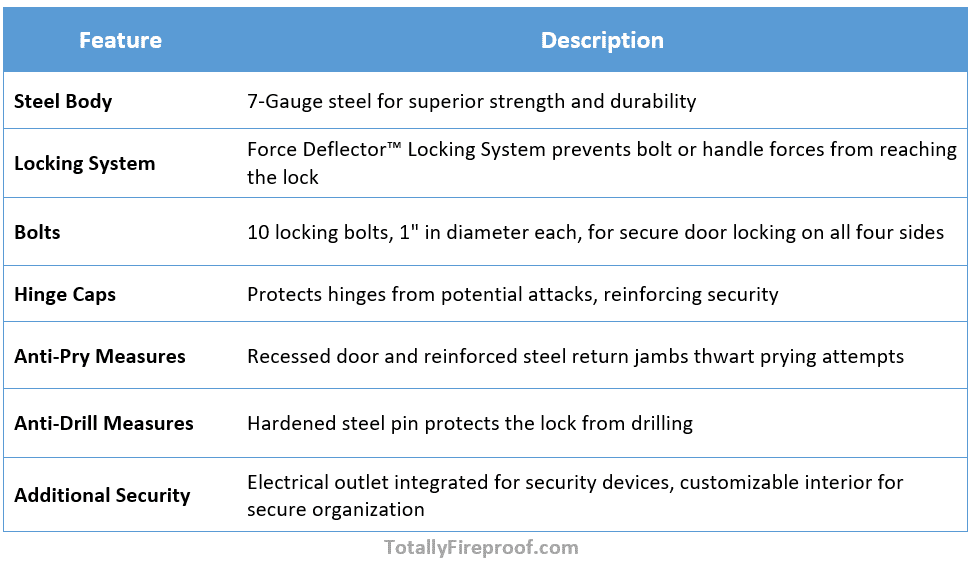 These security features are designed to resist the most determined attempts at forced entry, whether by drilling, prying, or other means, ensuring that your valuables remain untouched and secure within the confines of the safe.
Locking Mechanism
The Browning Home Safe Deluxe Series 19 comes standard with the S&G Mechanical Lock, a testament to traditional security with its reliable, battery-free operation. For those who prefer a more modern or quick-access approach, there are additional options available.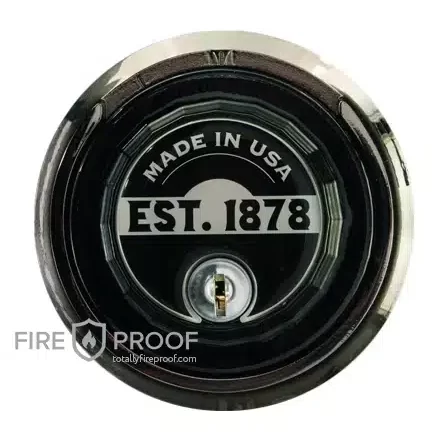 The default S&G Mechanical Lock is a reliable choice. It is a complete kit that includes the dial and internal swing bolt, ensuring a secure locking system that has been a trusted solution for safe owners for years.
Lock Type
Features
Default
S&G Mechanical Lock
- Traditional, reliable, no batteries required
- Dial-operated, less prone to electronic failures
Yes
S&G Top Lit Electronic Lock
- Electronic keypad with backlight for low-light conditions
- Quick access, user-friendly interface
No
SecuRam Biometric Lock
- Fingerprint scanner for fast and secure entry
- Personalized access with the convenience of biometric security
No
Browning Home Safe Deluxe Series 19 Lock options
The safe's versatility is once again shown in the available upgrades to either an electronic keypad or a biometric lock, catering to the your preference for convenience and advanced security features.
Build Quality and Additional Features
The build quality of the Browning Home Safe Deluxe Series 19 is its strength. The safe's body is constructed from 7-Gauge steel, offering a durable and robust barrier against unauthorized access and environmental threats.
Additional Features:
Customizable Interior: The safe's interior can be tailored to meet individual storage needs, accommodating guns, passports, heirlooms, and more.
ThermaBlock Fire Protection: This technology provides great fire resistance, safeguarding contents against extreme heat.
Weight and Dimensions: Weighing in at 740 lbs with dimensions of 26" W x 60" H x 21" D, the safe's size and heft contribute to its security and fire protection capabilities.
Finish Options: The safe is available in different finishes, allowing it to fit aesthetically into various home or office environments.
Electrical Outlet Integration: For added convenience and functionality, the safe includes an integrated electrical outlet for security devices or other electronic needs.
The Browning Home Safe Deluxe Series 19's additional features, such as its customizable shelving and integrated electrical outlet, reflect a design that prioritizes both security and usage convenience.
Warranty
The Browning Home Safe Deluxe Series 19 is accompanied by a comprehensive Limited Warranty provided by ProSteel, which covers the lifetime of the safe for the original purchaser against damages from break-ins, attempted break-ins, or fire for units produced after January 1, 2006.
Warranty Details:
Limited Warranty: In the event of damage due to a break-in, attempted break-in, or fire, ProSteel commits to either replacing or repairing the safe, at their discretion. ProSteel will handle and cover all shipping costs to and from the factory, as well as any reasonable locksmith fees needed to open the safe.
Break-in Warranty: Should the safe be forcibly opened, ProSteel will repair or replace it at no cost to the owner.
Attempted Break-in Warranty: In cases where the safe has been subjected to an attack by forcible means, ProSteel will undertake the repair or replacement of the safe without any charge.
Fire Warranty: If the safe suffers damage in a house fire, ProSteel will repair or replace the safe free of charge.
Price
Home Safe Deluxe Series 19 is listed with a retail price of $5,768.00. However, the safe is currently available at a reduced price of $4,558.99. This significant saving of $1,209.01, accounting for a 21.0% discount, enhances the value proposition of this premium safe.
Considering the safe's extensive list of features, including its high fireproof rating, robust security measures, and the comprehensive warranty offered by ProSteel, the current price presents a more accessible entry point for those seeking top-tier security for their valuables. The reduction in price does not diminish the safe's quality but rather offers a more cost-effective solution for securing peace of mind.
Final Verdict
Is The Browning Home Safe Deluxe Series-19 any good?
Yes, it is a solid choice for those prioritizing the security and safety of their valuables. The safe's premium build, coupled with its advanced fireproof and security features, justifies its position in the higher echelons of the market. With the current price offering a substantial discount, it represents not only a high-quality investment but also a more attainable option for potential buyers.
Overall Score: 8.25/10