Stealth EGS14 Essential Fire-resistant Gun Safe Review
The Stealth EGS14 Essential Gun Safe is an solid product from Stealth Tactical, a brand known for the quality and great looking designs of their safes. This particular model is a good example of balancing quality with cost-effectiveness. If you are looking for a secure solution to store your firearms and have bonus of fire-resistance, this may be the right safe.
Our review is based on a detailed analysis of the EGS14, combined with extensive personal experience in evaluating a wide range of safes. Find out how this in expensive model stacks up to similarly priced safes.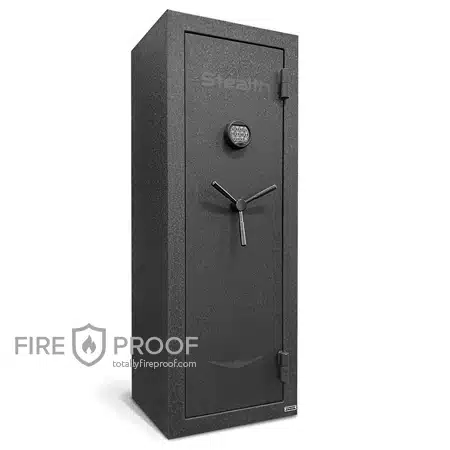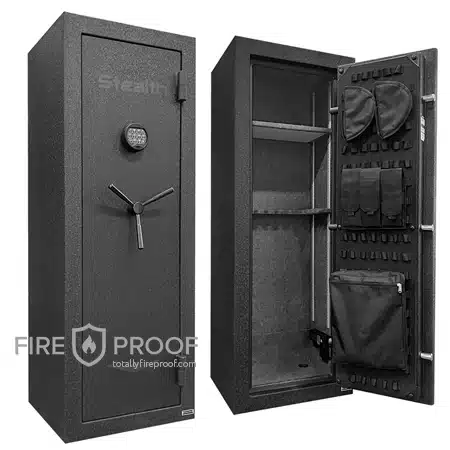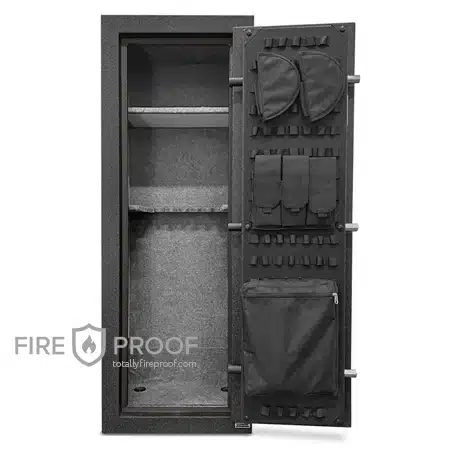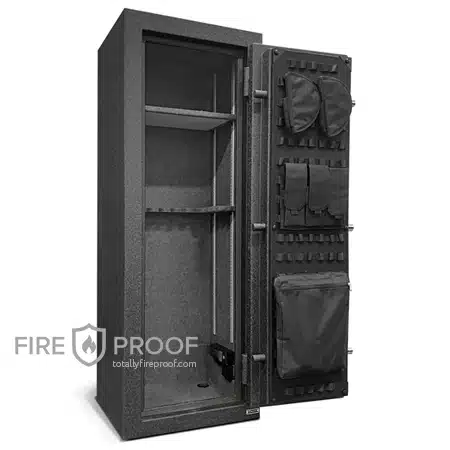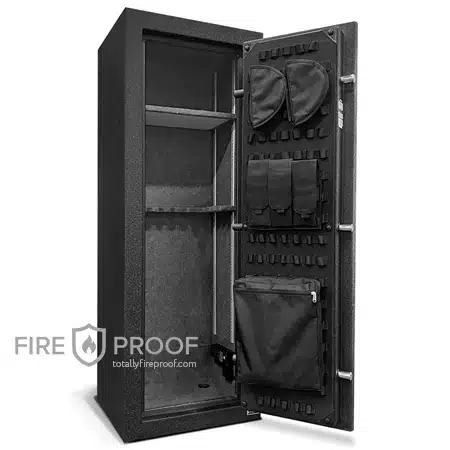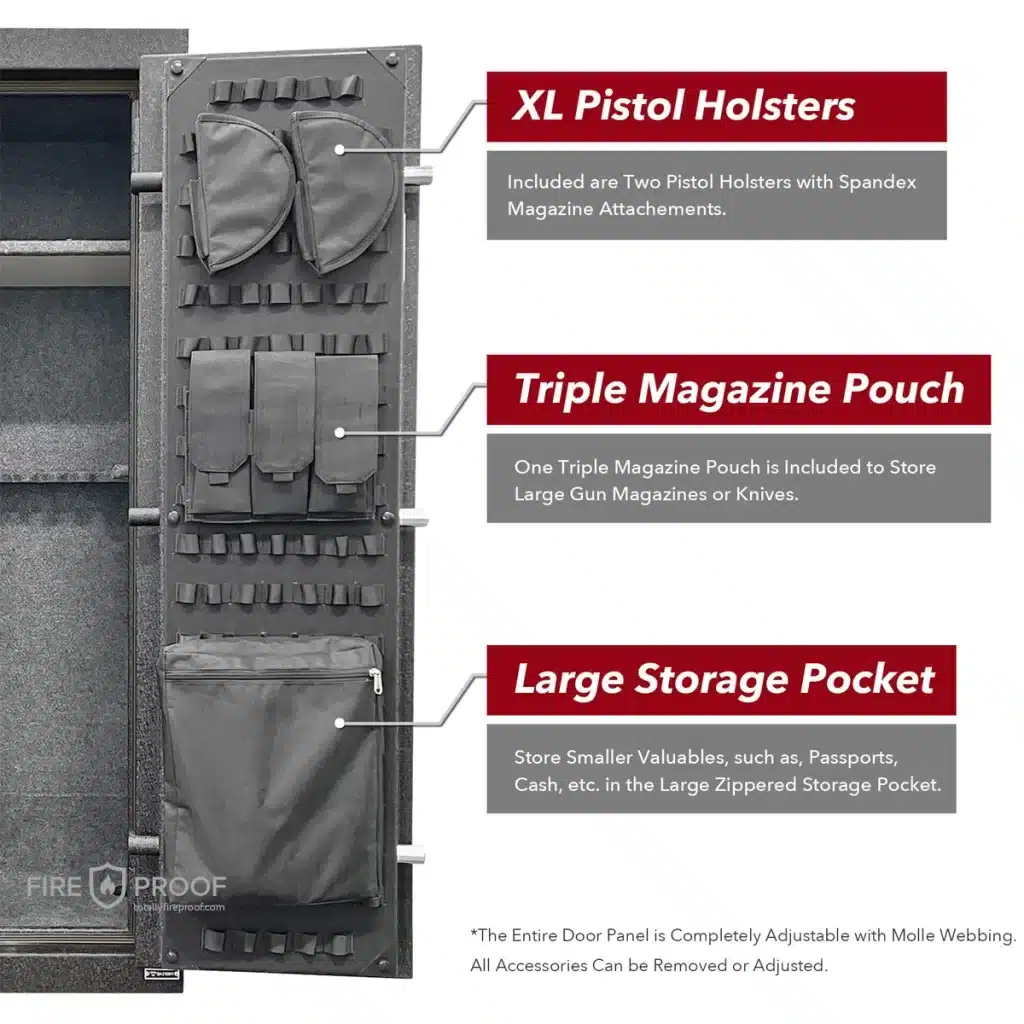 Safe Ratings:
Pros
CA DOJ Approved, 14 Gauge Steel Construction
UL Rated Electronic Lock
30 Minute Fire Rating with Intumescent Door Seal
Molle Door Panel Organizer, Electrical Outlet
Good price
Cons
Less than 1 Hour Fire Rating
Limited to 14 Gun Capacity

Key Specifications
The Stealth EGS14 Essential Fire-resistant Gun Safe is a product that combines thoughtful design and solid construction. Below is a detailed table outlining its key specifications, providing a clear understanding of what this safe offers: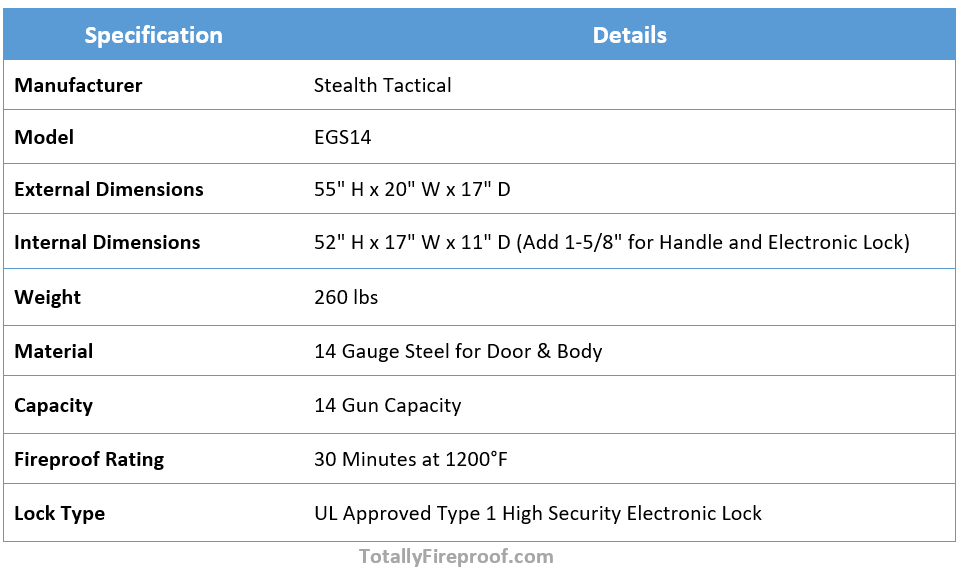 Fireproof Features
The Stealth EGS14 Essential Fire-resistant Gun Safe offers basic protection against fire, an important aspect for anyone looking to safeguard their valuables including guns. Here's an in-depth look at its fireproof features:
Fireproof Rating: The safe comes with a 30-minute fire resistance at a temperature of 1200°F. This rating means the safe is able to protect its contents during a fire, though not for an extended period.
Intumescent Door Seal: The model is equipped with a heat expandable intumescent door seal. This seal expands several times its size in the event of a fire, effectively blocking smoke and heat from entering the safe. This addition significantly enhances the safe's ability to protect its contents in severe fire conditions.
UL Certification: While the fire rating itself is a reliable indicator of the safe's protective capabilities, it's important to note that this particular model does not have an independant UL certification or listing for its fireproof rating.
In conclusion we can say that though the safe is indeed fire-resistant, it is not its maid strength. It's more of a bonus feature than something the manufacturer focused on. Nevertheless it is still better than non fireproof models by far and just adds to the value of this model.
Security Features
The Stealth EGS14 is has nice features that aim to stop unauthorized access to the safe's contents.
Here's a table summarizing these key security aspects:
| | |
| --- | --- |
| Security Feature | Description |
| Steel Construction | Made with 14 gauge steel for both the door and body, offering sturdy resistance against forced entry. |
| Locking Bolts | Equipped with 6 solid steel locking bolts, each 3/4" in diameter. This includes a 2-way locking bolt system with 3 active and 3 deadbolts on the hinge side, enhancing its resistance to prying. |
| Electronic Lock | Features a UL Approved Type 1 High Security Electronic Lock, known for its reliability and security. |
| Hardplate and Relocker | Includes an internal hardplate and relocker for additional security, making it more resistant to drilling and other forms of physical attack. |
| Bolt Down Holes | Comes with 4 bolt down holes and mounting hardware, allowing for secure anchoring to floors, adding another layer of security. |
Stealth EGS14 Essential Fire-resistant Gun Safe
Locking Mechanism
The Stealth EGS14 Essential Fire-resistant Gun Safe features a highly secure and reliable NL UR-2020 Electronic Lock.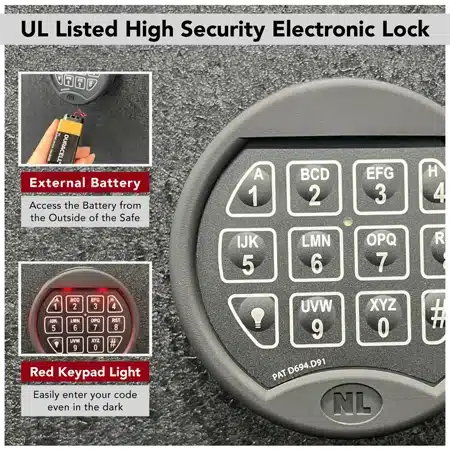 Here's a detailed look at its locking mechanism:
UL Listed: The electronic lock is UL Listed, ensuring compliance with stringent safety and reliability standards.
Customizable 6-Digit Code: Allows for the creation of a personalized 6-digit code, enhancing security with a unique combination.
External Battery Compartment: Designed for easy battery replacement, maintaining security integrity.
Low Battery Indicator: Provides timely alerts when the battery level is low, preventing unexpected lockouts.
Combination Memory: Retains the set combination even after a battery change, avoiding accidental lockouts.
1/4" Thick Steel Hardplate: Reinforces the lock against drill attacks, adding an extra layer of defense.
Internal Relocker: Activates in case of a punch attack, serving as an additional security measure.
Chrome Keypad: Offers a durable and stylish interface for the electronic lock.
Build Quality and Additional Features
Stealth EGS14 fire-resistant safe boast a great build quality and additional features that stand out when you looks at them up close. Here's the main points worth mentioning:
Build Quality: Constructed with 14-gauge steel for both the door and body, the Stealth EGS14 is built to offer durable and robust protection. This gauge of steel ensures a strong barrier against unauthorized access, contributing significantly to the overall security of the safe.
Molle Door Panel Organizer: A unique feature of this safe is the customizable Molle door panel organizer. It allows for flexible organization and storage of items within the safe, including pistol holsters and other accessories. This system is more adaptable compared to traditional sewn-in pockets, as it enables users to rearrange or replace accessories as needed.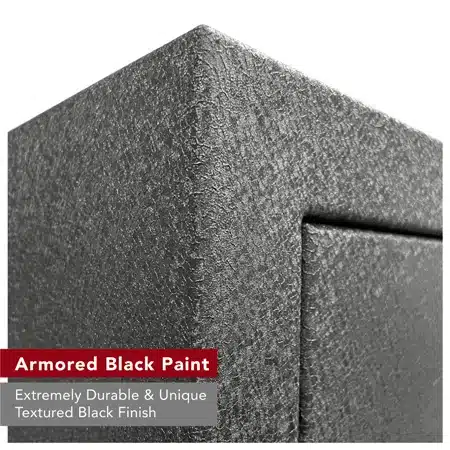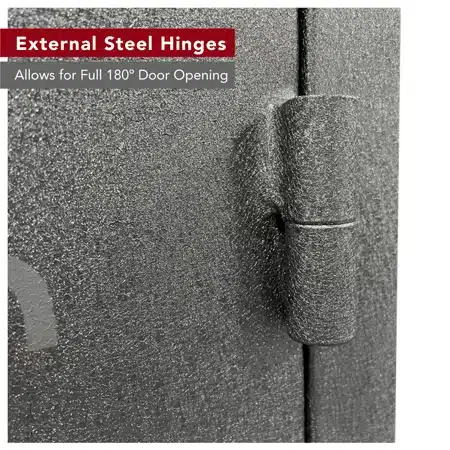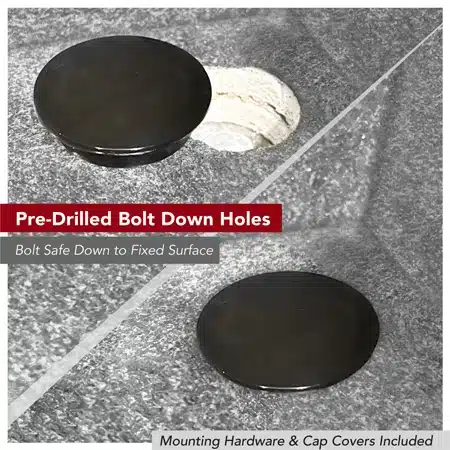 Electrical Outlet Kit: Enhancing its utility, the safe includes an electrical outlet kit with three outlets and two USB slots. This feature allows for the charging of electronic devices within the safe, adding a layer of convenience.
Interior Features: The safe is equipped with two adjustable shelves and a gun rack, offering organized storage for firearms and other valuables. This customizable interior is designed to cater to a variety of storage requirements.
Finish and Design: It sports a textured black finish, which not only adds to its aesthetic appeal but also provides a durable exterior. The chrome drop-down handle further enhances its sleek design.
Mounting and Installation: For added security, the safe includes four bolt-down holes and the necessary mounting hardware, enabling it to be securely anchored to the floor.
Warranty
The Stealth EGS14 Essential Fire-resistant Gun Safe comes with a comprehensive warranty. This coverage should definitely help with the customer's peace of mind.
Lifetime Burglary & Fire Warranty: This extensive warranty covers any damage to the safe due to break-in, attempted break-in, and house fires. It reflects the manufacturer's assurance in the safe's ability to withstand rough conditions and potential burglary attempt.
2 Year Parts & Labor Warranty: In addition to the lifetime warranty, the Stealth EGS14 is also backed by a 2-year warranty covering parts and labor. This warranty indicates the manufacturer's trust in the safe's construction and the quality of its components.
Price
The pricing of the Stealth EGS14 safe reflects the balance between quality features and affordability.
Current Price: As of the latest information available, the Stealth EGS14 is priced at $1,099.99. This price point positions the safe as a mid-range option in the market of fire-resistant safes. It is a cost-effective solution for those seeking a reliable safe without venturing into the higher price brackets of premium models.
Final Verdict
Is Stealth EGS14 Essential Fire-resistant Gun Safe Safe any good?
Yes, Stealth EGS14 offers excellent value for money. This model successfully blends basic fire-resistant capabilities with modern security features, and user-friendly secure electronic lock. It balances quality, functionality, and price adeptly, making it a solid choice for anyone looking to protect their valuables. Whether for firearms, important documents, or other precious items.
Overall Score: 6.75/10