Stealth UL28 RSC Fireproof Gun Safe Review
The Stealth UL RSC 28 Gun Safe is specifically designed for those needing robust protection for their firearms from fire and theft. Made by Stealth, this safe a has a formidable 60-minute fire rating, modern security features and a competitive price. This review is backed by years of personal experience with a variety of safes, both fireproof and non-fire-resistant.
If you want essential insights needed to make an informed decision of whether this model is right for you, this safe review will help you.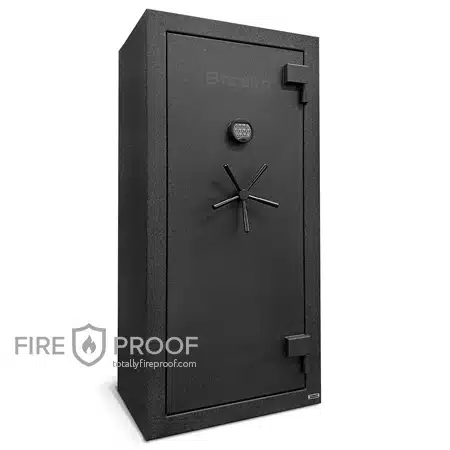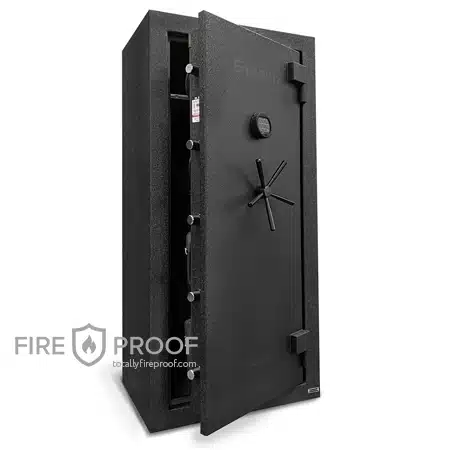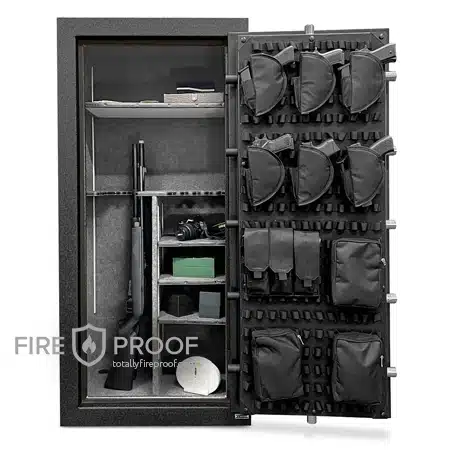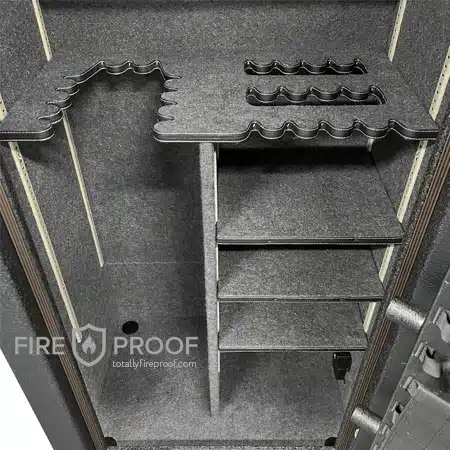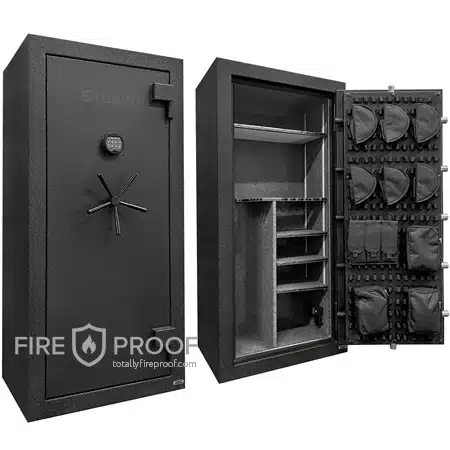 Safe Ratings:
Pros
60-minute fire rating at 1200º F
UL RSC Residential Security Container Burglary Rating
UL Listed Electronic Lock
Comprehensive lifetime burglary and fire warranty
Multiple security features
Cons
Weight of 529 lbs may require professional installation

Key Specifications
The Stealth UL28 Gun Safe stands out with its comprehensive set of features designed for high security and fire protection. Below is a detailed table of its key specifications: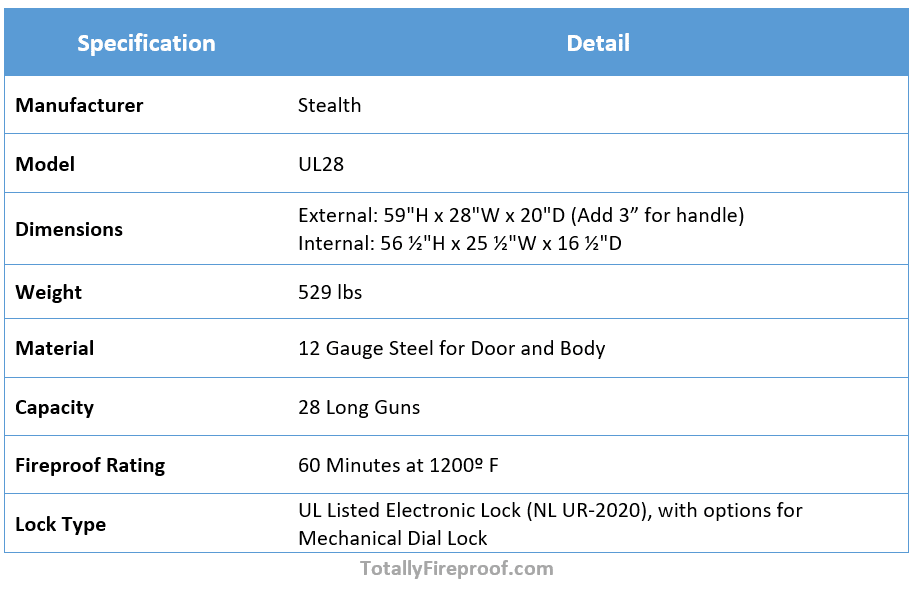 Fireproof Features
Stealth UL28 fireproof capabilities are reflected in its fire rating. Factory tested this model is certified to withstand temperatures up to 1200º F for a duration of 60 minutes. This rating is particularly significant considering that average house fires burn for about 20 minutes at temperatures ranging from 1100-1200º F.
UL28 features fire protective material in both the door and body. Plus it has an intumescent door seal. This seal is designed to expand several times its size during a fire, effectively blocking smoke and water from penetrating the safe. This level of protection ensures that the internal temperature never surpasses 350 degrees Fahrenheit, a crucial factor since paper and documents typically combust when the heat levels reach 400 degrees Fahrenheit and higher.
The fireproof rating is not certified by Underwriters Laboratories (UL) though. It is a one hour rating, while there are other models by Stealth with longer protection duration. Because of this we granted UL28 a 7 in our score list.
Security Features
The Stealth UL28 Gun Safe is engineered with a focus on high-level security, incorporating several advanced features to safeguard your valuables against burglary attempts. These are the most important ones:
UL RSC Burglary Rating: Certified by Underwriters Laboratories, it meets the stringent criteria for a Residential Security Container, ensuring a high standard of burglary resistance.
Exceeds California DOJ Requirements: This safe goes beyond the security standards set by the California Department of Justice, offering enhanced protection.
12 Gauge Steel Construction: Both the door and body of the safe are crafted from durable 12-gauge steel, providing a solid and impenetrable barrier.
Solid Steel Locking Bolts: It features 12 solid steel locking bolts, each 1.25 inches in diameter. This includes 8 active bolts and 4 deadbolts, which significantly enhance the safe's resistance to forced entry.
4-Way Locking Bolt System: This system ensures that the door is secured on all four sides, offering increased resistance against prying and other forms of physical attack.
High-Security Electronic Lock: The UL-approved lock is highly resistant to drilling and punching, adding an extra layer of security.
Hard Plate & Internal Re-Locker: These features protect the lock against drill attacks and ensure that the bolts remain locked if the lock is tampered with, such as during a punch attack.
Heat Expandable Door Seal: This seal expands during a fire, preventing smoke and water from entering the safe, thus protecting the contents from fire and water damage.
Pre-Drilled Bolt Down Holes: For added security, the safe includes four pre-drilled bolt-down holes, complete with hardware, to anchor the safe firmly to the floor, preventing it from being removed or relocated.
The table below summarizes its key security attributes: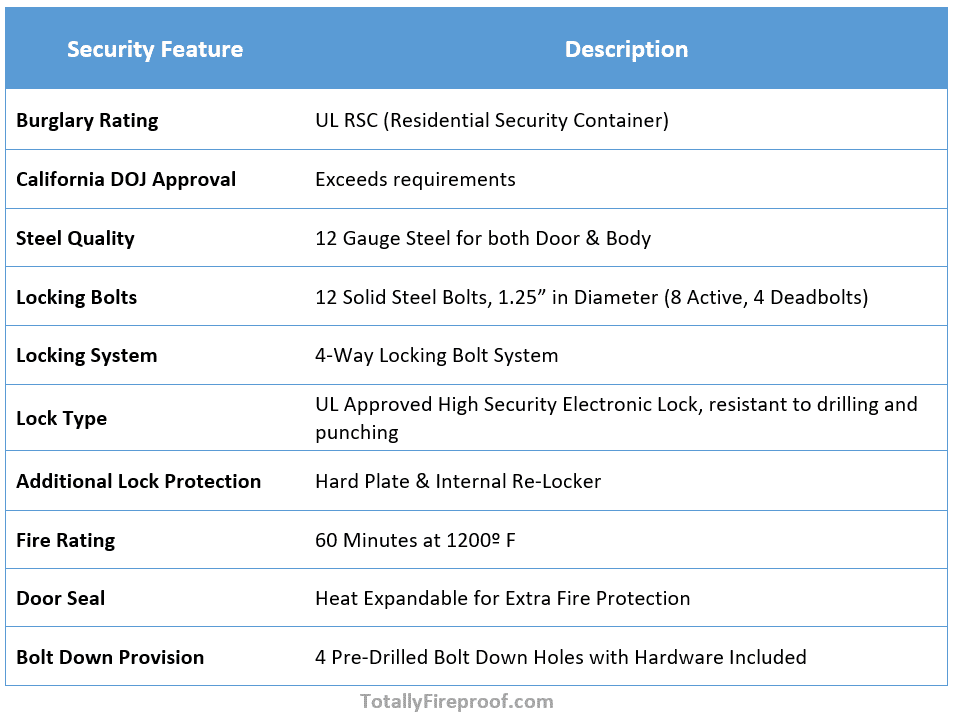 These security features are designed to resist the most determined attempts at forced entry, whether by drilling, prying, or other means, ensuring that your valuables remain untouched and secure within the confines of the safe.
Locking Mechanism
The locking system of the Stealth UL28 RSC gun safe is a critical component of its security design. The safe comes equipped with the UL Listed NL UR-2020 High Security Electronic Lock, known for its reliability. Here is an overview of its locking mechanism, showcasing the features that enhance its resilience against unauthorized access:
UL Listed Electronic Device: Certification by Underwriters Laboratories signifies that the lock meets rigorous safety and reliability standards.
Customizable 6-Digit Code: This feature allows users to set a personal code, enhancing the security by allowing unique and complex combinations.
External Battery Compartment: Ensures easy battery replacement without compromising the security of the safe.
Low Battery Indicator: Alerts users when the battery is running low, ensuring the lock remains operational.
Combination Memory: The lock retains the set combination even if the battery is changed, preventing accidental lockouts.
Drill and Punch Resistant: The lock is protected by a 1/4" thick steel hardplate, safeguarding against drill attacks, and an internal relocker, which keeps the lock secure against punch attacks.
Assembled and Tested in the USA: Ensuring high-quality manufacturing standards and reliability.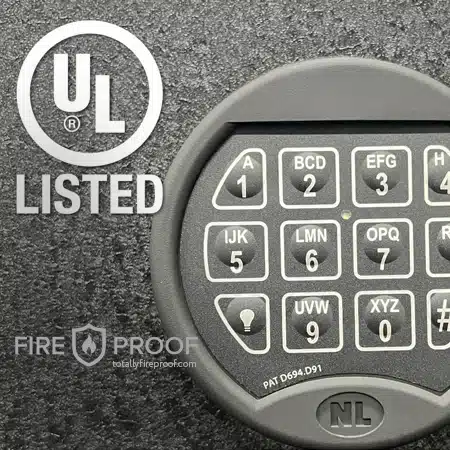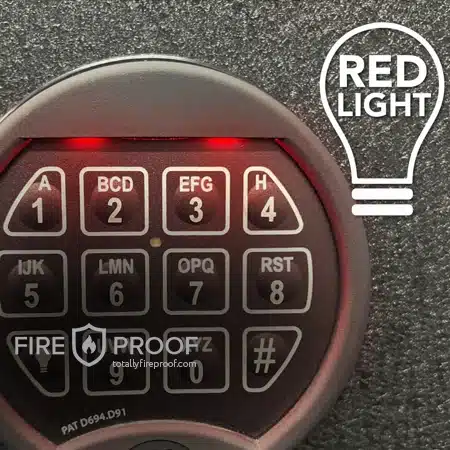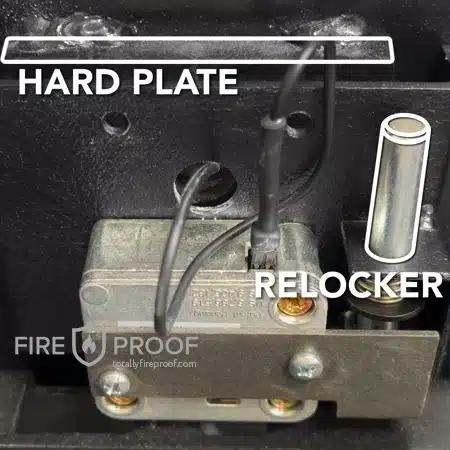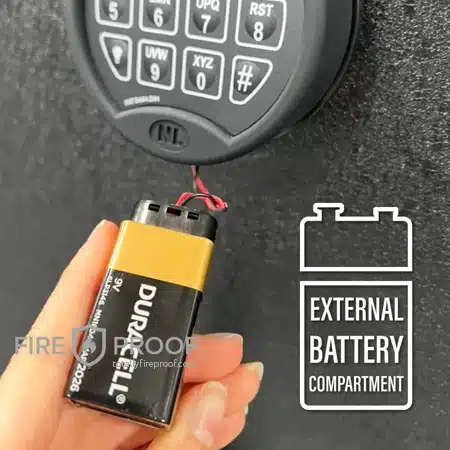 Build Quality and Additional Features
The Stealth UL28 Gun Safe is not only robust in terms of security but also excels in its build quality and the range of additional features it offers:
Feature
Description
Build Quality
Constructed with 12-gauge solid steel for door and body, with external steel hinges for a full 180º door opening. The overall construction quality ensures durability and longevity. Additionally, the safe's external steel hinges allow for a full 180º door opening, providing easier access to its contents.
Armored Black Finish
The safe features an extremely durable, unique armored black paint finish, enhancing its aesthetic appeal while providing an extra layer of protection against corrosion and external damage.
Black 5-Spoke Handle
A sleek and easy-to-use handle complements the safe's design, contributing to both its functionality and appearance.
Interior Lining
The interior of the Stealth UL28 is thoughtfully designed for maximum storage efficiency and protection of the contents:
Gray Carpeted Interior: This lining protects stored items from scratches.
Leather-Lined Shelves and Gun Rack: Offers additional protection and a touch of luxury.
Adjustable and Removable Shelving: Includes one top shelf and three smaller side shelves, allowing for customizable storage solutions.
Dual Gun Rack: Can securely store up to 28 long guns.
Shelving
Leather-Lined Shelves and Gun Rack – Includes one adjustable/removable top shelf and three smaller side shelves.
Gun Rack
Dual Gun Rack – Can store up to 28 long guns, leather-lined for added protection.
Door Organizer
Molle Door Panel Organizer – Includes six XL pistol holsters, one triple magazine pouch, and three medium storage pockets, all customizable.
Pre-Installed Electrical Outlet
Inside the safe, there's a pre-installed outlet with three plug-ins and two USB slots, facilitating the charging of electronic devices or the connection of accessories like dehumidifiers or lights.
Security Anchoring
For added security, the safe can be bolted to the floor, and the necessary hardware for this is included.
These features of the Stealth UL28 are thoughtfully designed to offer both security and convenience.
Warranty
The Stealth UL28 RSC safe comes with an assurance of quality and reliability, reflected in its comprehensive warranty coverage. It includes:
Break-In Protection: In the event of a break-in or an attempted break-in, the warranty ensures coverage.
House Fire Protection: If the safe is damaged due to a house fire, the warranty applies, underscoring its fire-resistant capabilities.
2-Year Parts and Labor Warranty: In addition to the lifetime warranty, Stealth offers a 2-year warranty on the lock and all other components of the safe. This coverage speaks to the manufacturer's confidence in the quality and durability of their product.
Price
The Stealth UL28 Gun Safe is positioned in the market with a competitive pricing strategy. The retail price of the safe is set at $1,999.00, but it is currently available for $1,799.99, offering a saving of $199.01, which translates to a 10% discount. This price point considers the safe's extensive range of features, including its robust fireproof and security capabilities, high-quality build, and comprehensive warranty.
When evaluating the price, it's important to consider the value offered by the safe. The combination of respectable security features, such as the UL RSC Burglary Rating and 60-minute fire rating, alongside the customizable interior and added amenities like an electrical outlet, makes this safe a considerable investment for those seeking to protect valuable items.
Final Verdict
Is Stealth UL28 RSC Fireproof Gun Safe any good?
Yes, The Stealth UL28 provides comprehensive security and decent fire protection. Its construction with 12-gauge steel, reliable locking mechanism, and extensive fireproof capabilities make it worthy choice for safeguarding valuables and firearms.
Considering the array of features like build quality, UL RSC Burglary Rating, customizable Molle door panel organizer, competitive price and good warranty you can definitely consider this model as a strong contender among other safes in the same category.
Overall Score: 8/10