Browning Safes
Browning is a company that has been around since 1878 and is known for its high-quality firearms and outdoor products. The company is based in Morgan, Utah, and has a long history of producing some of the finest firearms in the world.
But it's not only firearms. Browning Safes manufactures a wide range of high-quality gun safes, home safes, fireproof safes and more to meet the needs of the most demanding customers. Many of its products are fireproof.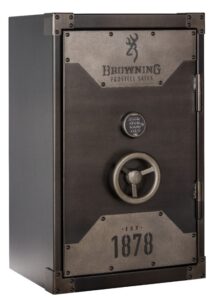 Browning Safes is known for its durable and affordable products. Main reasons why they are so popular include:
Quality: Browning safes are made from high-quality materials and construction techniques. Therefore, you will always find a great fireproof, anti-theft model to meet your needs.
Innovation: Browning is constantly innovating and developing new safe technologies.
Variety: Browning offers a wide variety of safes to fit your needs. Whether you need a fireproof safe for your home or a burglar-resistant safe for your business, Browning has a safe that is right for you.
Affordability: Browning safes are competitively priced. You can get a high-quality Browning safe without breaking the bank.