Honeywell Safe Company
Honeywell is a company that has been around for over a century and is known for its fire-resistant and security storage solutions for important documents and valuables. The company was founded in 1885 by Albert Butz, who invented the furnace regulator and alarm.
Today Honeywell International Inc. is an American conglomerate company. Apart from security safes, they produce various other consumer products, engineering services and even aerospace systems. Moreover, it is listed in Fortune 100, which puts it among the largest public and privately held companies in USA. The safes line is manufactured by LH Licensed Products, who own an exclusive licensee to produce Honeywell Safes.
The company produces a wide range of safes including fire-resistant chests, files, safes, cash boxes, portable safes, and more. Many of their products are fireproof and waterproof, or actually both. This makes the company a leading manufacturer of fire and water safes, as they offer a variety of models to choose from.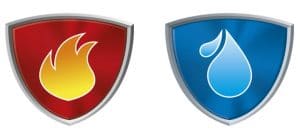 Their products come in many shapes and sizes, and there are multiple unlocking mechanisms to choose from. Its most basic products are often secured by a key and/or combination, but more high-end options have digital keypads or even card swipes. Their products are known for their durability and affordability.
So, whether you need a small safe for your home office or a large safe for your home's master bedroom, Honeywell can offer you a great model.